The Leadership Shadow
: How to Recognise and Avoid Derailment, Hubris and Overdrive
Erik de Haan and Anthony Kasozi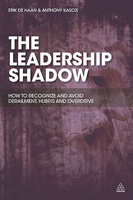 Format:
Paperback, 360pp.
ISBN:
9780749470494
Publisher:
Kogan Page
Pub. Date:
August 28, 2014
Average Customer Review:

For Bulk Orders Call: 626-441-2024

Description and Reviews
From
The Publisher:
To ensure a competitive advantage, senior executives have to push themselves and their teams hard. Under stress and challenges, the qualities that executives have relied on to get them to the top can ultimately lead to organizational catastrophes.
The Leadership Shadow
tackles the dark side of leadership, delving into what causes leadership derailment and how to avoid it. It also explains the ways in which a leader's performance can affect not just themselves, but the organization as a whole.
Using examples drawn from various executives' experiences and descriptions of psychological behaviors based on the Diagnostic and Statistical Manual of Mental Disorders (DSM-IV) and the Hogan Personality Inventory model, the authors demonstrate how to find stability in the face of uncertainty, resilience in the face of grueling demand, and psychological equilibrium as a leader.

Reviews
"A refreshing book of real substance that explains negative personality traits that, left to the unconscious, can quickly derail today's leaders. Great research is discussed with real-life examples to create compelling insights. There are plenty of practical suggestions to deal with your own risks as well as a way to reframe irritating behaviours from others into something more useful. A must-read for professional coaches, talent management professionals and leaders who are serious about career development."
—Chris Humphreys, CEO, Advanced People Strategies
"While epic leadership failures capture headlines, the underlying reasons usually lurk in the shadows far from view. This timely book does a masterful job of throwing light on the dark side of leadership by synthesizing a growing body of research and distilling concrete, actionable lessons any leader can use to avoid coming off the track."
—Rob Kaiser, Kaiser Leadership Solutions and Editor of Consulting Psychology Journal
"There are always two reasons for doing anything: a good reason and the real reason. Anyone who desires to know more about these real reasons, about what creates leadership pathologies, and what makes for leadership's core qualities, would do well to study this book. Not only will they become more knowledgeable about the shadow side of leadership, but they will also acquire a profound insight into how to overcome the various pitfalls that accompany the leadership journey."
—Professor Manfred Kets de Vries, INSEAD
"In The Leadership Shadow, Erik de Haan and Anthony Kasozi provide a welcome antidote to the usual overblown presentations to be found in the enormous number of books and research papers on leadership. Most writing on the matter of leadership presents an idealized, sanitized view of leaders which does not mention the pathologies and neuroses of those who take up leadership roles; because of this they provide very unrealistic and unhelpful views on leadership. The Leadership Shadow provides a much more realistic and helpful account of the problems leaders face and how they need to take into account their own leadership shadow. Leaders can do enormous harm if they do not sustain an awareness of the dangerous psychological states it is so easy to be sucked into as a leader. It is to this task that The Leadership Shadow provides an important contribution."
—Professor Ralph Stacey, University of Hertfordshire

About the Authors
Erik de Haan
is the Director of Ashridge's Centre for Coaching and Professor of Organization Development and Coaching at VU University Amsterdam. He regularly works with a range of universities and multinational companies, including BP, Heineken, Nike and Qualcomm.
Anthony Kasozi
is Director of Quilibra Consulting and an associate with Ashridge Consulting and previously worked with Unilever and Deloitte. He is a highly experienced management and organization consultant with clients that include HP Services, Masterfoods (Mars),The World Health Organization, Oxfam, Siemens Financial Services, PriceWaterhouseCoopers (PwC), The International Finance Corporation (World Bank), UNAIDs and The Global Fund.