The Rebel Entrepreneur
: Rewriting the Business Rulebook
Jonathan Moules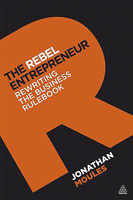 Format:
Paperback, 224pp.
ISBN:
9780749464820
Publisher:
Kogan Page
Pub. Date:
August 28, 2012
Average Customer Review:

For Bulk Orders Call: 626-441-2024

Description and Reviews
From
The Publisher:
As a result of the uncertain corporate job market, entrepreneurship is flourishing. Advice for start-ups is everywhere, in books, websites, newspapers and magazines and it constitutes a body of received wisdom. Journalist Jonathan Moules, who has devoted six years to interviewing and reporting on successful entrepreneurs, turns some of this advice on its head. His is a model of "rebel entrepreneurship" that defies conventional views about how new entrepreneurs should behave in order to make their businesses successful.
Some of Moules' alternative opinions will startle: He challenges the need for bank loans to start and grow a business, the need for a business plan, and offers the contrarian view of increasing prices in tough times.
His case studies address not only how entrepreneurs can succeed but also how they might fail or fail to achieve full potential and include centuries old companies as well as young stars of the internet age such as Twitter, Gilt Groupe, Criteo, celebrity entrepreneurs James Dyson, Richard Branson and Steve Jobs and companies big and small.
Moules' point is to take alternative opinions on some of the main area of concern in a business. His aim is to show that not following the crowd can be a better way of managing a business and make it grow bigger and faster.

Reviews
"If you are thinking of starting a business, if you are already working in a fledging enterprise or if you just need clear, uncluttered, practical advice and guidance on how to operate and improve things, this outstanding book should be your close companion. It is a book for these troubles times and beyond. Buying the book could be one of the best entrepreneurial investments you will ever make. Rebel and prosper."
óRetail Confidential Book
"...interweaves intriguing stories, validated advice, and statistical evidence in an easy-to-read narrative style to make its points...The reader will learn not only why entrepreneurs succeed, but also how they fail totally or fail to achieve full potential...[a] valuable resource for those wanting to know about starting a business venture based on unconventional wisdom."
óAlex Hapka, New York Journal of Books
"Moules writing style is the real refreshing element of the book...a sold read that's entertaining and enlightening."
óDavid Burkus, LDRLB

About the Author
Jonathan Moules
is the Enterprise Editor for The Financial Times, where he has profiled hundreds of companies and their owners. He has written extensively on successful entrepreneurs. Moules spent 5 years in the FT's New York office, where he held numerous positions, including technology, media and telecoms news editor. He wrote specifically about the US mobile phone industry and new media businesses, and he covered the dotcom bubble and its aftermath.

Table of Contents
Prologue: The importance of being a rebel
1
Funding is for fools
The case for bootstrapping Small is beautiful, at least to begin with
The value of having no money Have you tried the alternatives to the bank?
Pull yourself up by your bootstraps
If you canít get a loan, get a grant
Timing can be everything
We are all dotcoms now, thank goodness
No man is an island when it comes to funding
The conclusion
2
Donít innovate, imitate
An imitator in action
The original
Every action has a legal reaction
You canít keep a good idea down
First movers do not necessarily have the advantage
Copying is as old as the hills
It is all about execution
Attack of the clones Imitation can be the salvation of a company
Timing is everything
You do not have to settle for second best
The conclusion
3
Donít be a hero
The problem of letting go
Most people find good leadership hard
Size is everything
Take a trip from the good parenting guide
Confessions of a meddler
An exception to the rule
When do you step back?
External factors are important too
The conclusion
4
The high price of success
Less can be more
Do the mathematics What your prices say about the value of your offering Why you need to keep prices up
The difficult relationship between price and value In a recession, the need to raise prices only increases
The art of maintaining a high price
How do you get people to pay more?
Price is a matter of economics
To cut, or not to cut
Cutting your costs is not the same as raising your prices
What about cross-border trade?
How do you maintain high prices?
Warning: you can raise prices too much
Being low cost does not mean you cannot raise your prices Being the best is always better than being cheapest The conclusion
5
Donít get hung up on the business plan
The only constant in (business) life is change
Ryanair as an example of a company that changed Imitate, donít innovate (reprised)
There is no shame in starting all over again
Testing, testing
Once the business plan works, write it down
The concept of the pivot Pivoting once is never enough
Pivoting and foreign markets
The conclusion
6
You cannot cut your way to success
How do you react to the bad times?
Do you really need to make those cuts?
Sell on the savings your company can provide
Spend some money on yourself
Be confident
Do not rush to cut jobs
Find the opportunities to grow
Remember to pivot as well as invest The conclusion
7
Do not waste your time selling
Tips for accelerating the sales process
Teamwork is key to sales
Good customer service can be a sales strategy
A few sales tips
Beware of overtrading Squeezing the lemon
Opportunity is never far away
The conclusion
8
Failure is not failure if you learn
Why the fear of failure can be so damaging
Failure can be your own stupid fault
Common mistake 1: treating the bank like a cashpoint
Common mistake 2: putting your eggs in one basket
Life can be cruel so you have to deal with it
The random nature of entrepreneurial success
Remember, it may be second time unlucky
Remember, the darkest moment is before the dawn Insolvency is often not the end
The conclusion
Index