The Accountable Leader
: Developing Effective Leadership Through Managerial Accountability
Brian Dive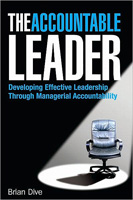 Format:
Hardcover, 260pp.
ISBN:
9780749451608
Publisher:
Kogan Page
Pub. Date:
August 28, 2008
Average Customer Review:

For Bulk Orders Call: 626-441-2024

Description and Reviews
From
The Publisher:
Leadership is often discussed without mention of organizational structure. Yet organizational structure is the bedrock on which effective leadership is built, Brian Dive argues.
If you lead from the front you will know all about accountability. But leadership is more than just about optimizing business processes - it's about making the right decision for your organization. This book is your roadmap to leadership success, enabling you to understand your own business environment, take stock of the situation, and make decisions which will stand up to external and internal scrutiny.
The Accountable Leader
is centred around three themes – leadership, accountability and organizational structure, and highlights how most leadership related problems arise from the ineffectiveness of organisational structures that lack accountable jobs. Combining detailed guidance and international case studies with proven insight and practical summaries, the book gives you an effective blueprint for successful leadership in your company.
Practical and focused the book covers everything from reducing levels of management and levels of bureaucracy to differentiating behaviours and establishing clearly demarcated levels of accountability.
The Accountable Leader
provides you with a robust platform for the assessment of potential leaders and leadership development - and demonstrates how clear accountability enables you and your managers to achieve much more for your organization.

Reviews
"Simple organizational structure and clear accountability are necessary conditions for the exercise of effective leadership. In this comprehensive book, Brian Dive has made a most useful contribution in reminding us of these fundamentals."
—John Adair, the world's first Professor of Leadership Studies

About the Author
Brian Dive
is an independent consultant (DMA Consultancy www.dmaconsultancy.com), on issues relating to organisation design and effectiveness and the human resource practices needed to build a healthy organisation. He has led HR and change assignments in 70 different countries. Dive is currently director of DMA International, which specialises in building healthy organisations. Its most recent assignment has been with Tesco Stores. He is also a senior partner in Panthea Leadership consultancy.

Table of Contents
1
Accountable for success 7
2
Organizing for accountability 23
3
Leaders and leadership development 34
4
Holding leaders to account: leadership by design 50
5
Held to account at the front line 79
6
Managing the front line 105
7
Managing the managers 130
8
Managing on a global stage 154
9
Organizational design accountability and leadership in practice 183
10
Leadership development schemes: how can they succeed? 211
11
Tracking a successful leader 232
12
The accountable leader: 20 key ideas 245
References 248
Index 254

Find Items On Similar Subjects

QBQ!
The Question Behind the Question