Oh, the Places You'll Go!
Dr. Seuss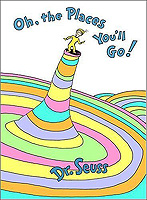 Format:
Hardcover, 48pp.
ISBN:
9780679805274
Publisher:
Random House
Pub. Date:
January 22, 1990
Average Customer Review:

For Bulk Orders Call: 626-441-2024

Description and Reviews
From
The Publisher: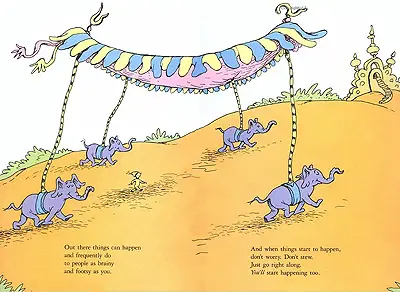 A perennial favorite, Dr. Seuss's wonderfully wise graduation speech is the perfect send-off for children starting out in the world, be they nursery school, high school, or college grads! From soaring to high heights and seeing great sights to being left in a Lurch on a prickle-ly perch, Dr. Seuss addresses life's ups and downs with his trademark humorous verse and illustrations, while encouraging readers to find the success that lies within
On and on you will hike
and I know you'll hike far
and face up to your problems
whatever they are.

You'll get mixed up, of course,
as you already know.
You'll get mixed up
with many strange birds as you go.
So be sure when you step.
Step with care and great tact
and remember that Life's
a Great Balancing Act.
Just never forget to be dexterous and deft.
And never mix up your right foot with your left.

And will you succeed?
Yes! You will, indeed!
(98 and 3 / 4 percent guaranteed.)

KID, YOU'LL MOVE MOUNTAINS!
"Don't be fooled by the title of this seriocomic ode to success; it's not 'Climb Every Mountain,' kid version. All journeys face perils, whether from indecision, from loneliness, or worst of all, from too much waiting. Seuss' familiar pajama-clad hero is up to the challenge, and his odyssey is captured vividly in busy two-page spreads evoking both the good times (grinning purple elephants, floating golden castles) and the bad (deep blue wells of confusion). Seuss' message is simple but never sappy: life may be a 'Great Balancing Act,' but through it all 'There's fun to be done.'"

Reviews
The master of enjoyable didacticism offers a flight of fancy into the future of a generic "you" who is venturing out into the world, where he will have ups and downs but will succeed and finally "MOVE MOUNTAINS!" While doting relatives will find this extended greeting card an ideal gift for nursery school graduates, the story will have less appeal for children than Seuss' story books and easy readers. Seuss' characteristic drawings carry and extend the text through mazelike streets, over colorful checkerboard landscapes, into muddy blue "slumps," through heady highs when fame results from success at the game of life, and through dark, lonely confrontations with graveyard-like fears in times of solitude. While the text gives a strong message of self-determination and potential, the small, male "you" pictured seems more of a passive passenger on his journey through life, reacting to things as they come and walking along with his eyes shut on both the first and last pages of the text. Although this does not rank among the best of Seuss' books, its stress on self-esteem and imaginative artwork make it a good addition to picture-book collections.
—Louise L. Sherman, Anna C. Scott School, Leonia, NJ, Copyright 1990 Reed Business Information, Inc. School Library Journal

About the Author
Dr. Seuss
was born
Theodor Geisel
in Springfield, Massachusetts on March 2, 1904. After attending Dartmouth College and Oxford University, he began a career in advertising. His advertising cartoons, featuring Quick, Henry, the Flit!, appeared in several leading American magazines. Dr. Seuss's first children's book, And To Think That I Saw It On Mulberry Street hit the market in 1937, and the world of children's literature was changed forever! In 1957, Seuss's The Cat in the Hat became the prototype for one of Random House's best- selling series, Beginner Books. This popular series combined engaging stories with outrageous illustrations and playful sounds to teach basic reading skills. Brilliant, playful, and always respectful of children, Dr. Seuss charmed his way into the consciousness of four generations of youngsters and parents. In the process, he helped kids learn to read.
Winner of the Pulitzer Prize in 1984 and three Academy Awards, Seuss was the author and illustrator of 44 children's books, some of which have been made into audiocassettes, animated television specials, and videos for children of all ages. Even after his death in 1991, Dr. Seuss continues to be the best-selling author of children's books in the world.