To Engineer Is Human
: The Role of Failure in Successful Design
Henry Petroski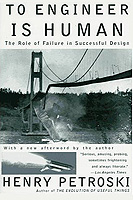 Format:
Paperback, 272pp.
ISBN:
9780679734161
Publisher:
Vintage
Pub. Date:
March 31, 1992
Average Customer Review:

For Bulk Orders Call: 626-441-2024

Description and Reviews
From
The Publisher:
How did a simple design error cause one of the great disasters of the 1980s -- the collapse of the walkways at the Kansas City Hyatt Regency Hotel? What made the graceful and innovative Tacoma Narrows Bridge twist apart in a mild wind in 1940? How did an oversized waterlily inspire the magnificent Crystal Palace, the crowning achievement of Victorian architecture and engineering? These are some of the failures and successes that Henry Petroski, author of the acclaimed The Pencil, examines in this engaging, wonderfully literate book. More than a series of fascinating case studies,
To Engineer Is Human
is a work that looks at our deepest notions of progress and perfection, tracing the fine connection between the quantifiable realm of science and the chaotic realities of everyday life.

About the Author
Henry Petroski
is Professor of Civil Engineering at Duke University.

Table of Contents
| | | |
| --- | --- | --- |
| | Preface | vii |
| | | |
| 1 | Being Human | 1 |
| 2 | Falling Down is Part of Growing up | 11 |
| 3 | Lessons From Play; Lessons From Life Appendix: "The Deacon's Masterpiece" | 35 |
| 4 | Engineering as Hypothesis | 40 |
| 5 | Success is Foreseeing Failure | 53 |
| 6 | Design is Getting From Here to There | 64 |
| 7 | Design as Revision | 75 |
| 8 | Accidents Waiting to Happen | 85 |
| 9 | Safety in Numbers | 98 |
| 10 | When Cracks Become Breakthroughs | 107 |
| 11 | Of Bus Frames and Knife Blades | 122 |
| 12 | Interlude: The Success Story of the Crystal Palace | 136 |
| 13 | The Ups and Downs of Bridges | 158 |
| 14 | Forensic Engineering and Engineering Fiction | 172 |
| 15 | From Slide Rule to Computer: Forgetting How it Used to be Done | 189 |
| 16 | Connoisseurs of Chaos | 204 |
| 17 | The Limits of Design | 216 |
| | | |
| | Afterword | 229 |
| | Bibliography | 233 |
| | Index | 245 |
| | List of Illustrations | |
| | I. Cartoons illustrating public concern over engineering failures | |
| | II. Models of the ubiquitous cantilever beam | |
| | III. The Brooklyn Bridge: Anticipating failure by the engineer and by the layman | |
| | IV. The Crystal Palace: Testing the galleries and finding them sound | |
| | V. The Crystal Palace and two of its modern imitators | |
| | VI. Suspension bridges: The Tacoma Narrows and after | |
| | VII. The Kansas City Hyatt Regency walkways collapse | |
| | VIII. The Mianus River Bridge collapse and its aftermath | |

Find Items On Similar Subjects

Failing Forward
: How to Make the Most of Your Mistakes