The Up Side of Down
: Why Failing Well Is the Key to Success
Megan McArdle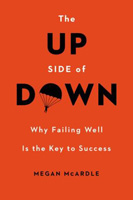 Format:
Hardcover, 320pp.
ISBN:
9780143126362
Publisher:
Viking Adult
Pub. Date:
February 24, 2015
Average Customer Review:

For Bulk Orders Call: 626-441-2024

Description and Reviews
From
The Publisher:
For readers of
Drive, Outliers
, and
Daring Greatly
, a counterintuitive, paradigm-shifting new take on what makes people and companies succeed
Most new products fail. So do most small businesses. And most of us, if we are honest, have experienced a major setback in our personal or professional lives. So what determines who will bounce back and follow up with a home run? If you want to succeed in business and in life, Megan McArdle argues in this hugely thought-provoking book, you have to learn how to harness the power of failure.
McArdle has been one of our most popular business bloggers for more than a decade, covering the rise and fall of some the world's top companies and challenging us to think differently about how we live, learn, and work. Drawing on cutting-edge research in science, psychology, economics, and business, and taking insights from turnaround experts, emergency room doctors, venture capitalists, child psychologists, bankruptcy judges, and mountaineers, McArdle argues that America is unique in its willingness to let people and companies fail, but also in its determination to let them pick up after the fall. Failure is how people and businesses learn. So how do you reinvent yourself when you are down?
Dynamic and punchy, McArdle teaches us how to recognize mistakes early to channel setbacks into future success.
The Up Side of Down
marks the emergence of an author with her thumb on the pulse whose book just might change the way you lead your life.

Reviews
"A thought-provoking study of failure—our greatest fear and greatest motivator. McArdle's lively prose underscores an entertaining roster of tales of risk-taking. . . . Her advice is important not only for individuals, but for wider economic growth; society has to reward experimentation, risk-taking, and working outside our comfort zones. This funny, cheerful look at helping teams overcome failure and find room to experiment will be a boon to business readers."
—Publishers Weekly
"An illuminating look at the psychology behind rebounding from defeat. . . . McArdle has found a humble, intelligent way of infusing positivity and opportunity into personal losses. . . . Her message is a significant one with both personal and economic impact: There can be no vast success without initial failures, and it's important to foster a culture of risk-takers who embrace experimentation in working outside of their comfort zones. . . . Sage counsel on how to learn from failure with humor and grace."
—Kirkus Reviews
"The Up Side of Down reveals a forgotten secret to success: failure. This gracefully written, carefully researched book offers a timely and critical message. In a world that's obsessed with perfection, Megan McArdle shows that our accomplishments depend on whether we can make mistakes and learn from them."
—Adam Grant, Wharton professor and author of Give and Take
"This is a vibrant book on a vital subject. It's full of unexpected insights and is a pleasure to read."
—Tim Harford, author of Adapt and The Undercover Economist and the "Dear Economist" column at the Financial Times
"Megan McArdle has written the seminal book about renewal and American greatness: The Up Side of Down will teach you to embrace failure and use it to reinvent yourself and your organization."
—Tyler Cowen, author of Discover Your Inner Economist and The Great Stagnation, co-creator of the economics blog Marginal Revolution
"This is both a surprising and an immensely comforting book. Drawing on academic research, reporting, and not least the failures in her own life, Megan McArdle convincingly demonstrates that avoiding failure isn't what matters, but how we cope with failure. Sparkling with wit and insight in every chapter, The Up Side of Down has something for anyone who has ever failed, or lived in fear of failure—in other words, all of us."
—Greg Ip, author of The Little Book of Economics
"It's time for defeat, not just victory, to have a thousand fathers. In this wise, thought-provoking, and personal book, Megan McArdle makes the powerful case that we have as much or more to learn from our failures as we do from successes. With relevant case studies from Detroit to Hollywood, she seamlessly weaves together strategic and tactical insights into how to make big decisions right—and learn from the many bad decisions we inevitably make along the way. Essential reading for executives, entrepreneurs, and students of life."
—Parag Khanna, author of How to Run the World and Director of the Hybrid Reality Institute

About the Author
Megan McArdle
is a special correspondent for Newsweek/The Daily Beast. A graduate of the Booth School of Business at the University of Chicago, she has been a finance and economics correspondent for The Economist and a business columnist and blogger for The Atlantic. She lives with her husband, Peter, in Washington, D.C.