Napoleon
: A Life
Andrew Roberts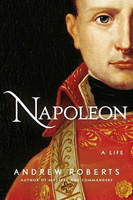 Format:
Paperback, 976pp.
ISBN:
9780143127857
Publisher:
Penguin Books
Pub. Date:
October 20, 2015
Average Customer Review:

For Bulk Orders Call: 626-441-2024

Description and Reviews
From
The Publisher:
The definitive biography of the great soldier-statesman by the New York Times bestselling author of
The Storm of War
Austerlitz, Borodino, Waterloo: his battles are among the greatest in history, but Napoleon Bonaparte was far more than a military genius and astute leader of men. Like George Washington and his own hero Julius Caesar, he was one of the greatest soldier-statesmen of all times.
Andrew Roberts's
Napoleon
is the first one-volume biography to take advantage of the recent publication of Napoleon's thirty-three thousand letters, which radically transform our understanding of his character and motivation. At last we see him as he was: protean multitasker, decisive, surprisingly willing to forgive his enemies and his errant wife Josephine. Like Churchill, he understood the strategic importance of telling his own story, and his memoirs, dictated from exile on St. Helena, became the single bestselling book of the nineteenth century.
An award-winning historian, Roberts traveled to fifty-three of Napoleon's sixty battle sites, discovered crucial new documents in archives, and even made the long trip by boat to St. Helena. He is as acute in his understanding of politics as he is of military history. Here at last is a biography worthy of its subject: magisterial, insightful, beautifully written, by one of our foremost historians.

Reviews
"With his customary flair and keen historical eye, Andrew Roberts has delivered the goods again. This is the best single one-volume biography of Napoleon in English for the last four decades. A tour de force that belongs on every history lovers bookshelf!"
—Jay Winik, bestselling author of The Great Upheaval and April 1865
"Is another long life of Napoleon really necessary? On three counts, the answer given by Andrew Roberts's impressive book is an emphatic yes. The most important is that this is the first single-volume general biography to make full use of the treasure trove of Napoleon's 33,000-odd letters, which began being published in Paris only in 2004. Second, Roberts, who has previously written on Napoleon and Wellington, is a masterly analyst of the French emperor's many battles. Third, his book is beautifully written and a pleasure to read."
—The Economist
"A huge, rich, deep, witty, humane and unapologetically admiring biography that is a pleasure to read. The Napoleon painted here is a whirlwind of a man—not only a vigorous and supremely confident commander, but an astonishingly busy governor, correspondent and lover, too. . . . To dive into Roberts's new book is to understand—indeed, to feel—why this peculiarly brilliant Corsican managed for so long to dazzle the world."
—Dan Jones, The Telegraph
"Entertaining, even addictive . . . Roberts writes with great vigor, style, and fluency."
—Sunday Times (London)
"Magnificent . . . Roberts's fine book encompasses all the evidence to give a brilliant portrait of the man. The book, as it needs to be, is massive, yet the pace is brisk and it's never overwhelmed by the scholarly research, which was plainly immense."
—Mail on Sunday
"Roberts not only brings the Napoleon story up to date but, with new evidence from the archives and an original spin on the present, makes a compelling case for why we should all read anew about the little Corsican in the 21st century."
—The Observer (London)
"Magisterial and beautifully written . . . A richly detailed and sure-footed reappraisal of the man, his achievements—and failures—and the extraordinary times in which he lived."
—Standpoint
"A definitive account that dispels many of the myths that surrounded Napoleon from his lifetime to the present day."
—Publishers Weekly
"A compelling biography of the preeminent French general that stands apart from the rest, owing to the author's thoroughness, accuracy, and attention to detail. Roberts relies on his military expertise, Napoleon's surviving correspondence (33,000 items in all), and exhaustive on-site studies of French battlegrounds. . . . This voluminous work is likely to set the standard for subsequent accounts."
—Library Journal (starred review)

About the Author
Andrew Roberts
is the bestselling author of
The Storm of War, Masters and Commanders, Napoleon and Wellington, and Waterloo
. A Fellow of the Napoleonic Institute, he has won many prizes, including the Wolfson History Prize and the British Army Military Book Award, writes frequently for
The Wall Street Journal
, and has written and presented a number of popular documentaries. He lives in New York City.