Now You See It
: How the Brain Science of Attention Will Transform the Way We Live, Work, and Learn
Cathy N. Davidson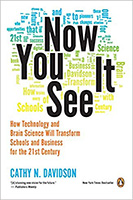 Format:
Paperback, 352pp.
ISBN:
9780143121268
Publisher:
Penquin Books
Pub. Date:
July 31, 2012
Average Customer Review:

For Bulk Orders Call: 626-441-2024

Description and Reviews
From
The Publisher:
A digital innovator shows how we can thrive in the new technological age.
When Cathy Davidson and Duke University gave free iPods to the freshman class in 2003, critics said they were wasting their money. Yet when students in practically every discipline invented academic uses for their music players, suddenly the idea could be seen in a new light-as an innovative way to turn learning on its head.
This radical experiment is at the heart of Davidson's inspiring new book. Using cutting-edge research on the brain, she shows how "attention blindness" has produced one of our society's greatest challenges: while we've all acknowledged the great changes of the digital age, most of us still toil in schools and workplaces designed for the last century. Davidson introduces us to visionaries whose groundbreaking ideas-from schools with curriculums built around video games to companies that train workers using virtual environments-will open the doors to new ways of working and learning. A lively hybrid of Thomas Friedman and Norman Doidge,
Now You See It
is a refreshingly optimistic argument for a bold embrace of our connected, collaborative future.

Reviews
"Davidson isn't the first to point out [our] anxieties about texting tots ... But her work is the most powerful yet to insist that we can and should manage the impact of these changes in our lives."
—Fast Company
"Cathy Davidson has one of the most interesting and wide ranging minds in contemporary scholarship, a mind that ranges comfortably over literary arts, literacy, psychology, and brain science. Her ambitious and timely book is certain to attract a lot of attention and to catalyze many discussions."
—Howard Gardner, Hobbs Professor of Cognition and Education, Harvard University, author of Five Minds for the Future
"Now You See It is a stunning work, one that we have all been waiting for and that I endorse wholeheartedly. Only Cathy Davidson could pull off such a sweeping book. It's a true 'wow wow.'"
—John Seely Brown, formerly Chief Scientist of Xerox Corporation and Director of Palo Alto Research Center (PARC), and co-author of The Social Life of Information
"Now You See It starts where Malcolm Gladwell leaves off, showing how digital information will change our brains. Think Alvin Toffler meets Ray Kurzweil on Francis Crick's front porch. We need this book."
—-Daniel Levitin, James McGill Professor of Neuroscience, McGill University and author of the New York Times bestsellers This Is Your Brain on Music and The World in Six Songs
"The technological changes around us are of unprecedented proportions. What effects this has on us and what it tells us about human nature more generally is a central question for society and for all of us personally. In this book Cathy Davidson integrates findings from psychology, attention, neuroscience, and learning theory to help us get a glimpse of the future and more importantly a better understanding of our own individual potential."
—Dan Ariely, James B. Duke Professor of Psychology and Behavioral Economics, Duke University and author of Predictably Irrational: The Hidden Forces that Shape Our Decisions

About the Author
Cathy N. Davidson
served as the first vice provost fro interdisciplinary studies at Duke University from 1998 until 2006, where she helped create the Center for Cognitive Neuroscience. She currently codirects the annual HASTAC/MacArthur Foundation Digital Media and Learning competitions. She has published more than a dozen books, including Closing: The Life and Death of an American Factory and The Future of Thinking. She lives in Durham, North Carolina.