Negotiating the Nonnegotiable
: How to Resolve Your Most Emotionally Charged Conflicts
Daniel Shapiro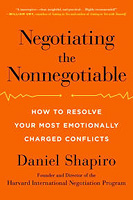 Format:
Paperback, 336pp.
ISBN:
9780143110170
Publisher:
Penguin Books
Publication Date:
March 7, 2017
Average Customer Review:

For Bulk Orders Call: 626-441-2024

Description and Reviews
From
The Publisher:
Find out how to successfully resolve your most emotionally charged conflicts. In this landmark book, world-renowned Harvard negotiation expert Daniel Shapiro presents a groundbreaking, practical method to reconcile your most contentious relationships and untangle your toughest conflicts.
Before you get into your next conflict, read
Negotiating the Nonnegotiable
. It is not just "another book on conflict resolution," but a crucial step-by-step guide to resolve life's most emotionally challenging conflicts—whether between spouses, a parent and child, a boss and an employee, or rival communities or nations. These conflicts can feel nonnegotiable because they threaten your identity and trigger what Shapiro calls the Tribes Effect, a divisive mind-set that pits you against the other side. Once you fall prey to this mind-set, even a trivial argument with a family member or colleague can mushroom into an emotional uproar. Shapiro offers a powerful way out, drawing on his pioneering research and global fieldwork in consulting for everyone from heads of state to business leaders, embattled marital couples to families in crisis. And he also shares his insights from negotiating with three of the world's toughest negotiators—his three young sons. This is a must read to improve your professional and personal relationships.

>
Reviews
"Dan Shapiro has written a masterpiece—clear, insightful, and practical—about the most difficult and emotionally-charged of negotiations: those that revolve around identity. Highly recommended!"
—William Ury, co-author of Getting to Yes and author of Getting to Yes with Yourself
"Daniel Shapiro brings brilliant insights to the baffling conundrum of our age, intractable disputes of all kinds. Both a seasoned psychologist and international negotiator, Shapiro shows us how people's deep identities are both problem and solution. Negotiating the Nonnegotiable will help anyone bring practical tools to the table whenever confrontation looms."
—Daniel Goleman, author Emotional Intelligence
"With telling examples from the bedroom to the boardroom to the war room, this book gives us something invaluable—a way both to see the perils of identity conflict in negotiation and to avoid them."
—Prof. Robert Cialdini, Author of Influence: The Psychology of Persuasion
"Dan Shapiro has tackled one of the most vexing problems in a world racked by conflict and violence: how to reach common ground when peoples hold different values and hate each other. His insights, drawn from years of study and travel, are both instructive and inspiring. Those seeking peaceful resolutions should keep this book on a bedside table."
—David Gergen, former White House adviser; Co-director and Professor of public service, Center for Public Leadership, John F. Kennedy School of Government, Harvard University
"Negotiating the Nonnegotiable offers valuable insights for reimagining our approach to conflict resolution at every level—from the interpersonal to the global. Grounded in decades of fieldwork and firsthand experience, Daniel Shapiro's thoughtful book invites us to engage in negotiation through the framework of personal identity, and to seek successful outcomes in a spirit of empathy and compassion."
—Jack DeGioia, President, Georgetown University
"In Negotiating the Nonnegotiable, Daniel Shapiro provides us with one of the most optimistic and compelling approaches to conflict resolution of our time. Although we live in an age where compromise between opposing ideologies seems impossible, we are presented with a new paradigm, showing us that things can be different. We benefit from Shapiro's decades of research on the underlying complexities of negotiation and learn from his most important breakthrough: that we do not have to sacrifice our deepest values in order to find common ground."
—Howard W. Buffett, Lecturer in International and Public Affairs, Columbia University
"A must-read! Dan Shapiro's Negotiating the Nonnegotiable offers bold, practical, and uplifting advice to reduce the turmoil of conflict and foster reconciliation in your professional and personal life. His innovative and compelling approach significantly advances our understanding of successful dispute resolution."
—Michael Wheeler, Harvard Business School
"Daniel Shapiro's Negotiating the Nonnegotiable is a modern masterpiece. Bold and compelling from the first page, he shines a light on the dark divisive forces of conflict, whilst describing pathways towards space and harmony through the power of reconciliation and affiliation. It is the ultimate proof that addressing conflict requires a courageous head as much as a collaborative heart. Every leader should read it and live by it."
—Katherine Garrett-Cox, CEO, Alliance Trust Investments
"Negotiating the Nonnegotiable is one of the most important books of our modern era. Dan Shapiro gives us a whole new set of tools to tackle our toughest disputes—those that threaten our identity. This brilliant book is innovative, practical, and exactly what we need in today's world."
—Jaime de Bourbon de Parme, Ambassador of the Netherlands to the Holy See
"Negotiating the Nonnegotiable is a fascinating read that gets to the core of all kinds of conflicts. Daniel Shapiro draws on his lifetime's work to examine processes that lead from discord to harmony and from war to peace. His book is a gripping account of how people of every persuasion can come together and find a new beginning. Anyone with an interest in the work of reconciliation, peace-building, and conflict resolution should read this book."
—Bertie Ahern, Former Prime Minister of Ireland 1997-2008; Co-negotiator of the Good Friday Agreement
"As Commander of the NYPD Hostage Negotiation Team for over fourteen years, I have been involved in many dangerous non-negotiable negotiations, where a tactical resolution often had to be realized. In Negotiating the Nonnegotiable, Dan Shapiro unlocks the strategies to reconcile strained relationships and find the hidden possibilities for resolution. An extraordinary book that will change your life."
—Lt. Jack Cambria, Commanding Officer NYPD Hostage Negotiation Team (Retired)
"Dan Shapiro has written a book that is at once both profound and practical, heartfelt and hopeful. At a time when one of our world's most alarming faultlines is the growing polarization between individuals and groups—divided by race, ethnicity, politics, religion, or class—immersion in his wisdom is a must for anyone trying to prevent or resolve these conflicts."
—Matthew Bishop, senior editor The Economist Group and cofounder of the Social Progress Index
"No one has thought more deeply and creatively about the impact of emotions on conflict than Dan Shapiro. In Negotiating the Nonnegotiable, Dan draws on that depth of knowledge to develop a workable method that enables us to deal effectively with emotional conflicts that all too often seem nonnegotiable."
—Jeswald W. Salacuse, Henry J Braker Professor, the Fletcher School of Law and Diplomacy, Tufts University; author of Negotiating Life
"A wise book—full of experience, heart, and intelligence—it will give every reader insights to consider and plans to enact. We can hope that no conflict is intractable, thanks to this book. And it has great stories."
—Susan T. Fiske, Eugene Higgins Professor of Psychology and Professor of Public Affairs, Princeton University
"What a powerful book! Negotiating the Nonnegotiable is both entertaining and deeply enriching, with a comprehensive content and a diversity of examples from daily life and global contexts. I wish I would have known much earlier in life about the ideas in this book, including my vertigo syndrome! Shapiro provides us with a fabulous invitation to consistently trade disharmony for harmony."
—Alain Robert, Vice Chairman, UBS Wealth Management
"This fascinating book tells us a lot about the role of identity in international conflicts and how to bridge the divide. It expands our understanding of the political reconciliation in the international system."
—Prof. Yan Xuetong, Dean of the Institute of Modern International Relations, Tsinghua University
"Welcome to Negotiation 3.0! Dan Shapiro gives us new eyes through which to understand even the most difficult negotiations—and a powerful new toolkit to overcome them. Negotiators from both my own country of Japan and from around the world will be inspired by this important new text, and will benefit immensely from it."
—Jiro Tamura, Professor of Law, Keio University, President, Negotia Club (Japan)

About the Author
Daniel Shapiro
, Ph.D., is a world-renowned expert on negotiation and conflict resolution. He founded and directs the Harvard International Negotiation Program, which has pioneered innovative strategies and teaching methodologies to address the human dimensions of conflict resolution. Dr. Shapiro also is an associate professor in psychology at Harvard Medical School/McLean Hospital and affiliated faculty at Harvard Law School's Program on Negotiation, where he serves as the associate director of the Harvard Negotiation Project. For three years, he chaired the World Economic Forum's Global Agenda Council on Conflict Prevention. He has launched back-channel negotiations to help revitalize formal peace negotiations in a major Middle East conflict, and regularly conducts negotiation trainings for government leaders around the world—including Middle East negotiators, Chinese officials, Serbian members of parliament, and senior U.S. officials. Through nonprofit funding, he developed a conflict management program that now reaches one million youth across more than thirty countries. He has appeared on dozens of radio and television shows and has contributed to The New York Times, O, The Oprah Magazine, and other popular publications. Dr. Shapiro is the recipient of numerous awards, including the American Psychological Association's Early Career Award and the Cloke-Millen Peacemaker of the Year Award. The World Economic Forum named him a "Young Global Leader." In his spare time, he plays blues guitar and enjoys playing baseball with his three sports-loving sons.