To Pixar and Beyond
: My Unlikely Journey with Steve Jobs to Make Entertainment History
Lawrence Levy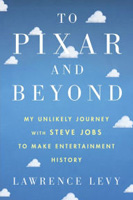 Format:
Hardcover, 272pp.
ISBN:
9780544734142
Publisher:
Houghton Mifflin Harcourt
Publication Date:
November 1, 2016
Average Customer Review:

For Bulk Orders Call: 626-441-2024

Description and Reviews
From
The Publisher:
The never-before-told story of Pixar's improbable success.
"Hi, Lawrence?" the caller asked. "This is Steve Jobs. I saw your picture in a magazine a few years ago and thought we'd work together someday."
After Steve Jobs was unceremoniously dismissed from Apple, he turned his attention to a little-known graphics art company that he owned called Pixar.
One day, out of the blue, Jobs called Lawrence Levy, a Harvard-trained lawyer and Silicon Valley executive to whom he had never spoken before, in the hope of persuading Levy to help him get Pixar on the right track.
What Levy found in Pixar was a company on the verge of failure.
To Pixar and Beyond
is the extraordinary story of what happened next: How Levy, working closely with Jobs and the Pixar team, produced and implemented a highly improbable roadmap that transformed the sleepy graphics art studio into one of Hollywood's greatest success stories.
Set in the worlds of Silicon Valley and Hollywood, the book takes readers inside Pixar, Disney, law firms, and investment banks. It provides an up-close, first-hand account of Pixar's stunning ascent, how it took risks, Levy's enduring collaboration and friendship with Jobs, and how Levy came to see in Pixar deeper parallels that apply to all aspects of our lives.

Reviews
"What a delightful book about the creation of Pixar from the inside. I learned more about Mr. Jobs, Pixar and business in Silicon Valley than I have in quite some time. And like a good Pixar film, it'll put a smile on your face."
—Andrew Ross Sorkin in The New York Times (7/4/2016)
"I love this book! I think it is brilliant. Of course I am biased, but even so, I think people will love this story -- one they didn't even know existed. And Lawrence has told it beautifully."
—Ed Catmull, Co-Founder and President Pixar Animation, President Disney Animation, bestselling author of Creativity Inc.
"Lawrence Levy's To Pixar and Beyond is the gripping story of how, through hard work, vision, and a devotion to excellence, tiny Pixar transformed itself into a Hollywood powerhouse. But it's also something more: a wonderful buddy story -- between Levy and Steve Jobs --and how their friendship and partnership transformed them both."
—William D. Cohan, bestselling author of House of Cards and Money and Power
"To Pixar and Beyond is a finely sketched insider's account of the hard-fought success of a pathbreaking company. Lawrence Levy goes surprisingly and refreshingly deep on the business details behind Pixar's creative achievements. He also shows an intimate side of Steve Jobs that will delight the mercurial businessman's many admirers."
—Adam Lashinsky, Assistant Managing Editor of Fortune Magazine and author of Inside Apple.
"Lawrence Levy, a former top exec at Pixar, tells the inside story of how a struggling computer animation company became one of the greatest entertainment organizations of all time. To Pixar and Beyond is part business book and part thriller — a tale that's every bit as compelling as the ones Pixar tells in its blockbuster movies. It's also incredibly inspirational, a story about a team that took big risks and reaped the rewards. This is a must-read book for anyone who cares about corporate culture and wants to learn how to build a business, as well as everyone who loves Woody, Buzz, and all of the other beloved Pixar characters. I loved this book and could not put it down."
—Dan Lyons, bestselling author of Disrupted.

About the Author
Lawrence Levy
is a Silicon Valley lawyer and executive hired by Steve Jobs in 1994 as CFO and member of the Office of the President of Pixar Animation Studios. Lawrence was responsible for Pixar's business strategy and IPO and guided Pixar's transformation from a money-losing graphics company into a multibillion-dollar entertainment studio. He later joined Pixar's board of directors. Lawrence left corporate life to study Eastern philosophy and meditation and their relevance to modern life. He now writes and teaches on this topic and cofounded Juniper Foundation to pursue this work. Originally from London, England, Lawrence earned degrees from Indiana University and Harvard Law School. He lives with his wife, Hillary, in Palo Alto, California.