Creative Change
: Why We Resist It...How We Can Embrace It
Jennifer Mueller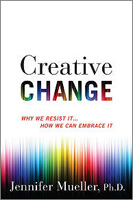 Format:
Hardcover, 256pp.
ISBN:
9781328745668
Publisher:
Mariner Books
Pub. Date:
January 2, 2018
Average Customer Review:

For Bulk Orders Call: 626-441-2024

Description and Reviews
From
The Publisher:
One of the nation's leading psychologists asks why today's corporate leaders desire but reject creative solutions --and finds some surprising conclusions.
All corporate CEOs, top executives, and other business leaders say they want creativity and need real innovation in order to thrive in a competitive world. But according to startling research from former Wharton management professor Jennifer Mueller, the truth is that many business leaders chronically reject creative solutions and often embrace the familiar, even as they profess commitment to innovation.
Mueller's research also reveals that it's not just CEOs, but educators, scientists, and many, many others who often struggle to accept new and creative ideas even when desired. Mueller parses the tough questions that these findings raise. Could people love but also hate creative ideas? Could the mindset we use to evaluate ideas turn this love or hate on or off—in an instant? Do experts struggle even more than novices with this bias? And even more startling, could the "best practices" that organizations employ to manage innovation activate this bias, and inadvertently, kill innovation?
Mueller diagnoses this hidden innovation barrier, and provides solutions, including:
• A four- step process (and a fifth lifeline) to self-disrupt your current mindset and recognize creative opportunity;
• an idea-pitching framework aimed at helping you overcome other peoples' sticky preference for the status quo;
• key organizational levers to disrupt the cultural beliefs holding your company back;
• tips to more accurately recognize creative leaders who can lead organizations in productive new directions, and
• strategies to generate ideas without harming your ability to make them count with the decision-makers.
Based on the latest psychological studies in the field, along with numerous illustrative examples, Creative Change is the kind of provocative creative leadership book that will be discussed for years to come.

Reviews
"Mueller, an accomplished scholar in the management field, has developed a well-formulated argument for creativity. Her ideas and research need to be available to academics, business practitioners, and, really, everyone"
—Library Journal
"This enlightening book not only shows why people reject creativity but provides solutions on how to switch one's thinking and truly welcome it."
—Publishers Weekly
"Solid reading for the business set"
—Kirkus Reviews
"We all claim to love creative ideas, but this book reveals why we're so often biased against them—and how we can overcome the barriers that stand in the way of innovation."
—Adam Grant, New York Times bestselling author of ORIGINALS and GIVE AND TAKE
"Jen Mueller makes a telling point: To be most successful, we need both to foster creativity in ourselves and to reduce our resistance to it when it occurs around us. Better still, she provides manageable, scientifically-grounded steps for doing each. Count me sold on this book."
—Robert Cialdini, author of Influence and of Pre-Suasion
"If we all crave creativity so much, why do we reject new ideas so often? Jen Mueller's smart new book unravels this puzzle"
—Daniel H. Pink, bestselling author of Drive and A Whole New World
"'Playing it safe' has never been riskier—yet truly embracing change has never felt tougher. Jennifer Mueller offers refreshingly creative insights and relentlessly useful advice for unleashing creativity in your company, your career, and your life. Don't just sit there...Read this book—and change something!"
—William C. Taylor, Cofounder, Fast Company and author of Simply Brilliant
"This book completely changed the way I think about creative innovation: the challenge is not coming up with good ideas but training yourself to recognize them. A must read."
—Cal Newport, Bestselling author of Deep Work and So Good They Can't Ignore You
"We all have a love-hate relationship with creativity. In Creative Change, Jennifer Mueller tells fascinating tales of how we unconsciously undermine our best creative intentions. She reveals the latest psychological science explaining this conflict and offers concrete steps for making creative change happen in our work, our companies, and our world. Whether you're trying to save the planet or save your business, you need this book."
—Teresa Amabile, Professor and Director of Research, Harvard Business School, and co-author of The Progress Principle

About the Author
Jennifer Mueller
earned her PhD in Social and Developmental Psychology at Brandeis University, and has been on the faculty of many top business schools including the Wharton School, Yale School of Management and NYU's Stern School of Business. One of her papers, upon which this book is based, "The Bias Against Creativity," went viral and was downloaded over 65,000 times—receiving more than 100 media mentions and being described as a "famous study" in TheAtlantic. Jennifer's work has been featured in many major media outlets including WSJ, NPR, CNN, HBR, The Atlantic, Fortune, Forbes, and Fast Company. Jennifer, a native Californian, is currently an Associate Professor at the University of San Diego.