Talk Is (Not!) Cheap
: The Art of Conversation Leadership
Jim McCann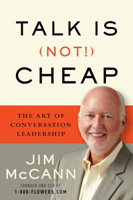 Format:
Paperback, 208 pp.
ISBN:
9781477800999
Publisher:
Amazon Publishing
Pub. Date:
November 21, 2017
Average Customer Review:

For Bulk Orders Call: 626-441-2024

Description and Reviews
From
The Publisher:
Jim McCann has spent his career talking. For McCann, the founder and CEO of the world's leading florist, 1-800-Flowers.com, being open and ready to speak to a variety of audiences is his most powerful leadership tool.
In
Talk Is (Not!) Cheap
, McCann illustrates how the art of conversation leadership—the process he developed to engage others and create forward momentum in the workplace—can be used to inspire, innovate, and win. Using a blend of how-to and insightful personal stories, this book argues that the gift of gab may just be the most critical (and undervalued) skill set in today's workplace.
Lessons include how to overcome hesitation when diving into conversation with strangers and knowing when to just "shut up and listen!" McCann's practical advice comes from twenty years of experience as the voice of small business, and from meeting and exchanging ideas with other influential business leaders around the world.
Whether you're interacting with customers, pitching new business to a client, or seeking to be heard within your own company, Talk Is (Not!) Cheap will strategically transform the way you communicate and listen. With McCann as your guide, this important book will teach you how the art of conversation leadership can improve and joyously change your life.

Reviews
"If you want to be a leader in any type of organization, read Talk Is (Not!) Cheap. It is full of helpful suggestions by someone who has learned when to listen and when to talk. His conversational leadership shows us how we can reach people with our spoken words, whether in the boardroom or before a large audience. McCann proves that nice guys can finish first."
—Former U.S. Senator Bill Bradley
"Conversation drives business. Having spent the past fifteen years working with entrepreneurs, I know that new companies either succeed or fail based on their ability to connect--with their investors, their customers, their employees, and their communities. In Talk Is (Not!) Cheap, Jim McCann shows why emails and PowerPoint decks are a poor substitute for the natural connections that arise when people pause to talk—and listen—to one another. Entrepreneurs of all stripes would be well advised to pick up this book."
—Linda Rottenberg, Co-Founder and CEO of Endeavor
"Jim McCann is a great teacher in the art, science, and heart of leadership. At a time when so many people are just talking at one another, Talk Is (Not!) Cheap is an important reminder for all of us to get back to basics, listen, and rediscover what it means to have true dialogue. Honest, refreshing, and immediately actionable."
—Clara Shih, author of The Facebook Era
"Jim McCann sends us a wakeup call that face-to-face communication remains the essential tool for work, relationships, leadership, entrepreneurship, sales and so many other dimensions of social life. Talk Is (Not!) Cheap is full of down-to-earth, experienced, pithy advice from someone who clearly practices what he, well, converses."
—Daniel Isenberg, author of Worthless, Impossible, and Stupid: How Contrarian Entrepreneurs Create and Capture Extraordinary Value

About the Author
Jim McCann
is the founder and CEO of 1-800-Flowers.com, the world's leading florist. He is also the author of Stop and Sell the Roses: Lessons from Business and Life.

Table of Contents
| | | |
| --- | --- | --- |
| | | |
| | Acknowledgements | vii |
| | Introduction | ix |
| | | |
| 1 | Entrepreneurial Conversations | 1 |
| 2 | Conversation Management | 23 |
| | Conversations with Customers | 43 |
| | Conversations with Family | 67 |
| | Conversations about Technology | 85 |
| | Learning from Conversation Leaders | 103 |
| | Global Conversations | 119 |
| | Conversations with Community | 127 |
| | Conversation as Currency | 143 |
| | Talking Your Way Out of Trouble | 159 |
| | | |
| | Epilogue | 173 |
| | Appendix | 175 |
| | Index | 181 |

Find Items On Similar Subjects

Talk, Inc.
: How Trusted Leaders Use Conversation to Power their Organizations