Gold Medal Strategies
: Business Lessons From Americas Miracle Team
Jim Craig and Don Yaeger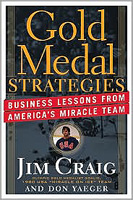 Format:
Hardcover, 240pp.
ISBN:
9780470928066
Publisher:
Wiley
Pub. Date:
April 12, 2011
Average Customer Review:

For Bulk Orders Call: 626-441-2024

Description and Reviews
From
The Publisher:
Going into the 1980 Winter Olympic Games at Lake Placid, the U.S. men's hockey team was seeded seventh among the twelve teams competing. Winning a medal of any type was a long shot. Yet the U.S. squad, whose average player age was twenty-two, displayed stunning teamwork, eventually earning a place in the medal round against the Soviet Union, the world's most dominant hockey team.
Nearly everyone thought that Team USA didn't stand a chance against the Russians. But the scrappy Americans, under the direction of legendary coach Herb Brooks, pulled off the greatest sports upset of all time. The "Miracle on Ice," as the victory became known, was a defining moment for an American public that saw the game as symbolic of the ongoing Cold War struggle. Two days later, the U.S. beat Finland to clinch the Olympic gold medal. Without a doubt, what the U.S. team did was one of the most thrilling episodes in sports. But a miracle? Hardly.
The U.S. team's goalie, and the backbone of the team, was a Boston University student named Jim Craig—today, an internationally renowned motivational speaker and sales and marketing strategist. In Gold Medal Strategies, Craig draws lessons from those dedicated twenty-two-year-olds and their demanding coach and describes the qualities of championship teams, whether in athletics or business. He delivers sage advice on building a winning team and achieving greatness in business and in life. You'll learn how to:
Recruit people with the right values and character, and then get them to buy into your vision
Recognize and deal with enemies of success in your own house
Pull potential out of every member of your team—you recruited them, so it's your responsibility to make them great!
Establish a two-way street of accountability
Define victory for your team, and have a vision for your legacy
Great teams dare to dream big. They put in the hard work required and commit to proving the doubters wrong. The 1980 U.S. men's hockey team rose to its challenge. Your team can too.

About the Authors
Jim Craig
, the celebrated goalie on the 1980 U.S. Olympic men's hockey team, stopped thirty-nine of forty-two Russian shots on goal, leading the U.S. to a 4-3 win against the heavily favored Soviets. Following his retirement from hockey, he pursued an award-winning sales and marketing career that included taking an operating unit with $300,000 in annual sales to $50 million. He is founder and President of Gold Medal Strategies, a Boston area–based promotions and marketing firm. Learn more at www.goldmedalstrategies.com.
Don Yaeger
is a former Sports Illustrated editor and coauthor of four sports-related New York Times bestsellers. He is also a frequent motivational speaker on lessons he's learned from sports legends like Walter Payton and John Wooden. He is a frequent contributor to several nationally syndicated sports programs, including Fox News and ESPN. Learn more at www.donyaeger.com.

Table of Contents
| | | |
| --- | --- | --- |
| | | |
| | Foreword by Jon "Jack" Luther | |
| | Acknowledgements | |
| | | |
| | Introduction | |
| 1 | Great Teams Think of Themselves as Winning Underdogs | |
| 2 | Great Teams Have a Shared Dream | |
| 3 | Great Teams Make Personal Sacrifices | |
| 4 | Great Teams Hold Themselves and Others Accountable | |
| 5 | Great Teams Are the Product of Picking the Right Players | |
| 6 | Great Teams Have a Real or Invented Enemy | |
| 7 | Great Teams Stay Young in Spirit and Outlook | |
| 8 | Great Teams Manage Through Ego and Conflict | |
| 9 | Victory—The One and Only End Game | |
| | | |
| | Index | |