Rainmaking Conversations
: Influence, Persuade, and Sell in Any Situation
Mike Schultz and John E. Doerr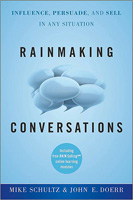 Format:
Hardcover, 271pp.
ISBN:
9780470922231
Publisher:
Wiley
Pub. Date:
March 29, 2011
Average Customer Review:

For Bulk Orders Call: 626-441-2024

Description and Reviews
From
The Publisher:
Conversations make or break everything in sales. Every conversation you have is an opportunity to find new prospects, win new customers, and increase sales.
Rainmaking Conversations
provides a proven system for leading masterful conversations that fill the pipeline, secure new deals, and maximize the potential of your account.
Rainmaking Conversations
offers a research-based, field-tested, and practical selling approach that will help you master the art of the sales conversation. This proven system revolves around the acronym RAIN, which stands for Rapport, Aspirations and Afflictions, Impact, and New Reality. You'll learn how to ask your prospects and clients the right questions, and help them set the agenda for success.
Armed with the knowledge of the markets you serve, the common needs of prospects, and how your products and services can help, you can become a trusted advisor to your clients during and after the sale. With the RAIN system, you'll be able to:
Build rapport and trust from the first contact
Create conversations with prospects, referral sources, and clients using the telephone, email, and mail
Uncover the real need behind client challenges
Make the case for improved business impact and return on investment (ROI) for your prospects
Understand and communicate your value proposition
Apply the 16 principles of influence in sales
Overcome and prevent all types of objections, including money
Craft profitable solutions and close the deal
The world-class RAIN Selling
SM
methodology has helped tens of thousands of people lead powerful sales conversations and achieve breakthrough sales performance. Start bridging the gap between "hello" and profitable relationships today.

Reviews
"There are too many books on selling, but once in a while one comes along with a fresh approach. This one is worth reading even by the seasoned professional."
—Philip Kotler, S.C. Johnson Distinguished Professor of International Marketing, Kellogg School of Management, Northwestern University
"I love this book. Why? Because Rainmaking Conversations isn't yet another collection of empty tips-and-tricks calories that provides no real nourishment to your career. This is the real thing."
—Dave Stein, CEO & Founder, ES Research Group, Inc.
"There are lots of books on selling, but few as free of fluff as Rainmaking Conversations. Highly recommended."
—Michael Port, NY Times Best-Selling Author, Book Yourself Solid
"Nothing happens without sales…and Mike Schultz and John Doerr have effectively provided us all with the book on sales that will make things happen! Rainmaking Conversations is a must read!"
—Leonard A. Schlesinger, President, Babson College
"Those who can't make rain think it's about luck and personality. Real rainmakers know that it's about hard work, preparation, and proven methods. Except for the hard work, everything you need is in this book."
—Thomas H. Davenport, Author, Competing on Analytics
"Kudos to Schultz and Doerr on this compelling read. Let it RAIN!"
—David Lissy, CEO, Bright Horizons Family Solutions
"Today's crazy-busy prospects won't waste their time with you unless they get value from every interaction. In Rainmaking Conversations, you'll learn how to make that a reality."
—Jill Konrath, Author, SNAP Selling, and Selling to Big Companies
"In this book—chock full of compelling stories and winning techniques—Mike Schultz and John Doerr show you how to master the art of rainmaking."
—David Meerman Scott, Bestselling Author, The New Rules of Marketing & PR

About the Authors
Mike Schultz
is Co-President of RAIN Group and a world-renowned consultant and expert in sales training and performance improvement. He is publisher of RAIN Group's RainToday.com, one of the world's largest online magazines (over 100,000 subscribers) and membership sites for sales and marketing. He is also on the faculty in the Marketing Division at Babson College and writes at raingroup.com/blog and on Twitter at @Mike_Schultz.
John E. Doerr
is Co-President of RAIN Group and consults, speaks, writes, and teaches on the subjects of selling and sales performance. His own rainmaking conversations have helped lead RAIN Group to Inc. magazine's list of the fastest growing companies in the United States. Find him on Twitter at @JohnEDoerr.

Table of Contents
| | | |
| --- | --- | --- |
| | | |
| | Acknowledgments | |
| | | |
| | Part One Getting Ready to Make RAIN | |
| 1 | Introduction | |
| 2 | The Most Important Conversation You'll Ever Have | |
| 3 | Goal and Action Planning: Making the Most Rain | |
| 4 | Understanding and Communicating Your Value Proposition | |
| | | |
| | Part Two RAIN Selling Key Concepts | |
| 5 | Rapport | |
| 6 | Aspirations and Afflictions | |
| 7 | Impact | |
| 8 | New Reality | |
| 9 | Balancing Advocacy and Inquiry | |
| 10 | Digging Deep into Needs: The Five Whys | |
| 11 | 16 Principles of Influence in Sales | |
| 12 | Tips for Leading Rainmaking Conversations | |
| | | |
| | Part Three Maximizing Your RAIN Selling Success | |
| 13 | Prospecting by Phone: Creating Rainmaking Conversations | |
| 14 | Handling Objections | |
| 15 | Closing Opportunities, Opening Relationships | |
| 16 | What You Need to Know to Sell | |
| 17 | Planning Each Rainmaking Conversation | |
| 18 | How to Kill a Sales Conversation | |
| 19 | Putting RAIN in Your Forecast | |
| | | |
| | Appendix and Online Resources | |
| | About RAIN Group | |
| | About RainTodaycom | |
| | RainTodaycom Membership | |
| | About the Authors | |
| | Index | |