Getting Ahead
: Three Steps to Take Your Career to the Next Level
Joel Garfinkle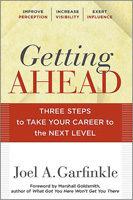 Format:
Hardcover, 271pp.
ISBN:
9780470915875
Publisher:
Wiley
Pub. Date:
September 13, 2011
Average Customer Review:

For Bulk Orders Call: 626-441-2024

Description and Reviews
From
The Publisher:
Two employees put in the hours, execute excellent work, and achieve results for their company. But only one advances to the next level, while the other faces the frustration of being overlooked for a promotion once again. So, what exactly makes one person more successful than another? The answer: leveraging and applying perception, visibility, and influence better than anyone else. While some people leave the fate of their careers in someone else's hands, others determine their future using these three critical skills.
In
Getting Ahead
, top executive coach Joel Garfinkle reveals his signature PVI model—Perception, Visibility, and Influence. Through practical advice, true-to-life examples, and action-oriented tips, you'll learn how to create the right image, increase your profile across the organization, and exert influence by driving change and inspiring people. Get effective tools and tactical approaches that you can implement immediately to become an invaluable—and noticeable—resource for your company, including:
A four-step perception management process to evaluate how you are perceived and change that perception, if necessary
Identify and recruit advocates who will speak up on your behalf
Discover the mind-sets that are stunting your growth, and overcome your fear of the spotlight
Speak up, speak first, and speak often in meetings
Become a master influencer who understands the needs of executives up the ladder, empowers subordinates, and builds relationships with peers
Eliminate the roadblocks that keep you from advancing. Get your name circulating among higher levels of management so that others know you, see your results, and acknowledge the impact you bring to the company.
Getting Ahead
will put you out in front of the competition. You've done the hard work; now learn how to reap the rewards.

Reviews
"Getting Ahead is packed with common sense advice about how to advance your career without sacrificing your integrity. Read this book and let Joel Garfinkle lead you down the right path toward personal success."
—Ken Blanchard, coauthor of The One Minute Manager and Lead with LUV
"I recommend this book with great enthusiasm. In a world going out of control, it's a godsend to have a man who teaches us how to get greater control over our own lives. Joel Garfinkle is his name; remember it. He is one of the very best counselors I have ever met."
—Dick Bolles, author of What Color Is Your Parachute?
"In today's hyper-competitive business world, just being great at what you do will not (alas) get you to the top. Joel Garfinkle knows what will: perception, visibility, and influence. His insightful guide is a must-read for anyone looking to turbocharge his or her career."
—Anne Fisher, "Ask Annie" careers/workplace columnist, Fortune.com
"In Getting Ahead, Joel Garfinkle offers an original, memorable, and powerful approach to becoming more influential, more visible, and highly regarded. Filled with practical advice, real-life examples, and documented evidence, this book is an essential guide for anyone wishing to take charge of their careers."
—Jim Kouzes, coauthor of the award-winning and bestselling The Leadership Challenge
"An indispensable, professional advancement handbook for leaders at every level."
Frances Hesselbein, President & CEO of Leader to Leader Institute, Former CEO, Girl Scouts of the U.S.A.

About the Author
Joel A. Garfinkle
is recognized as one of the top 50 coaches in the U.S., having worked with many of the world's leading companies. He has worked as a consultant for two of the top consulting firms in the world: Ernst & Young in Hong Kong and Accenture in San Francisco. His clientele comprises a distinguished and diverse international client base, including Oracle, Google, Amazon, Deloitte, Ritz-Carlton, Bank of America, Starbucks, and many others. He is regularly featured in the national media, including ABC News, NPR, the New York Times, Forbes, the Wall Street Journal, and BusinessWeek. He has delivered more than one thousand workshops, speeches, and keynote addresses