Leadership Rules
: How to Become the Leader You Want to Be
Chris Widener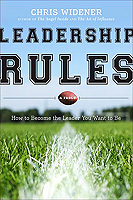 Format:
Hardcover, 176pp.
ISBN:
9780470914724
Publisher:
Jossey-Bass
Pub. Date:
December 21, 2010
Average Customer Review:

For Bulk Orders Call: 626-441-2024

Description and Reviews
From
The Publisher:
An inspiring business fable that champions leadership for the Everyman
From Chris Widener, the best-selling author of The Angel Inside and The Art of Influence, comes a book about hard-won leadership lessons. Set deep in the heartland, this compelling business fable follows downcast protagonist Mike Keller, who having been demoted at work and recently separated from his wife, is forced to relocate to a rural factory town in Texas. There Mike encounters the deep-rooted traditions of Texas high school football, and in the process learns everything business school didn't teach him about leadership from the most influential man in town—the local high school football coach.
At the heart of the book,
Leadership Rules
clearly shows "what you give and get" when you lead through the Four Rules of Leadership:
You Get What You Expect
You Get What You Model
You Get What You Reward
You Get What You Work For
While the story takes place in the dusty Texas plains, the book's leadership lessons can be applied to anyone's work life or personal circumstances no matter where they are rooted. Leadership rules in the boardroom, in the classroom, and on the football field, and this engaging, accessible story will help everyone improve their ability to lead and make a difference in the lives of their followers.
Highlights the Four Rules of Leadership: You Get What You Expect, You Get What You Model, You Get What You Reward, and You Get What You Work For
Advises readers, in an accessible teaching style, on how to tailor the Rules to their own circumstances
Includes reflection questions as a tool to guide readers in enriching their work life, family relationships, and social interactions
Leadership Rules
is an engaging, refreshing tale that imparts leadership lessons easily applied to both work life and your interpersonal relationships.

Reviews
"This is a fast-moving, entertaining book that weaves the best leadership lessons into an enjoyable story that changes you forever."
—Brian Tracy, author of Eat That Frog! and No Excuses!
"Leadership Rules is a quick and fun read that teaches powerfully simple rules of leadership that anyone can follow and apply. You'll love the story and love the lessons you learn!"
—Darren Hardy, publisher of SUCCESS magazine and author of The Compound Effect
"Leadership Rules is an engaging story that teaches the simplicity of effective leadership. The four rules Chris Widener reveals to you are ones that you can immediately put into practice. They will change you and your organization!"
—Jeffrey J. Fox, author of How To Be a Fierce Competitor and RAIN
"We've all heard that sometimes the best things come in the smallest packages, and Chris Widener definitely delivers in a big way in Leadership Rules. Chris shows he isn't just an incredible leader but a captivating storyteller too, wrapping his leadership principles in the form of an entertaining and heartfelt story—proving yet again he has the power to inspire a generation of leaders. Leadership Rules is a book for everyone, from an individual hoping to maximize personal potential to the high-powered executive hoping to motivate thousands."
—Greg Provenzano, president and cofounder, ACN

About the Author
Chris Widener
is an internationally known speaker and the author of six books, including the New York Times and Wall Street Journal best-seller The Angel Inside and The Art of Influence. He is a regular contributor to Success magazine and has his own e-zine. From his participation in sports growing up, to being a successful church planter, police chaplain, and small business owner, Widener has demonstrated the leadership lessons he writes about and teaches around the globe.

Find Items On Similar Subjects

The Art of Influence
: Persuading Others Begins With You