Stop Workplace Drama
: Train Your Team to have No Complaints, No Excuses, and No Regrets
Marlene Chism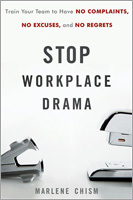 Format:
Hardcover, 240pp.
ISBN:
9780470885734
Publisher:
Wiley
Pub. Date:
January 25, 2011
Average Customer Review:

For Bulk Orders Call: 626-441-2024

Description and Reviews
From
The Publisher:
Stop putting fuel on the fire and take back control of your workplace
Gossip. Power struggles. Poor team coordination. These are all symptoms of workplace drama. They're the obstacles that can drain your company of its best talent, get in the way of true productivity and profit, and eat away at the effectiveness of your organization—that is, unless a leader steps up and takes responsibility for changing course.
Communications consultant and national speaker Marlene Chism has created an eight-step methodology that breaks through negative thinking that can contribute to drama in organizations of every kind and size. She has identified the gaps that drama creates—a gap between where your company is and where it aims to be and the psychological gap that occurs when people are faced with change and the fear that goes with it.
With
Stop Workplace Drama
, Chism shows how to change the way you and your organization confront and work through problems, implement effective management strategies in a drama-filled organization, and find new solutions that create positive growth for every member of your company. You'll learn how to:
Understand the different kinds of "drama roles" played in the office—and how to work through them
Create healthy boundaries, get your work needs met, and make the most of your valuable time
Seek viable opportunities and take responsibility for your efforts
Instill necessary changes without unleashing fear in your organization—which can lead to conflict
Cut through your personal drama so that it doesn't create further issues at work
In today's business world, where competition is fierce and economic challenges are more intense than ever, ending the drama has never been more essential. With fascinating case studies, illuminating insight, and workplace-tested strategies,
Stop Workplace Drama
will help boost the morale of your employees, maximize your company's potential, and put your organization on the road to success.

Reviews
"Stop Workplace Drama does more than reveal excuses for the inclination to drama in the workplace; it offers a wealth of ideas to improve communication, trust, and leadership that will help eliminate the energy, time, and talent drain that drama creates."
—Stephen M. R. Covey, coauthor of the New York Times and the Wall Street Journal bestseller The Speed of Trust
"This easy-to-read book is a must-have for anyone who leads others and wants to improve workplace dynamics so your people can enthusiastically say 'Thank God It's Monday!'"
—Roxanne Emmerich, author of Thank God It's Monday!: How to Create a Workplace You and Your Customers Love
"Stop Workplace Drama offers practical ideas to improve communication in the workplace to eliminate power struggles, backstabbing, and office drama."
—Michael Linenberger, author of Master Your Workday Now!
"Marlene Chism's no-drama approach is down-to-earth and effective, plus it's communicated with good humor and a very big heart."
—Rick Hanson, PhD, coauthor of Buddha's Brain: The Practical Neuroscience of Happiness, Love, and Wisdom
"Stop Workplace Drama is filled with fresh strategies to help leaders navigate change, reach their objectives, and create a positive work climate—all at the same time!"
—Jill Konrath, author of SNAP Selling and Selling to Big Companies
"Marlene Chism has given the Drama Zone its own zip code! This book is a brilliant approach to halting drama in the workplace—right here, right now—and at every level within the organization. No smoke and mirrors, just real-world tips, tools, and techniques to creating a 'no excuses, no complaints, no regrets' workplace. Count me in!"
—Anne Bruce, speaker and bestselling author of more than 14 books, including How to Motivate Every Employee
"Any entrepreneur who wants to eliminate excuses and complaints and increase cooperation will benefit by reading Stop Workplace Drama."
—Mike Michalowicz, author of the cult-classic The Toilet Paper Entrepreneur

About the Author
Marlene Chism
is a consultant, trainer, and professional speaker. She is the founder of the Stop Your Drama methodology—an eight-part process for helping managers and small business owners identify the barriers that are holding back their teams. Marlene is also the creator of Attitude Builders, a monthly teleseminar program developed for busy managers who want easy staff development with no prep, no plan, and no problem. Each month managers learn from experts, authors, and transformational leaders to help increase productivity and personal effectiveness. Working with high-level professionals who want to increase personal performance, Marlene has shared her processes and programs with companies like NASA and McDonald's.