Overload!
How Too Much Information is Hazardous to your Organization
Jonathan B. Spira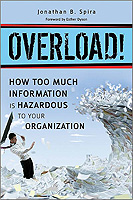 Format:
Hardcover, 260pp.
ISBN:
9780470879603
Publisher:
Wiley
Pub. Date:
May 31, 2011
Average Customer Review:

For Bulk Orders Call: 626-441-2024

Description and Reviews
From
The Publisher:
Timely advice for getting a grip on information overload in the workplace
This groundbreaking book reveals how different kinds of information overload impact workers and businesses as a whole. It helps businesses get a grip on the financial and human costs of e-mail overload and interruptions and details how working in an information overloaded environment impacts employee productivity, efficiency, and morale.
Explains how information—often in the form of e-mail messages, reports, news, Web sites, RSS feeds, blogs, wikis, instant messages, text messages, Twitter, and video conferencing walls—bombards and dulls our senses
Explores what we do with information
Documents how we created more and more information over centuries
Reveals what all this information is doing
Timely and thought-provoking,
Overload!
addresses the reality of?and solutions for?a problem to which no one is immune.
Information has become the great leveler of society and business. In 2010, Information Overload cost the U.S. economy almost $1 trillion. What is Information Overload costing your organization? Written by Jonathan Spira, one of the technology industry's leading thinkers and pundits, Overload!: How Too Much Information Is Hazardous to Your Organization lays out the history and many manifestations of Information Overload in the workplace, as well as tips and strategies to limit the disruptive and costly consequences.
From endless e-mail, social media, and texting, to poor search tools and a dramatic increase in information generation, Information Overload is stretching the bandwidth of businesses and employees at unprecedented levels. Revealing how the very tools deployed to make knowledge workers more efficient have in turn bogged productivity down,
Overload!
explores the many ways today's tidal wave of information has bombarded and dulled our senses as well as hampered our ability to innovate and produce.
Spira examines the staggering statistics of time and money lost due to Information Overload, including:
There are 78.6 million knowledge workers in the United States alone.
Information Overload cost the U.S. economy almost $1 trillion in 2010.
A minimum of 28 billion hours is lost each year to Information Overload in the United States.
Reading and processing just 100 e-mail messages can occupy over half of a knowledge worker's day.
It takes five minutes to get back on track after a 30-second interruption.
For every 100 people who are unnecessarily copied on an e-mail, eight hours are lost.
58 percent of government workers spend half the workday filing, deleting, or sorting information, at a cost of almost $31 billion dollars.
66 percent of knowledge workers feel they don't have enough time to get all of their work done.
94 percent of those surveyed at some point have felt overwhelmed by information to the point of incapacitation.
One major Fortune 500 company estimates that Information Overload impacts its bottom line to the tune of $1 billion per year.
Information Overload has caused people to lose their ability to manage thoughts and ideas, contemplate, and even reason and think.
The reality that many e-mail exchanges which go on for days and weeks at a time could be resolved with a five-minute phone call.
Why Information Overload has completely destroyed the work-life balance, resulting in workdays that never seem to end.
Rich with helpful, pragmatic advice, Overload! provides details, tips, and strategies that the world's leading organizations, including IBM, Intel, Morgan Stanley, and the U.S. Air Force have employed.
Don't let Information Overload strangle your organization's productivity. Fight back with the tips and strategies found in
Overload!

About the Author
Jonathan B. Spira
is CEO and chief analyst of Basex, a research firm focusing on issues companies face in the knowledge economy. His points of view and commentary have appeared in Time, the New York Times, Business Week, and the Wall Street Journal. Mr. Spira is a founding board member of the Information Overload Research Group, an industry consortium. He is author of Managing the Knowledge Workforce: Understanding the Information Revolution That's Changing the Business World and coauthor of The History of Photography (named a best book of the year by the New York Times).