Sharing Hidden Know-How
: How Managers Solve Thorny Problems With the Knowledge Jam
Katrina Pugh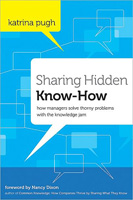 Format:
Hardcover, 272pp.
ISBN:
9780470876817
Publisher:
Jossey-Bass
Pub. Date:
April 12, 2011
Average Customer Review:

For Bulk Orders Call: 626-441-2024

Description and Reviews
From
The Publisher:
One of the great management ideas of the last fifteen years has been to make use of the knowledge that an organization has already learned. However, most businesses find that the knowledge transfer process is rarely effective, as more often than not shared ideas fail to get put to work where they can have the biggest impact.
Sharing Hidden Know-How
outlines a proven process aimed directly at this thorny problem. The book shows how to scope topics, foster the correct tone, conduct a knowledge capture event, and integrate found knowledge into the organization. Developed by Katrina Pugh (an expert in business planning and knowledge-based transformation) the Knowledge Jam method is unique among innovation processes in that it uses conversation (not simply databases, tweets or threads) to capture information and context. Context improves our ability to apply knowledge toward projects that improve productivity, competitiveness and innovation.
The Knowledge Jam process is built around the disciplines of facilitation, conversation, and translation. These bring into balance the coordination, expansion, and pragmatic "pull" of knowledge into its future uses around the organization. Knowledge Jam moves things along efficiently, with a shared sense of responsibility for helping last month's or last year's insights to transform into today's innovative products, functions or regional strategies.
A practical hands-on resource, Sharing Hidden Know-How clearly shows how to define, sell, staff, launch, and evaluate a successful Knowledge Jam program. Pugh also makes a case for using Knowledge Jam as culture—of intention, openness, and stewardship—underpinning such tools of change as collaborative planning and social technology adoption.
Rich with case studies, how-to templates, and adaptations,
Sharing Hidden Know-How
gives leaders, facilitators and consultants a toolkit for handling today's thorny knowledge problems, and the disciplines to "jam" productively among the manager-musicians of our changing world. To manage business operations – let alone innovate – amid frequent restructurings, outsourcings and retirements, leaders must quickly capitalize on hidden know-how (knowledge). That is, know-how that lives inside their organizations or networks – in the teams, processes and experts that comprise them.
Yet, many organizations are coming up short in this race. Knowledge sharing and transfer have been reduced to reports, e-mails and tweets replacing vital personal interaction. The lack of meaningful conversation coupled with intense fragmentation across organizations and networks has left leaders floating in a sea of information and ideas without a map to channel insight into action.
Sharing Hidden Know-How
starts the conversation that allows organizations to take what they know to the bank. The "how-to"/"how-act" guidebook unveils Knowledge Jam, a facilitated collaborative method for helping organizations rediscover the fundamental discipline of knowledge transfer – the conversation.
Developed by Katrina Pugh, president of AlignConsulting, the proven process uses human interaction to capture unwritten insights, and more importantly to put them to work. Offering a step-by-step process and practical tools,
Sharing Hidden Know-How
will help any organization harness untapped knowledge to solve today's thorny problems:
Accelerating New Product Development and Market and Segment Innovations
Maximizing Combined Knowledge in Mergers Integrations, Restructurings, Off-shoring and Outsourcing
Overcoming Information Overload (Focus on Social Media)
Smoothing Executive Transitions and Succession Planning
Smoothing Team Transitions
Spreading Insight across Geographies and Network Partners
Tapping into Sales Insights

Reviews
The next generation of leadership effectiveness is about conversation and reflective facilitation, not just texts and tweets. Sharing Hidden Know-How makes the case for intentional, conversation-based leadership, and provides the practice model to pull it off. Viewed from above, this important book is itself a conversation between Kate Pugh's basic propositions and those of a diverse group of other thinkers, all woven into a unified whole. Viewed on the ground, it is an intellectual joyride, coherent, insightful, promisingly pragmatic, and with just the right measure of the personal to fully reveal a fruitful mind in motion.
—David Kantor, director, Kantor Institute; author, Reading the Room
"[This] book addresses one of the time-honored problems in organizations: 'How do you get people with experience, solutions and knowledge to share them effectively with those who need those valuable assets?' Technology, we now know, is not the answer—human discussion is. [Pugh] tells you how to structure and facilitate these important conversations."
—Thomas H. Davenport, President's distinguished professor of IT and Management, Babson College; author of Analytics at Work and Thinking for a Living.
"In this innovative and useful book Kate Pugh shows how you can be a far better knowledge practitioner just by releasing the power of talking in your organization. A fine example of the new generation of knowledge books."
—Larry Prusak, author, Working Knowledge; visiting scholar, Marshall School of Business, University of Southern California; and senior knowledge advisor to World Bank and NASA
"[This book] meets an urgent need within leadership practices: an effective conversational process for capturing and transferring deep smarts."
—Stephen Denning, author, The Leader's Guide to Radical Management and The Secret Language of Leadership
"Leaders have long known that the 'know-how' of experienced teams is key to their organizations' ability to achieve strategic goals. The challenge has always been to distill this wisdom and deploy it in a way that maximizes and accelerates its impact on organizational effectiveness. [This book] provides a practical approach to addressing this challenge, and, in so doing, improves competitiveness."
—Paul Lucidi, chief information officer, Insulet Corporation
"A fantastic replacement for the long dormant and never used lessons-learned repository! This book provides well documented and effective tools for really learning from your orga­nization. As our business continues to go through transformational change, I hope to make good use of the Knowledge Jam to make that transformation efficient."
—Sheryl Skifstad, senior director, Supply Chain IT at a Fortune 100 company

About the Author
Katrina Pugh
is president of AlignConsulting, a firm that specializes in helping organizations channel insight into action. Kate held leadership positions with PwC Consulting/IBM, JPMorgan, Intel Corporation and Fidelity Investments.