Shockproof
: How to Hardwire Your Business for Lasting Success
Debra Jacobs, Garrett Sheridan and Juan Pablo González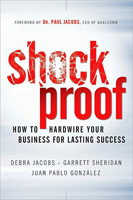 Format:
Hardcover, 288pp.
ISBN:
9780470872543
Publisher:
Wiley
Pub. Date:
December 7, 2010
Average Customer Review:

For Bulk Orders Call: 626-441-2024

Description and Reviews
From
The Publisher:
You survived the recession . . .are you ready for what's next?
With rapid developments and shifts in the economy, technology, and customer expectations, businesses—even those that are widely regarded as successful—are often only one shock away from failure. Leaders spend countless hours trying to derive the perfect business strategy or organization design, only to be thrown off-kilter by an unanticipated change. When faced with a crisis that puts a business in peril, some leaders make the mistake of turning to quick-fix solutions, such as downsizing, divestiture, hiring a "savior" leader, or overinvesting in the latest flavor-of-the-month management consulting fad.
Long-term success does not happen by accident. It happens when leaders are able to see what's going on in their businesses with absolute clarity and act with courage to ensure alignment between their business strategy, organization, and talent. These leaders realize that by balancing focus and flexibility theycan better prepare their businesses to respond to—or better yet, anticipate—change.
Authors Debra Jacobs, Garrett Sheridan, and Juan Pablo González have helped the leaders of numerous companies such as AT&T, Intel, Pfizer, Sony, Nokia, American Express, Juicy Couture, and Qualcomm to better align business strategy, organization, and talent to improve execution. Now with
Shockproof
, these experts will show you how to do the same. The authors combine their experiences and proven approaches with the real stories of leaders who discovered the value of aligning strategy, organization design, and talent long before "shockproofing" became a verb. The insights offered by these successful leaders make Shockproof both compelling and practical. You'll find yourself finishing a chapter and thinking "That makes sense—we can do this too!"

Reviews
"Read Shockproof and discover what every company needs to know and every leader wants to do in order to survive in the twenty-first century!"
—Marshall Goldsmith, world-renowned Executive Coach and author of the New York Times bestsellers Mojo and What Got You Here Won't Get You There
"Shockproof reinforces what I have believed for many years. No company can be resilient, adaptive, and achieve its objectives unless effective talent management processes are in place to ensure a steady supply of the right talent, at the righttime to execute the strategy."
—Bill Conaty, former SVP, Corporate Human Resources, General Electric Company, and author with Ram Charan of The Talent Masters: Why Smart Leaders Put People Before Numbers
"This book is a must if you find your organization in the midst of complex challenges to remain innovative and relevant for the future. Shockproof offers a proven approach to success that is presented with clarity, practicality, and illuminating insight to transform your organization and the talent within."
—Kathy Chalmers, Chief Human Resource Officer, Sony Music Entertainment
"The principles in Shockproof parallel those we have adopted in our commitment to build true collaborative velocity across our agencies. Start with the client's strategic objectives in mind and make sure everyone is on the same page, and then design the right team of talent to partner with the client while paying attention to the larger context and its forces."
—Matt Giegerich, Chairman and CEO, Ogilvy Common Health Worldwide
"Unless you have a crystal ball, read this book! Shockproof provides practical insights from companies that successfully navigate our ever changing world."
—Marc Effron, author of One Page Talent Management and founder, New Talent Management Network

About the Authors
Axiom Consulting Partners'
Debra Jacobs
,
Garrett Sheridan
, and
Juan Pablo González
have dedicated their careers to helping leaders and their organizations achieve their strategic objectives. As executives, advisors, speakers, and authors, they have helped clients across the globe align business strategy, organization design, and talent to improve execution and business results. Each has a deep appreciation of the complexity within today's business environment and what it takes for leaders to guide their organizations toward lasting success.

Table of Contents
| | | |
| --- | --- | --- |
| | | |
| | Prologue "A Shockproof Future" | |
| | | |
| 1 | Beware the Big Blue Catfish | |
| 2 | Headlines or Tombstones? | |
| 3 | Make Sure the Strategy Is "Not Wrong" | |
| 4 | Beyond Boxes and Lines | |
| 5 | Carbon Paper? Really?! | |
| 6 | Connections and Calibrations | |
| 7 | Be the Leader You Seek | |
| 8 | Pass the Salt | |