We
: How to Increase Performance and Profits through Full Engagement
Rudy Karsan and Kevin Kruse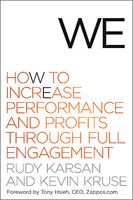 Format:
Hardcover, 256pp.
ISBN:
9780470767436
Publisher:
Wiley
Pub. Date:
January 25, 2011
Average Customer Review:

For Bulk Orders Call: 626-441-2024

Description and Reviews
From
The Publisher:
WE live in a new world where work and life are blended as opposed to balanced, and feelings of financial security and entitlement are a thing of the past. Job satisfaction is at a record low, a crisis with far reaching impact. For businesses, a disengaged workforce means lower levels of productivity and service, and ultimately lower growth and profits. For individuals, our emotions at work spill over to the other areas of our lives and take a toll on our health and relationships.
In
We
, Rudy Karsan and Kevin Kruse dig deep to reveal the nature of work in the modern organization and share the secrets for achieving full engagement at work, based on findings from over 10 million worker surveys in 150 countries, and also on their own experiences leading fast growth companies. They show the inevitable linkage between the success of the individual and the success of the organization, and how both must come together to succeed.
For managers and all professionals, We details the leadership behaviors that generate emotional buy-in and commitment from team members. Karsan and Kruse highlight the three factors that drive one's level of engagement the most:
Growth: Team members feel they are growing in their careers and learning new things.
Recognition: Team members feel that their ideas and accomplishments are appreciated.
Trust: Team members trust senior leadership and feel confident about the future.
We
is an indispensable guide packed with solid research, case studies from innovative companies, individual stories of personal growth and achievement, and actionable steps that will both enhance your own engagement at work and transform your approach to leadership.

About the Authors
Rudy Karsan
is cofounder, Chairman, and CEO of Kenexa, a global provider of business solutions for human resources. Kenexa studies human behavior and team dynamics in the workplace, and using software solutions, content, and services helps organizations improve business outcomes through human resources. With offices in twenty countries and more than 2,000 employees, Kenexa's products and services have touched the lives of more than 150 million people globally. Under Rudy's leadership, Kenexa has received multiple awards of recognition including Forbes Fastest Growing Technology Companies, Deloitte Technology Fast 500, and Software Magazine's Annual Software 500. Rudy attributes his personal success to the unconditional support of his family, which he considers his greatest achievement. For more information, visit www.kenexa.com.
Kevin Kruse
is a serial entrepreneur, CEO of Kru Research, and cofounder of the e-Patient Connections conference. He lectures to organizations around the world on business excellence and the new world of work. He lives with his family in Bucks County, Pennsylvania. For more information, visit www.kevinkruse.com.