The Intangibles of Leadership
: The 10 Qualities of Superior Executive Performance
Richard Davis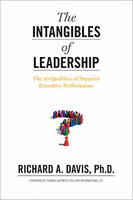 Format:
Hardcover, 256 pp.
ISBN:
9780470679159
Publisher:
Jossey-Bass
Pub. Date:
October 18, 2010
Average Customer Review:

For Bulk Orders Call: 626-441-2024

Description and Reviews
From
The Publisher:
What is the real difference between competent leader and extraordinary executive? Is it pedigree, experience, intelligence? The answer is yes...and much more. Exceptional leadership hinges on a complex interaction between individual psychology and unique business needs. At the top rung of the ladder, where the dynamics are most complicated, subtle adjustments in style can produce outstanding results.
In his new book,
The Intangibles of Leadership
, Management Psychologist Richard Davis, Ph.D., uncovers patterns in the attributes that truly distinguish those who succeed at the top. What he found was that extraordinary leaders possess certain characteristics that fall between the lines of existing leadership models, yet are fundamental to executive success. Davis explains each of these qualities, the people who exemplify them, how to detect them in others, and most importantly, how to develop the subtle characteristics that will enable them to stand out from the pack.
Learn why...
It's often better to aim for silver than for gold
Playing hard to get attracts people to you
It's important to have a slightly inflated view of your abilities
Your peripheral vision is so important
It's ok to get angry with your team
So many extraordinary executives have gone through crises early in their lives

Reviews
"... A must read for all aspiring and existing leaders, whatever your field."
—Neville Roberts, Chief Information Officer, Best Buy
"...Davis has really nailed down in a practical yet very thoughtful way to really distinguish great leaders, how to identify them and, even more importantly, how to develop more of them. This book brings a tangible dimension to the intangibles of Leadership."
—Stephane Charbonnier, Global Head of Talent Management, Towers Watson
"This is the most thoughtful book on leadership I have read. Instead of handing out the usual one-size-fits-all approach, Davis realizes that different situations require different kinds of leaders. Insightful, practical and readable, it is the best book on leadership available."
—Ford Harding, President, Harding & Company, and author of Creating Rainmakers.
"... I highly recommend this book for any leader who is searching for a leadership compass to guide behaviors and adopt the practices of extraordinary leaders."
—Judd T. Nystrom, Senior Vice President, Finance, Advance Auto Parts
"... Davis has identified 10 intangible qualities, some of which are commonly overlooked or mistaken for other attributes, but are central to understanding why certain leaders are able to stand apart and above the rest. His nuanced approach to a familiar subject is both timely and welcome."
—JP Donlon, Editor-in-Chief, Chief Executive Magazine
"Unique, insightful and practical...a refreshing take on the true essence of leadership in a contemporary time."
—Anne Duncan, VP Human Resources, JTI-Macdonald Corp.
"...Davis offers a career of experience in what really works in developing others - take advantage of it!"
—Andy Billings, Vice President, Profitable Creativity, Electronic Arts

About the Author
Richard A. Davis
, Ph.D., is a licensed Industrial/Organizational Psychologist and partner with the Toronto office of RHR International. Dr. Davis helps senior leaders execute their business strategy through smart decisions about people. He advises executives on senior hiring decisions, integrating leaders into new roles, CEO succession, optimizing teams, M&A decisions, and increasing leadership effectiveness. He has a particular specialty in personality psychology and leadership.
Dr. Davis has been consulting to senior executives for the past 10 years. Prior to joining RHR, he was Director of Organizational Development at a Toronto HR consulting firm. He has lectured on organizational behavior at the University of Western Ontario and Schulich School of Business. He has been cited widely in the popular media, including CNN, BusinessWeek, CFO Magazine, Globe and Mail, Entrepreneur, CanadaAM, and Report on Business TV.