Ten Virtues of Outstanding Leaders
: Leadership and Character
Al Gini and Ronald M. Green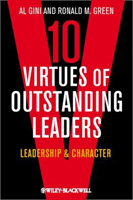 Format:
Paperback, 232pp.
ISBN:
9780470672310
Publisher:
Wiley-Blackwell
Pub. Date:
May 6, 2013
Average Customer Review:

For Bulk Orders Call: 626-441-2024

Description and Reviews
From
The Publisher:
What makes a good leader? Ten leaders, ten key virtues
This readable distillation of the core common features of successful leaders shows how an individual's character, and especially their virtue, is the defining factor. Without these ten vital virtues, leadership becomes "misleadership." The authors, both renowned business ethicists, combine theory with fascinating biographical detail on exemplary leaders such as Abraham Lincoln, Winston Churchill, and Oprah Winfrey. The result is an accessible text on the ethics of leadership which, unlike many publications that claim to reveal the secrets of success as a leader, is informed by a wealth of exceptional academic experience.

Reviews
"Ten Virtues of Outstanding Leaders is an extraordinarily insightful, compelling, and timely discussion of the very foundation of leadership—the character of leaders. Al Gini and Ronald Green powerfully and persuasively make the case that it's imperative for leaders to be attuned to their ethical responsibility to others. And they are right. All the programs to develop leaders, all the courses and classes, all the books and tapes, all the blogs and Websites offering tips and techniques are meaningless unless the people who are supposed to follow believe in the person who's supposed to lead. In an era in which it often seems that anything goes, it's vital that every leader and every leadership educator take Gini's and Green's message to heart. It's vital not only to their personal success, it's vital to the long-term viability of our society. Ten Virtues of Outstanding Leaders is a must-read, and I urge you to get started immediately."
—Jim Kouzes, coauthor of the bestselling The Leadership Challenge and The Dean's Executive Fellow of Leadership, Leavey School of Business, Santa Clara University
"Ten Virtues of Outstanding Leaders is a thoughtful and thorough exploration of that knottiest of all leadership questions - what constitutes "good" leadership? Gini and Green have been wrestling with related issues for years, and it shows. The book is a valuable contribution to the never ending discussion of what it takes to lead wisely and well."
—Barbara Kellerman, Harvard Kennedy School, and author and editor of many books on leadership and followership including, most recently, The End of Leadership and Leadership: Essential Selections on Power, Authority, and Influence
"Few leadership books mine the field of philosophy for its practical knowledge. Few use the treasury of insights available in the writings of philosophers that speak to issues of character and ethics, ones that are critical for successful leadership. Fewer still apply those insights to living examples of leadership: Abraham Lincoln, Winston Churchill, and Steve Jobs. In their new book, Ten Virtues of Outstanding Leaders, the philosophers Gini and Green do all this, and more."
—Thomas Donaldson, Mark O. Winkelman Professor, The Wharton School of the University of Pennsylvania, Director of the Zicklin Center for Business Ethics Research, and coauthor of Ties that Bind: A Social Contracts Approach to Business Ethics

About the Authors
Al Gini
is Professor of Business Ethics at Loyola University Chicago, USA, where he is also Chair of the Department of Management in the Quinlan School of Business. A co-founder and long-time associate editor of Business Ethics Quarterly, the journal of the Society for Business Ethics, Professor Gini has for 25 years been the resident philosopher on the NPR affiliate in Chicago, WBEZ-FM, and is a regular speaker on the public lecture circuit. His books include The Ethics of Business (2012), which he co-authored with Alexei Marcoux; Seeking The Truth of Things (2010); Why It's Hard to Be Good (2006); and The Importance of Being Lazy: In Praise of Play, Leisure and Vacations (2003).
Ronald M. Green
is Eunice & Julian Cohen Professor for the Study of Ethics and Human Values at Dartmouth College, USA. He served as the director of Dartmouth's Ethics Institute from 1992 until 2011. Professor Green is actively involved in numerous fields of applied ethics, particularly bioethics and business ethics, and is a consultant to a number of leading corporations including Ogilvy & Mather. A former director of the National Institutes of Health's National Human Genome Research Institute, Professor Green has also been a member of the NIH's Human Embryo Research Panel. He was awarded a Guggenheim Fellowship in 2005. Professor Green's many publications include The Ethical Manager (1993) and Babies by Design (2007).

Table of Contents
| | | |
| --- | --- | --- |
| | | |
| | About the Authors | x |
| | Prologue | xi |
| | | |
| | Part I Character Leadership | 1 |
| 1 | What Is Leadership? | 3 |
| 2 | Misleadership | 13 |
| 3 | Character and Leadership | 22 |
| 4 | Leadership and Business Excellence | 38 |
| 5 | The Ten Virtues | 47 |
| | Part II Leadership in Action | 71 |
| 6 | James Burke and the Tylenol Poisoning Episodes: Deep Honesty | 73 |
| 7 | Abraham Lincoln/Rosa Parks: Moral Courage | 81 |
| 8 | Winston Churchill: Moral Judgment and Moral Vision | 90 |
| 9 | Oprah Winfrey: Compassion and Care | 106 |
| 10 | Dwight D. Eisenhower, the Sicilian Slapping Incidents: Fairness | 117 |
| 11 | FDR and the A-Bomb: Intellectual Excellence | 127 |
| 12 | Herb Kelleher and the People of Southwest Airlines | 144 |
| 13 | Steve Jobs and Apple: Aesthetic Sensitivity | 158 |
| 14 | Charles de Gaulle and Exiting Algeria: Good Timing | 173 |
| 15 | Martin Luther King, Jr.: Deep Selflessness | 185 |
| 16 | Conclusion | 195 |
| | | |
| | Index | 203 |