What's Holding You Back?
10 Bold Steps that Define Gutsy Leaders
Robert J. Herbold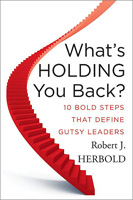 Format:
Hardcover , 224pp.
ISBN:
9780470639016
Publisher:
Jossey-Bass
Pub. Date:
February 15, 2011
Average Customer Review:

For Bulk Orders Call: 626-441-2024

Description and Reviews
From
The Publisher:
Why do leaders shy away from tough decisions?
The more responsibility a manager has, the more likely it is he or she will face tough decisions. Often, these hard choices determine the difference between success and mediocrity; yet many managers, when faced with tough decisions, crumble. Whether making decisions for a small group, a department, a division, or the whole company, all managers have experienced situations where they know what they need to do, but also know that these steps will be unpopular. They worry there is no ideal option, a lack of data, guaranteed disappointment, or that there is no quick fix—they need a long-term perspective. And they worry that their choices might in fact be dead wrong. They will decide to delay, further analyze, massively compromise, ignore the whole thing, or employ any other tactic to avoid dealing with the situation.
What's Holding You Back?
offers leaders and managers (at all levels) the road map they need to confront difficult situations head-on. Robert J. Herbold clearly explains why managers fall victim to very human behaviors, such as avoiding conflict, striving for certainty, avoiding a career risk, a lack of self-confidence, a lack of a sense of urgency, or protecting their turf. Then through illustrative, real-world examples from Microsoft, Porsche, IBM, Merck, Canon, Sony, Whirlpool, IDEO, Tesco, P&G, Target, and 3M, Herbold details the larger consequences of this lack of courage.
What's Holding You Back?
spells out the ten core principles of confident leadership. The book also outlines the proven tactics and strategies that managers have used to confront their inner wimp and call upon their inner courage. Step by step Herbold reveals how managers can cultivate and deliver accountable and decisive leadership, even while grappling with the toughest dilemmas.
Operational and innovative excellence can only come with gutsy leadership.

Reviews
"Managers at any point on the corporate food chain should read this book. You'll learn to recognize the basic human tendency to put off, ignore, or compromise on tough decisions—and how to combat it with the strong leadership your organization needs."
—Carol Bartz, CEO, Yahoo! Inc.
"The first and most important responsibility of leadership is to make clear decisions—about strategy, talent, resources, and other critical issues. Often, these decisions must be made in volatile, uncertain, chaotic, and ambiguous conditions, which requires instinct and courage. Bob Herbold's excellent book equips leaders with the insights and tools needed to make clear and courageous decisions. I recommend it highly."
—Robert A. McDonald, chairman of the board, president, and CEO, Procter & Gamble Company
"A must-read for both emerging and established executives! Bob Herbold provides ten clear guidelines that will enable managers to become strong, proactive leaders."
—John C. Lechleiter, chairman, president, and CEO, Eli Lilly and Company
"What's Holding You Back? gives good insights as to why managers often fail to make tough decisions. His ten actionable steps are a useful template for becoming a strong, courageous leader and achieving significant impact."
—Wee EE Cheong, deputy chairman and CEO, United Overseas Bank Ltd.
"Bob Herbold has written a remarkable business book with useful, practical tips you can use virtually every day. Bob has an outstanding track record as a business leader. He offers a clear road map to making the decisions that lead to business success and, once there, how to stay on top!"
—Patrick J. McGovern, founder and chairman, International Data Group
"A terrific book: Herbold's principles are ready-to-use guidelines for strong leadership. A great tool for training your best and brightest leaders to steer through the world of fast change and severe competition. I highly recommend it."
—Shin-Bae Kim, vice-chairman and CEO, SK C&C, Korea

About the Author
Robert J. Herbold
is the managing director of the Herbold Group, LLC, a consulting business focused on profitability, strategic, and operational issues. He serves on the board of directors of Neptune Orient Shipping Lines and of Agilent Technologies. Formerly, Herbold was executive vice president and chief operating officer of Microsoft Corporation. He is the author of The Fiefdom Syndrome and Seduced by Success. He lives in Seattle and Phoenix.

Table of Contents
| | | |
| --- | --- | --- |
| | | |
| | Introduction | |
| | | |
| 1 | The Big Issue: Managers Lacking Courage to Make Tough Decisions | |
| | Principle I: Devise a Demanding Game Plan to Confront Reality | |
| | Principle II: Staff for Success | |
| | Principle III: Clean Up the Sloppiness | |
| | Principle IV: Institutionalize Tight-Fisted Cost Control | |
| | Principle V: Insist on Functional Excellence | |
| | Principle VI: Create a Culture of Innovation | |
| | Principle VII: Demand Accountability and Decisiveness; Avoid Consensus | |
| | Principle VIII: Exploit Inflection Points | |
| | Principle IX: Value Ideas from Anywhere | |
| | Principle X: Shake Up the Organization | |
| | | |
| | Conclusion | |
| | Notes | |
| | Acknowledgments | |
| | About the Author | |
| | Index | |

Find Items On Similar Subjects

Seduced by Success
: How the Best Companies Survive the 9 Traps of Winning