Why Are We Bad at Picking Good Leaders?
A Better Way to Evaluate Leadership Potential
Jeffrey Cohn and Jay Moran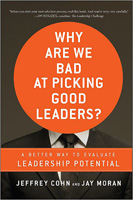 Format:
Hardcover, 000 pp.
ISBN:
9780470601945
Publisher:
Jossey-Bass
Pub. Date:
May 17, 2011
Average Customer Review:

For Bulk Orders Call: 626-441-2024

Description and Reviews
From
The Publisher:
Almost 70% of Americans believe that we are suffering from a crisis of leadership, but rather than asking, why are leaders failing, we need to ask, "Why aren't we choosing better leaders?"
Ever wonder what goes on behind closed board room doors when organizations pick their top leaders? It can be a contentious, secretive, even brutal process. Most of our leaders look good on paper—they have charisma, credentials, and confidence—yet they lack the real qualities that are necessary to succeed. In
Why Are We Bad at Picking Good Leaders?
, Cohn and Moran share the same insights and ideas they use to help organizations make better choices. Revealing seven essential attributes of all great leaders, they offer a fresh and powerful evaluation technique anyone can use to assess leader potential.
Through dynamic, first-hand accounts from the business world, entertainment, sports, politics, education, and philanthropy, the authors offer the ultimate insider access and reveal how top organizations find and choose the best talent.
Offers multiple ways to evaluate leaders, and how these 7 leadership attributes combine to create the best (and worst) in leaders
Features interviews with with Mike Krzyzewski, Coach, 2008 US Men's Olympic Basketball team, Jeff Bezos, CEO of Amazon; George Steinbrenner, Scott Davis, CEO of UPS; Peter Loscher, CEO of Siemens; Toby Cosgrove, CEO, Cleveland Clinic; Hollywood movie directors, and many others
Includes academic study and field training at institutions such as Harvard, Yale, INSEAD, and IMD for developing future leaders.
Fresh and compelling,
Why Are We Bad at Picking Good Leaders?
shows how great leaders can be spotted and why they succeed – and is soon to the definitive resource guide for about choosing better leaders.

Reviews
"As chairman of a global company that has been in the family for 150 years, I make finding the kind of people who can build on our legacy one of my top priorities. Finding the best leaders is very tough. Why Are We Bad at Picking Good Leaders? explains why, and then offers key insight and nuance to help others meet the challenge. Any board member, human resource executive, or hiring manager who wants to solidify the company's leadership ranks should start right here."
—Facundo L. Bacardi, chairman, Bacardi Ltd.
"Inspiring, encouraging, and engaging, this book will help anyone who needs to make a truly important leadership decision. Hiring Mike Krzyzewski to lead our 2008 basketball team to the gold medal was the single most important decision I made as chairman of U.S.A. Basketball. I saw in Coach K all seven of the fundamental leadership attributes that Cohn and Moran vividly describe in this book."
—Jerry Colangelo, chairman, U.S.A. Basketball Board of Directors
"Brilliant. For the last 25 years I've been helping companies develop their rising stars into world-class leaders, and this is one of the most original and complete explanations I've seen for how to get that process started. Cohn and Moran skillfully showcase an assessment approach that is as entertaining as it is insightful. Busy executives don't want to take a test; they want an assessment process that is engaging, interesting, and most of all accurate."
—Bernie Jaworski, executive vice president, IMD
"Cohn and Moran have been assessing and selecting executives for decades, and this book codifies the seven leadership attributes they've found make the difference between failure and success. Why Are We Bad at Picking Good Leaders? is empirically sound, packed with clear and compelling stories, and full of immediately applicable advice on how you can improve the way you select leaders in your organization."
—Jim Kouzes, coauthor, The Leadership Challenge, and the Dean's Executive Professor of Leadership, Leavey School of Business, Santa Clara University
"This is a book that will stand the test of time! Too many people turn the topic of leadership into poorly defined concepts and theory. Cohn and Moran take a different tack by boiling leadership down to seven core attributes and explaining each one in a very direct, commonsense way."
—Joel Kurtzman, author, Common Purpose, and senior fellow, the Milken Institute
"Before you start your next selection process, read this book. And read it very, very carefully."
—Jim Kouzes, coauthor, The Leadership Challenge

About the Authors
Jeffrey Cohn
is a succession planning and executive assessment expert. Previously, Cohn was with Spencer Stuart, a top executive recruiting firm; a research fellow at the Harvard Business School; and at the Chief Executive Leadership Institute (Yale). Cohn has published widely, including multiple articles for the Harvard Business Review. He lives in New York City.
Jay Moran
is a succession planning expert, executive coach, and professor of leadership. Moran was formerly at the CEO Leadership Institute at Yale and practiced corporate law with King & Spalding. Moran has a JD/MBA from Emory University and MPA from Harvard University. He lives in Barcelona.

Table of Contents
| | | |
| --- | --- | --- |
| | | |
| | Introduction | |
| | | |
| 1 | Integrity | |
| 2 | Empathy | |
| 3 | Emotional Intelligence | |
| 4 | Vision | |
| 5 | Judgment | |
| 6 | Courage | |
| 7 | Passion | |
| 8 | A Better Way to Choose Leaders | |
| | | |
| | Appendix A: Commonly Used (and Misused) Leadership Terms | |
| | Appendix B: The DNA of Leadership Competencies | |
| | | |
| | Notes | |
| | Acknowledgments | |
| | About the Authors | |
| | Index | |