The Stress Effect
: Why Smart Leaders Make Dumb Decisions--And What to Do About It
Henry L. Thompson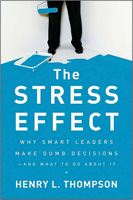 Format:
Hardcover, 336pp.
ISBN:
9780470589038
Publisher:
Jossey-Bass
Pub. Date:
May 3, 2010
Average Customer Review:

For Bulk Orders Call: 626-441-2024

Description and Reviews
From
The Publisher:
Reveals the powerful and undermining effects of stress on good decision making-and what leaders can do about it
The ability to make sound and timely decisions is the mark of a good leader. But when leaders with otherwise strong track records suddenly begin making poor decisions-as seen in the recent corporate scandals that rocked the business world-the impact can be widespread. In
The Stress Effect
, leadership expert Henry L. Thompson argues that stress is often the real culprit behind this leadership failure: when leaders' stress levels become sufficiently elevated-whether in the boardroom or on the front line of a manufacturing process-their ability to effectively use their emotional intelligence and cognitive ability in tandem to make wise decisions is significantly impaired. Until now, experts have argued that increasing your emotional intelligence will help you cope with and manage stress. This book suggests that stress actually blocks access to your emotional intelligence as well as your cognitive ability, two critical components in the decision-making process. This book
Shows how stress adversely affects the performance of even the most savvy leaders
Reveals the truth about one of the prime factors behind the current failure of leadership
Offers a solid prescription for building a "stress resilient system" and arms leaders with best practices for managing specific stressors that take the biggest toll on decision making
Is written by an award-winning organizational psychologist and leadership consultant whose clients include a roster of Fortune 500 companies
A groundbreaking and insightful resource for leaders,
The Stress Effect
reopens the dialogue on stress, its effect on decision making, and what to do about it.

Reviews
"Henry (Dick) Thompson tackles the secrets of effective leadership and decision making—and does so with admirable insight, erudition, and authority. This is an engaging must-read for executives, managers, and entrepreneurs aiming to optimize their decision-making and leadership qualities."
—Elkhonon Goldberg, clinical professor of neurology, NYU School of Medicine
"The Stress Effect is an amazing integration of how to use the power of our unconscious and emotions to make rational decisions. It can help you develop your intuition."
—Richard E. Boyatzis, professor, Departments of Organizational Behavior, Psychology, and Cognitive Science, Case Western Reserve University, and coauthor, Primal Leadership and Resonant Leadership
"The Stress Effect is superbly written. Every leader can grow personally and professionally from the information it presents on how stress impacts the quality and timeliness of decisions. It should be required reading for CEOs, members of the National Security Council, all military commanders, and university leaders."
—Lieutenant General Russel L. Honoré, U.S. Army (Ret), former Comm-ander of First Army and Joint Task Force Katrina
"Thompson's timely book helps us better understand and improve how we think, decide, and act in severe and time-pressed situations. Stress is the ultimate testing ground of our personal values processed through our decision-making faculties."
—Aris Papadopoulos, CEO, Titan America
"Great leaders, as The Stress Effect tells us, make good decisions under bad conditions. Thompson offers original ideas and insights, honed through his rich experiences on the battlefield and as a consultant to C-level executives, which will season your decision-making judgment. Simply put, after reading The Stress Effect, you will be a much better leader who gets much better results."
—Bill Treasurer, CEO, Giant Leap Consulting

About the Author
Henry L. Thompson, Ph.D.
, an award-winning organizational psychologist, leadership consultant, researcher, and author, is the founder and CEO of High Performing Systems, Inc., a leadership solutions provider. He is the creator of the Leadership Potential Equation, author of Jung's Function-Attitudes Explained and The Communication Wheel: A Resource Book, and coeditor of the Handbook for Developing Emotional and Social Intelligence (Pfeiffer, 2009).

Table of Contents
| | | |
| --- | --- | --- |
| | | |
| | Introduction: Good Leaders Make Good Decisions Under Stress | |
| | | |
| 1 | How Leaders Make Decisions | |
| 2 | How Cognitive Intelligence Influences Decision Making | |
| 3 | Emotional Intelligence and Decision Making | |
| 4 | Stress and Decision Making | |
| 5 | How Stress Leads to Poor Decision Making | |
| 6 | Increasing Stress Management Capacity | |
| 7 | Developing Cognitive Resilience | |
| 8 | Building Stress-Resilient Emotional Intelligence | |
| 9 | The Seven Best Practices to Prevent Stress | |
| | | |
| | Conclusion | |
| | Notes | |
| | Acknowledgments | |
| | About the Author | |
| | Index | |