Leading Outside the Lines
: How to Mobilize the Informal Organization, Energize Your Team, and Get Better Results
Jon R. Katzenbach and Zia Khan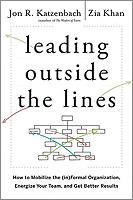 Format:
Hardcover, 240pp.
ISBN:
9780470589021
Publisher:
Jossey-Bass
Pub. Date:
April 19, 2010
Average Customer Review:


For Bulk Orders Call: 626-441-2024

Description and Reviews
From
The Publisher:
An all-new approach to understanding and inspiring the (in)formal connections of an organization
In this dynamic work, thought leaders Jon R. Katzenbach, coauthor of the business classic
The Wisdom of Teams
, and Zia Khan offer an all-new examination of the modern workplace, and how leaders and managers must embrace it for success. Together they reveal how two distinct factions form the bigger picture for how organizations actually work: the more defined and visible "formal organization" of a company—the management structure, performance metrics, and formal strategy—and the "informal organization"—the culture, social networks, and ad hoc communities that spring up naturally and, in an equally vital but different way, can accelerate or hinder an organization's success.
Through compelling case studies from enterprises around the world (in business, government, the nonprofit sector, and academia)Katzenbach and Khan explore how top-level organizations balance the informal and formal elements of organizations to achieve outstanding results.
Leading Outside the Lines
takes a timeless organizational approach and creates a powerful paradigm-shifting tool set for applying it, showing when you can get the most done by using the informal elements that operate under the radar, and when it is in fact better to use formal processes. Most important, it illustrates how the two can work together to get the best of both. This groundbreaking book also offers self-assessment guidelines for senior leaders, front-line managers, and individual contributors who need to get better performance results.
Insightful leaders and managers at all levels know that to really lead an organization, you cannot rely on formal constructs alone; you have to use the informal elements as well. Using the information and tools outlined in this compelling book, leaders and potential leaders at all levels can tap into the power of the informal to achieve superlative performance and results.

Reviews
"Those of us who have been writing about leadership and organization for years should heave a deep sigh of relief and wonder to read this book. Leading Outside the Lines forces us to review and rethink all the twisty turns, false dichotomies, paradoxes, fuzzy or over-metricized writings—all the confusions we've been wrestling with for years—and shapes them into a coherent, useful, and wise perspective. I love this book, and so will anyone with a desire and need to understand the requirements for 21st-century leadership."
—Warren Bennis, Distinguished Professor of Business, University of Southern California, and author, Still Surprised
"If you want to know how work really gets done, read Leading Outside the Lines! It is the best book I have ever read at explaining the difference between what is supposed to be going on—and what is really going on in organizations."
—Marshall Goldsmith, author, What Got You Here Won't Get You There and MOJO
"Katzenbach and Khan's book is a must-read for leaders who want their teams to shine in terms of performance, innovation, retention, or any other metric of success. I've rarely read a book with such an extraordinary collection of fascinating, real-world examples that drive the message home."
—Keith Ferrazzi, author, Who's Got Your Back and Never Eat Alone
"Leading Outside the Lines is a very important and useful book. Through insightful story-telling and years of experience, Katzenbach and Khan provide strategic and tactical advice about how the informal organization can transform your organization, whether it grapples with radical changes in the competitive environment or the inevitable growing pains of moving from start-up to established global enterprise."
—Linda A. Hill, Wallace Brett Donham Professor of Business Administration,Harvard Business School
"A must-read for anyone struggling to adapt their organization to new realities. Filled with keen insight about the formal and informal life of organizations, the book offers practical advice on how to blend the two to bring out the best in your organization."
—Ronald A. Williams, chairman and CEO, Aetna

About the Authors
Jon R. Katzenbach
is a senior vice president of Booz & Company, where he founded the Katzenbach Center. Previously, he was the founder and senior partner of Katzenbach Partners and a former director of McKinsey & Company. He is the author of Why Pride Matters More Than Money, Peak Performance, and coauthor of the seminal book The Wisdom of Teams.
Zia Khan
is the vice president of strategy and evaluation at the Rockefeller Foundation and a senior fellow of the Katzenbach Center. He cofounded the Katzenbach Center while a partner at Booz & Company. Previously, he led the Katzenbach Partners San Francisco office and developed many of the firm's hallmarkpractices in strategy, organization design, and culture change.

Find Items On Similar Subjects

Reframing Organizations
: Artistry, Choice, and Leadership