Never by Chance
: Aligning People and Strategy Through Intentional Leadership
Joe Calloway, Chuck Feltz and Kris Young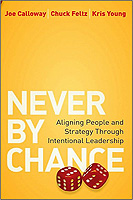 Format:
Hardcover, 154pp.
ISBN:
9780470561997
Publisher:
Wiley
Pub. Date:
February 8, 2010
Average Customer Review:

For Bulk Orders Call: 626-441-2024

Description and Reviews
From
The Publisher:
Great business performance doesn't happen by chance. You can have all the cost-cutting initiatives, employee engagement programs, and technology upgrades that you want, but unless every resource and employee are intentionally aligned with a compelling vision, you'll leave too much on the table and lose out to competitors. So what is the key to getting breakthrough results in this age of "doing more with less"?
Never by Chance
gives you a top-to-bottom guide on how great businesses accelerate their strategies in spite of today's resource-constrained environment. Forgoing the usual miracle cures, this realistic approach will help leaders catalyze their organizations by adopting the leadership mindset that "every resource that can be valuable, will be valuable."
In
Never by Chance
, you'll find:
The direct link between vision and stakeholder success
Why a purposeful customer experience is absolutely necessary
Why you may no longer be relevant to your customers
How to use your culture as a competitive advantage
Why intentional leadership matters
A strong quarter, hot product, or sudden sales bump can always be a fluke, but sustained excellence is never an accident. Written by three seasoned experts on aligning people and strategy to drive measurable results,
Never by Chance
gives you and your team an engaging and empowering road map to create clear competitive advantage and distinguish your company in today's ultra-competitive market.

Reviews
"Joe Calloway, Chuck Feltz, and Kris Young have joined forces to write the book that senior management at companies large and small have been waiting for.? Highly readable, loaded with innovative ideas and filled with seminal insights from both a consulting and CEO perspective, Never by Chance lays out a plan for aligning people and strategy to dramatically improve market share and ROI. If you're going to read one business book this year, this is it!"
—Kevin J. Clancy, PhD, Chairman, Copernicus Marketing Consulting
"Never by Chance is a real-world, pragmatic guide to authentic alignment, vision, and strategy. If you want to create enduring value for your customers that drives shareholder value, then read this book.?A great read that lays out a foundational approach to aligning people, resources, and strategy."
—Kevin Cashman, Senior Partner, Korn/Ferry Leadership & Talent Consulting; bestselling author of Leadership from the Inside Out
"Calloway, Feltz, and Young offer a fresh perspective on what it takes to drive business strategy to its successful conclusion. This is a compelling contribution to the literature on the application of strategy and the importance of those things that really matter. It's a must-read for all those who labor in the vineyards of corporate America and those who aspire to it."
—Benjamin Ola. Akande, PhD, Dean, School of Business and Technology, Webster University
"Everyone ends up somewhere, but few end up somewhere on purpose. Doing things on purpose and for a purpose are critical to business success. Never by Chance makes a compelling case for intentional leadership in bringing all of a company's resources to bear on delivering the stakeholder value your organization exists to provide."
—Steve Tourek, SVP and General Counsel, Marvin Windows and Doors

About the Authors
Joe Calloway
, Chuck Feltz, and Kris Young are the founding partners of Engage Consulting Group, working with clients to accelerate the speed and effective-ness of their business strategy. For more information, please visit www.engageconsultinggroup.com.
Joe Calloway
has worked with hundreds of companies to help them create and sustain success. A member of the Speaker's Hall of Fame, Joe has been a business consultant for twenty-eight years. His books include Becoming a Category of One, Indispensable, and Work Like You're Showing Off!, all from Wiley.
Chuck Feltz
has served as CEO or president of companies in multiple industries ranging in size from an international startup to over $1 billion in revenue. He has been widely recognized for increasing shareholder value with his innovative strategies and visionary leadership.
Kris Young
has worked with production company Martin Bastian for twelve years helping companies create strategic communications programs and events. An NSA Meeting Partner of the Year, she has worked with a range of organizations including Deluxe Financial Services, Wells Fargo, Cargill, ING, and many others.

Table of Contents
| | | |
| --- | --- | --- |
| | | |
| | Introduction | xi |
| | | |
| 1 | Vision: Begin With The End In Mind | 1 |
| | Case Study: Western Water Works Supply Company | 25 |
| | | |
| 2 | Culture As A Competitive Advantage | 35 |
| | Case Study: Kowalski's Market | 51 |
| | | |
| 3 | Relevance- Making Your Company Matter | 57 |
| | Case Study: Apple Stores | 79 |
| | | |
| 4 | Customer Experience—It Is Your Brand | 87 |
| | Case Study: Pinnacle Financial Partners | 109 |
| | | |
| | Special Report: Events As Strategy | 113 |
| | | |
| 5 | Intentional Leadership | 131 |
| | | |
| | Index | 145 |

Find Items On Similar Subjects

Becoming a Category of One
: How Extraordinary Companies Transcend Commodity and Defy Comparison