Love Leadership
: The New Way to Lead in a Fear-Based World
John Hope Bryant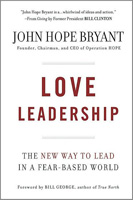 Format:
Hardcover, 224pp.
ISBN:
9780470428788
Publisher:
Jossey-Bass
Pub. Date:
August 17, 2009
Average Customer Review:

For Bulk Orders Call: 626-441-2024

Description and Reviews
From
The Publisher:
A dynamic young leader shows how leading with love and respect creates success in business and life
Written by the founder of Operation HOPE and advisor to the past two U.S. presidents, this groundbreaking book makes the case that the best way to get ahead is to figure out what you have to give to a world seemingly obsessed with the question: What do I get? Aimed at a new generation of leaders and extremely relevant for today's economic climate, Love Leadership outlines Bryant's five laws of love-based leadership-Loss Creates Leaders (there can be no strength without legitimate suffering), Fear Fails (only respect and love leads to success), Love Makes Money (love is at the core of true wealth), Vulnerability is Power (when you open up to people they open up to you), and Giving is Getting (the more you offer to others, the more they will give back to you).
One of today's most influential leaders, Bryant has appeared on Oprah and in articles in the LA Times, NY Times, and the Wall Street Journal
Bryant's bold approach to leadership is well-suited for today's tough economic environment and a world gripped by fear and uncertainty
Outlines the innovative five laws of love-based leadership
Love Leadership is that unique and powerful book that bridges the gap between solid business advice and pure inspiration.
In 1992, at the age of 26, John Hope Bryant was running a successful financial services firm when the Los Angeles riots broke out. After the violence and chaos subsided, Bryant saw that his community needed a "hand up, not a handout," so he founded Operation HOPE, an organization dedicated to helping low-wealth communities attain financial literacy empowerment. Today, Bryant is a sought-after speaker recognized for his leadership and service around the world.
In
Love Leadership
, Bryant chronicles his story of transformation from a teenager growing up in South Los Angeles to the leader of one of the most impressive antipoverty organizations in the country, and shares the unlikely ingredient for his leadership success: love. He shows leaders how to break away from the long-standing leadership style—one based on fear. Instead, he suggests that the best way to lead in both your professional and personal life is to figure out what you have to give others in a world obsessed with the question "what do I get?"
Drawing on his remarkable success story and on interviews with love-based leaders such as Former President Bill Clinton, Bill George,and Andrew Young, Bryant outlines the five laws of love-based leadership:
Loss creates leaders: There can be no inner growth without the pain of legitimate suffering.
Fear fails: Leading through fear is antiquated and self-defeating, a crippling indulgence that we can no longer afford.
Love makes money: The expression of love in business—creating long-term relationships with customers and employees based on caring for others and doing good—makes everyone wealthy.
Vulnerability is power: When you open up, people open up to you. Real leaders know that vulnerability is not a weakness, but rather their greatest strength.
Giving is getting: Leaders give, followers take. Giving inspires loyalty, attracts good people, confers peace of mind, and lies at the core of true wealth.
Aimed at a new generation of leaders and extremely relevant in today's complex and fast-moving world, Love Leadership is a bold and contrarian guide to leadership and success.

Reviews
"I have watched John Hope Bryant dazzle audiences from Harvard to the World Economic Forum. Now he pours his compassion and charisma into the pages of this book, delivering a powerful message about rediscovering our humanity. Having worked his way up from the shadows of urban life to become a successful global leader, John has developed a personal philosophy that can help young leaders everywhere."
—David Gergen, professor of public service and director, Center for Public Leadership, Harvard Kennedy School
"The words 'love' and 'leadership' perfectly exemplify John Hope Bryant and all that he stands for. When it comes to making a difference and succeeding in business and life, this book is a must-read for today's current and future leaders."
—Jim Clifton, Chairman and CEO, Gallup, Inc.
"Bryant tackles problems with an enthusiasm and optimism that are infectious. In this book, he gives us a recipe for personal success driven by a simple notion: treating others with respect and dignity creates true long-term success. This message and his strategies for living it couldn't be more timely as we address the failures of leadership that created today's financial crisis."
—Don J. McGrath, chairman, Bancwest Corporation and Bank of the West
"A short conversation with John Hope Bryant in China changed my outlook on financial literacy, leadership, and love. The short time you spend reading this book will change yours. Changing the world starts with changing your life, and John—from the slums of Compton to the White House and more—will make this happen for you."
—Jimmy Wales, founder of Wikipedia and president of Wikia, Inc.
"John Hope Bryant proves that power is the ability to give more than you receive, to lead more than you follow, and to love more than you hate."
—Steve Bartlett, president and CEO, The Financial Services Roundtable

About the Author
John Hope Bryant
is a philanthropic entrepreneur and leader in the business of empowerment. He is the founder, chairman, and CEO of Operation HOPE, America's first nonprofit social investment banking organization. He is vice chair of the U.S. President's Advisory Council on Financial Literacy and chairman of the Under-Served Committee for the U.S. President's Council. An internationally respected public speaker, Bryant is a Young Global Leader for the World Economic Forum and has received many awards for his work to empower low-wealth communities.

Table of Contents
| | | |
| --- | --- | --- |
| | | |
| | Foreword by Bill George | |
| | | |
| | Introduction: From Fear to Hope | |
| 1 | Loss Creates Leaders | |
| 2 | Fear Fails | |
| 3 | Love Makes Money | |
| 4 | Vulnerability Is Power | |
| 5 | Giving Is Getting | |
| | Conclusion: Good Capitalism and Love Leadership | |
| | | |
| | List of Interviewees | |
| | Notes | |
| | Acknowledgments | |
| | About the Author | |
| | Index | |