Shaking the Globe
: Courageous Decision-Making in a Changing World
Blythe J. McGarvie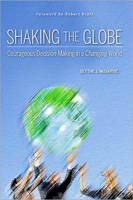 Format:
Hardcover, 256pp.
ISBN:
9780470411575
Publisher:
Wiley
Pub. Date:
January 27, 2009
Average Customer Review:

For Bulk Orders Call: 626-441-2024

Description and Reviews
From
The Publisher:
We live in a highly interdependent world where 95 percent of the world's consumers live outside the U.S. Two-thirds of the world's purchasing power is also outside the U.S. Shaking the Globe guides everyone on how to absorb the world's diversity and to build upon his or her global citizenship by using the FISO Factor? skills to transform themselves from a conventional leader into a courageous one.The new dynamics of global leadership--developing different competencies, curiosity and caring--must be learned. Shaking the Globe introduces the newly developed FISO Factor? Assessment Tool that can be used to evaluate a leader's ability to both Fit In and Stand Out - the ingredients necessary for leaders to make differences in their lives. Globalization is happening with or without you. To be a leader, you must learn how to take advantage of this opportunity. In this book, you will learn:
How to transcend any existing biases and prepare for the new world in order to keep your business growing;
Strategies to develop transformational global leadership skills in order to establish beachheads for future growth opportunities; and
How to stimulate coordination and cooperation across national borders in order to create a lasting and rewarding relationship with people with whom you will be connected.
If the twentieth century was "the American century," the twenty-first century may well be "the global century." Globalization spreads wealth across the world, opens new consumer markets, and reorients the dynamics of the American market. It's a different world, but it's a world full of new business opportunities open to anyone with the courage to seize them.
Successful decision-making in this global age requires much more than just a typical business-school education and the usual best practices. Success requires a new and different set of competencies, particularly the ability to coordinate, communicate, and cooperate across borders and cultures. Executives must be able to transcend their biases to adapt to today's economy, learn to establish opportunities for future growth, and lead multinational corporations with strategies unrestrained by culture or nationality.
Shaking the Globe
is a modern guide to this new brand of global business leadership. It's far too late to turn back the clock on globalization, even if we wanted to do so. Small and large businesses deal with this change as a matter of life or death. Adaptation requires the alignment of all employees to appreciate distant local customs, dig up new business opportunities, and master the art of entrepreneurship in an interconnected world.
Combining her extensive international business experience and research with practical resources like the FISO Factor® Assessment Tool—which measures your ability to both Fit In and Stand Out—McGarvie offers Shaking the Globe as a powerful, modern guide to effective decision-making in a world of constant change and shifting dynamics. For those leaders or aspiring leaders who are courageous enough to lead in a challenging business environment, opportunity is everywhere. Stand up and grab it, with this powerful guide to modern decision-making.

Reviews
"Every manager needs to see the new world through several lenses. Blythe provides those lenses. You will broaden your thinking and worldview by reading this essential book and understanding how interdependent the world is."
—Ram Charan, PhD, business consultant and coauthor of the bestseller Execution: The Discipline of Getting Things Done
"McGarvie offers a framework for addressing the dramatic financial and demographic shifts in a multipolar world. Her perspective is one of engagement, not isolationism, as she urges executives to become global citizens receptive to diverse cultures—or risk losing in the interconnected commercial arena. Like Thomas Friedman, McGarvie seeks to banish globalization's misconceptions while instead advocating a path that anticipates and adapts to change in ways that produce effective strategic action. None of this is easy, but McGarvie is an accessible guide on this rich and rewarding journey."
—Dipak C. Jain, Sandy and Morton Goldman Professor of Entrepreneurial Studies and Dean of the Kellogg School of Management, Northwestern University
"Reading Shaking the Globe is like spending time with Blythe herself. It reflects her enormous curiosity about every facet of our changing world, broad span of knowledge, intelligent observations, and engaging outlook on individual success. Enjoy!"
—Tamara J. Erickson, McKinsey Award–winning author of Plugged In: The Generation Y Guide to Thriving at Work
"This is a must-read for men and women who aspire to lead in a global economy. McGarvie cleverly combines a sophisticated but understandable rendering of the global business context with examples of challenges surmounted by real people, and questions that are guaranteed to stop you dead in your tracks . . . and challenge you to see the world in a completely different way."
—Robert J. Thomas, author of Crucibles of Leadership: How to Learn from Experience to Become a Great Leader
"Achieving sustainable growth and managing risks concern all corporate leaders, especially CEOs and board members. Shaking the Globe stands out as a definitive work on mastering leadership to successfully compete globally. McGarvie challenges us to rethink the qualities, competencies, and requirements of those who will fit and be successful."
—Gayle Mattson, global head, CEO, and Board Practice for DHR International

About the Author
Blythe J. McGarvie
(Williamsburg, VA) is the founder and president of Leadership for International Finance (LIF) (www.LIFgroup.com). Blythe heads a team of experts committed to increasing clients' business performance. LIF provides strategic and financial counsel to help clients achieve near-term and long-term economic objectives and enhance corporate governance. The firm incorporates an integrated, global approach to help companies grow by maximizing the potential of three key resources: money, people and information. Ms. McGarvie serves on the boards of Accenture, Viacom Inc., The Pepsi Bottling Group Inc., Wawa Inc. and The Travelers Companies Inc. Prior to founding her firm, Blythe was executive vice president and chief financial officer of Bic Group, one of the world's leading manufacturers of convenient disposable products. Blythe is also the author of
Fit In, Stand Out: Mastering the FISO Factor for Leadership Effectiveness in Business and Life
.

Table of Contents
| | | |
| --- | --- | --- |
| | | |
| | List of Figures | |
| | List of Tables | |
| | Foreword Robert Kraft | |
| | | |
| | Prologue: The Globe is Shaking | |
| | | |
| | Part I Preparing for an Adventure | |
| 1 | Today's Interconnected Globe | 3 |
| 2 | Financial Realities | 19 |
| 3 | Four Types of Leaders | 39 |
| | | |
| | Part II Connecting the World in Six Stops | |
| 4 | Cultural Norms | 61 |
| 5 | Winning the Battle for Talent | 85 |
| 6 | Women Working | 107 |
| 7 | Shareholder Interests | 129 |
| 8 | Entrepreneurs from A to Z | 151 |
| 9 | Values and Global Context | 177 |
| | | |
| | Epilogue: Continuing Your Journey to New Horizons | 201 |
| | | |
| | Acknowledgments | 207 |
| | Notes | 209 |
| | Index | 227 |

Find Items On Similar Subjects

The World Is Flat 3.0
: A Brief History of the Twenty-first Century