Extraordinary Groups
: How Ordinary Teams Achieve Amazing Results
Geoffrey M. Bellman and Kathleen D. Ryan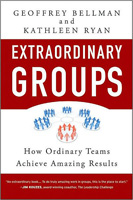 Format:
Hardcover, 256pp.
ISBN:
9780470404812
Publisher:
Jossey-Bass
Pub. Date:
September 22, 2009
Average Customer Review:

For Bulk Orders Call: 626-441-2024

Description and Reviews
From
The Publisher:
Why are some teams described in such exceptional terms, while most are not?
In this important book, Geoffrey Bellman and Kathleen Ryan reveal that people instinctively sense when a group experience is something special, something different from the ordinary, something that surpasses their expectations in a positive, remarkable, and hard-to-describe way. These are extraordinary groups that achieve outstanding results. Members of extraordinary teams—individually or collectively—experience a profound shift in how they see their world. They are transformed.
However large or small, visible or intangible, such transformations happen because the group experience satisfies core needs that members intuitively bring to any group they join. Based on an extensive field study and filled with illustrative examples,
Extraordinary Groups
presents Bellman and Ryan's tested Group Needs Model. Seeing the world of groups through this elegant framework allows readers to nurture extraordinary experiences in their teams. Bellman and Ryan's model reveals six core group needs forming three pairs: One pair relates to the individual, one to the group, and the third to the world in which the group exists.
These six elements combine to form the Group Needs Model:
Acceptance of self while moving toward one's Potential
A Bond with others that grows while pursuing a common Purpose
Understanding the Reality of the world while collectively making an Impact
No matter if the group or team gathers at work, at home, or within the community, when a group experience meets two or more of these needs, it will stand out as something special for all the members of the group.
Written for managers and executives, facilitators and trainers, and all others who lead or participate in groups, Extraordinary Groups is an invaluable resource to achieve outstanding team results time and time again.

Reviews
"This book offers a useful model for being a great group leader or member—no small undertaking. Groups are the essential structure for making a difference in the world, and this book adds to our capacity to create something important together. An easy read with a clear structure. I happily recommend it."
—Peter Block, partner, Designed Learning, and author of Community: The Structure of Belonging
"This is a must-read for leaders looking to achieve transformational results in their organizations. The authors not only make a compelling case about the power of engaging small groups, they give us a pragmatic blueprint to move groups to ever higher levels of performance."
—Phyllis Campbell, chairman, JPMorgan Chase, Pacific NW, and former CEO, The Seattle Foundation
"Organizational leaders will appreciate Bellman and Ryan's approach for igniting energy in group process and adding value to the business, effectively and quickly."
—Barbara Magusin, senior vice president, Human Resources, Premera Blue Cross
"In fifty years of consulting and facilitating, never has a book about groups so completely captured my interest or provoked such deep reflection and insight as Extraordinary Groups. Geoff Bellman and Kathleen Ryan not only capture the magic each of us feels in the presence of a deeply fulfilling group experience, but they also provide a map that can be followed by anyone seeking to create such experiences."
—Roger Harrison, consultant, author, and adjunct professor, California Institute of Integral Studies
"Extraordinary Groups provides a blueprint for building the relationships that must occur as we find the synergies needed for problem solving and breakthrough."
—Patricia McLagan, chair, Desmond Tutu Peace Foundation

About the Author
Geoffrey Bellman
is a recognized thought-leader on organizations, leadership, life, and change. He has written six books including The Consultant's Calling from Jossey-Bass. His private sector work has focused on renewing large, mature corporations. In recent years, he has given more of his attention to community-based organizations.
Kathleen Ryan
is co-founder of The Orion Partnership, a firm that focuses on culture change, team development, executive on-boarding, and coaching. As one client has said, "She is an organizational consultant with an instinct for translating complex human behavior into practical concepts." Ryan is the coauthor of The Courageous Messenger and Driving Fear Out of the Workplace, both from Jossey-Bass.

Table of Contents
| | | |
| --- | --- | --- |
| | | |
| | I: Overview | |
| 1 | Why Small Groups Are Especially Important Now | |
| 2 | What's Different About Extraordinary Groups | |
| 3 | What Ordinary Groups Need | |
| | | |
| | II: Understanding the Group Needs Model | |
| 4 | Growing Toward Your Potential | |
| 5 | Joining for Purpose | |
| 6 | Creating Change Together | |
| 7 | The Heart of Transformation | |
| | | |
| | III: Sharing Leadership | |
| 8 | Embracing Group Differences | |
| 9 | Leading Extraordinary Groups | |
| 10 | Living the Promise of Amazing Groups | |
| | | |
| | Appendix A Applications of Practice in Using the Group Needs Model | |
| | Appendix B Extraordinary Groups: A Nutshell | |
| | Appendix C Practicing What We Preach | |
| | Appendix D More Group Resources | |
| | | |
| | Acknowledgments | |
| | About the Authors | |
| | Index | |

Find Items On Similar Subjects

Community
: The Structure of Belonging - P