Trust Me
: Four Steps to Authenticity and Charisma
Nick Morgan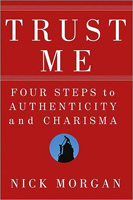 Format:
Hardcover, 224pp.
ISBN:
9780470404355
Publisher:
Jossey-Bass
Pub. Date:
December 31, 2008
Average Customer Review:

For Bulk Orders Call: 626-441-2024

Description and Reviews
From
The Publisher:
"Every communication is two conversations: the verbal one—the content—and the nonverbal one—the body language. If the two are aligned, you can be a persuasive, authentic communicator. You may even come across as charismatic. If the two are not aligned, people believe the nonverbal communication every time."—From the Introduction
In this book, acclaimed communications coach Nick Morgan shows how you can become an effective, charismatic speaker by communicating with authenticity and respect for your audience. Trust Me presents a four-step process (which Morgan perfected while teaching at Harvard) that enables you to find your own best personal communication style to maximize your persuasiveness and presence. This proven process works whether you're speaking to a group or in a one-on-one conversation.
As Morgan explains, we are all unconscious experts in reading each other's body language. When words and body language are in conflict, we believe the body language every time. This makes conscious efforts to change our unconscious behavior difficult. Even momentary lapses are perceptible to the audience. The key to success is to train your body language to unconsciously align with your message.
Trust Me
outlines the four steps to communication success:
Form the attitude and intent to be open, and then let your body naturally express that intent. This feeling of openness will naturally affect the content of what you are saying, and it's that natural evolution that is at the heart of the process.
Become connected to your audience. This creates a mutual energy, and you will naturally begin to think in terms of what the audience wants and needs in shaping your content.
Ask yourself, what's my underlying emotion? Why does this matter to me? Becoming passionate about what you have to say naturally makes your audience care about it too.
Really listen to the audience. Understanding their needs and reactions will enable you to direct your communication in mutually beneficial ways.
In addition, the book offers an in-depth analysis of the research that underlies the four-step process and includes tips for controlling fear when communicating.
At a time when there is little tolerance for hype and spin, this book offers a practical, clear guide for becoming a persuasive and authentic communicator.

Reviews
"If you're a speaker who wants to raise your game to be the best you can be, then you need to read this book. Nick Morgan has helped some of the most remarkable professional speakers around the world create top-notch content, deliver it with authenticity and charisma—and change the world."
—Tim Sanders, author, Saving the World at Work
"In a political campaign today, you have to start powerful conversations that bring the candidate to life for the public, whether it's in person, on television, or through the new media. Nick Morgan's four-step approach to authentic communication is a must for cutting through the cynicism and creating real connections."
—Betsy Myers, former COO, Obama for President Campaign; former executive director, the Center for Public Leadership at Harvard's Kennedy School of Government; former director, White House Office for Women's Initiatives and Outreach
"As a speaker, you have to find your own voice. Nick Morgan's four-step approach to communicating with personal authenticity is by far the best I have seen for successful public speaking."
—Steve Farber, author, Greater Than Yourself and The Radical Leap; president, Extreme Leadership, Inc.
"Nick Morgan shares the secrets of effective communication in this ground-breaking book. His approach has helped me communicate more powerfully and charismatically with employees, shareholders, and the public."
—Howard Brodsky, founder, chairman, and CEO, CCA Global Partners, Inc.

About the Author
Nick Morgan
, founder of Public Words Inc., is one of America's top communication and speech coaches. He is a former Fellow at Harvard's Kennedy School of Government, affiliated with the Center for Public Leadership, and served as editor of the Harvard Management Communication Letter. He is the author of the acclaimed book Working the Room, reprinted in paperback as Give Your Speech, Change the World.

Find Items On Similar Subjects

Give Your Speech, Change the World
: How to Move Your Audience to Action