The Shift
: The Transformation of Today's Marketers into Tomorrow's Growth Leaders
Scott M. Davis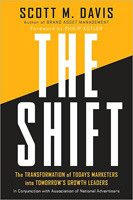 Format:
Hardcover, 272pp.
ISBN:
9780470388389
Publisher:
Jossey-Bass
Pub. Date:
May 26, 2009
Average Customer Review:

For Bulk Orders Call: 626-441-2024

Description and Reviews
From
The Publisher:
Traditional marketers live in a short-term world built on an ever-narrowing platform of marketing communications and promotions. They are often limited to running agency relationships and enabling the sales force, while constantly being squeezed for funds they do not have. But the days of marketers operating in a vacuum and marketing and business strategies being created independently of one another are ending. The best marketers are now creating integrated perspectives that start with the growth aspirations of their entire organization. The Shift will show how this new breed of Visionary Marketers has become a successful catalyst for growth and transformation within an organization, as well as how you can become a marketing visionary too.
Using case studies and insights from leading marketers at GE, Walmart, Charles Schwab, P&G, Burger King, Zappos, Best Buy, Dell, and others, as well as relying on over twenty years of professional experience, renowned marketing expert Scott Davis outlines the five shifts marketers must undertake to fundamentally shift the role of marketing and help drive both the growth agenda and bottom-line results. Davis reveals how to
1) balance short-term pressures to show results while staying aligned with the enterprise's longer-term vision,
2) continuously drive innovation in a pervasive way,
3) navigate the dizzying array of new and old media choices to reach customers in meaningful ways,
4) operate and win in increasingly complex internal and external environments, and
5) maintain a relentless focus on the customer.
It is critical for all marketers to begin leading the charge to growth in their organizations. The Shift will show how Visionary Marketers are implementing new and better ways to win new customers and build deeper and more meaningful relationships with current customers, while keeping competitors at bay.

Reviews
"More than ever, the role of marketing has to be to drive profitable growth by unlocking customer insights. The Shift provides inspiring examples of how leading marketers are getting it done."
—Cammie Dunaway, executive vice president of sales and marketing, Nintendo of America
"At Zappos.com we've always approached business in our own unique way. The Shift outlines many principles we holistically embrace. Kudos to Scott Davis for putting together such a great resource!"
—Tony Hsieh, CEO, Zappos.com
"The Shift is a great 'how-to book' for Visionary Marketers who want to stand out, help their company succeed by moving toward true accountability, and drive a business strategy that keeps the customer in mind, while never losing sight of the P&L."
—Fisk Johnson, chairman and CEO, SC Johnson
"The Shift's articulation of how marketing can drive a company's bottom line and a marketer's career makes it a must-read for any CEO who wants marketing to truly impact their company's bottom line."
—CJ Fraleigh, CEO, Sara Lee Retail and Foodservice
"Marketer as a P&L–oriented businessperson! This important book for senior executives provides a road map on how marketers and their organizations can shift their profiles, while driving bottom-line results."
—Mark L. Vachon, president and CEO, GE Healthcare, Americas
"The Shift charts a dramatic new role for marketing. A challenge every firm should embrace."
—David Aaker, vice chairman, Prophet; and, author, Brand Leadership
"The Shift has to become a way of life from the classroom to the boardroom. Davis's book brings a practitioner's perspective to this critical topic of marketers shifting to becoming more accountable and more personally responsible for driving growth."
—Dipak Jain, dean, Kellogg Graduate School of Management, Northwestern University
"Forget the CMO. Long live the integrated agenda of the Chief Growth and Visionary Officer!"
—Joseph V. Tripodi, chief marketing and commercial officer, The Coca Cola Company

About the Author
Scott M. Davis
is a senior partner at Prophet, was an adjunct professor at the Kellogg Graduate School of Management at Northwestern University, and has guest lectured at many top MBA programs, including Harvard, NYU, Columbia, and the University of Chicago. He has worked with top executives at companies such as GE, Johnson & Johnson, IBM, Best Buy, Sara Lee, and Boeing. He is frequently cited in publications such as The Wall Street Journal, Reuters, USA Today, BusinessWeek, Advertising Age, Brandweek, Marketing News, Management Review, Inc. Magazine, and Crain's. He is the author of Brand Asset Management and coauthor of Building the Brand-Driven Business.

Table of Contents
Preface It's all about the growth
Introduction Preparing to make the shift
1
The first shift : from creating marketing strategies to driving business impact
27
The second shift : from controlling the message to galvanizing your network
65
The third shift : from incremental improvements to pervasive innovation
105
The fourth shift : from managing marketing investments to inspiring marketing excellence
143
The fifth shift : from an operational focus to a relentless customer focus
173
Afterword Shifting is not easy
221
Bibliography
217
Index
221