The Mary Kay Way
: Timeless Principles from America's Greatest Woman Entrepreneur
Mary Kay Ash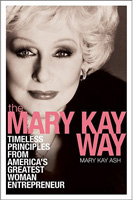 Format:
Hardcover, 272pp.
ISBN:
9780470379950
Publisher:
Wiley
Pub. Date:
July 8, 2008
Average Customer Review:

For Bulk Orders Call: 626-441-2024

Description and Reviews
From
The Publisher:An updated and revised new edition of a Mary Kay Ash New York Times bestseller
Originally published in 1984, this legendary guide to the leadership wisdom of Mary Kay Ash has been revised, updated, and expanded for the modern business environment and today's entrepreneur.
It was Mary Kay's goal in 1963 to build an organization that was guided by the Golden Rule and dedicated to giving women unlimited opportunities for success. She considered caring and kindness to be the building blocks of a highly motivated workforce—and the forty-five year success story that is Mary Kay Inc. has proven her right. Packed with timeless and proven principles, this new edition includes inspiring data from some of the company's top independent salespeople worldwide, and a new foreword by Mary Kay's grandson, also a company executive. For entrepreneurs, The Mary Kay Way offers unlimited inspiration. For anyone at all who wants to succeed in business, The Mary Kay Way presents real, effective, proven success principles that are equally effective in life.
"Leaders teach. They motivate. They care. Leaders make sure that the way to success is always broad enough and straight enough for others to follow."
—Mary Kay Ash
Mary Kay helped open the door for countless women throughout the world to find success on their own terms and to be their own bosses. The Mary Kay Way is her inspiring "how-to manual." It explains her people-centered business philosophy and how to succeed by staying true to yourself, your values, and your customers.
From The Mary Kay Way:
"Every person is special! I sincerely believe this. Each of us wants to feel good about ourself, but to me, it is just as important to make others feel the same way. Whenever I meet someone, I try to imagine him or her wearing an invisible sign that says: make me feel important! I respond to this sign immediately, and it works wonders.
Some people, however, are so caught up in themselves that they fail to realize that the other person wants to feel important too.
Once I waited in a long reception line, and when I finally got to shake hands with the company's sales manager, he treated me as if I didn't exist. I'm sure he didn't remember the incident; in fact, he probably was never aware of how much he had hurt me. Yet, after all these years, I still remember—so it obviously had a powerful impact on me. I learned an important lesson about people that day, which I have never forgotten: no matter how busy you are, you must take time to make the other person feel important!"
Mary Kay Ash built a global independent sales force that today numbers 1.8 million women, and is respected by business and academic leaders. How? The secret is in this book.
For forty-five years, the principles in
The Mary Kay Way
have helped the company succeed through changing economic times and explosive global growth. It has been said that no company wholeheartedly embodies the values and reflects the beliefs of its founder more than Mary Kay Inc. Now you can put the same inspiring principles to work for you.
Recognized today as America's greatest woman entrepreneur, Mary Kay Ash stepped out in 1963 in a man's world to blaze a new path for women. She grew her business based not on the rules of competition, but on The Golden Rule. By "praising people to success" and "sandwiching every bit of criticism between two heavy layers of praise," this energetic Texas titan opened new opportunities for women around the world and built a multibillion-dollar corporation.
Mary Kay's unconventional business philosophy was first published in 1984. Now revised and updated for the first time, with examples from her company's top independent salespeople,
The Mary Kay Way
is perhaps her most important legacy.

Reviews
"One of the most inspiring entrepreneurial leaders, Mary Kay always understood the importance of people and the value they can bring to an organization."
—J.W. Marriott, Jr., Chairman and CEO, Marriott International, Inc.
"Mary Kay knew that when you put people first and then surround them with processes and disciplines that recognize their efforts, performance will soar."
—David C. Novak, Chairman and CEO, Yum! Brands, Inc. (KFC, Taco Bell, Pizza Hut, Long John Silver's, A&W)

About the Author
Mary Kay Ash
was the founder and chairman of Mary Kay Inc., one of the world's largest and most successful direct selling organizations. An academic study by Baylor University named her the greatest woman entrepreneur in American history, and the Wharton School of Business deemed her one of the most influential business leaders of modern times. Mary Kay passed away in 2001.

Table of Contents
| | | |
| --- | --- | --- |
| | | |
| | Foreword Ryan Rogers | |
| | | |
| 1 | Golden Rule Leadership | |
| 2 | You Build with People | |
| 3 | The Invisible Sign | |
| 4 | Praise People to Success | |
| 5 | The Art of Listening | |
| 6 | Sandwich Every Bit of Criticism between Two Heavy Layers of Praise | |
| 7 | Be a Follow-Through Person | |
| 8 | Enthusiasm ... Moves Mountains! | |
| 9 | The Speed of the Leader Is the Speed of the Gang | |
| 10 | People Will Support That Which They Help to Create | |
| 11 | An Open-Door Philosophy | |
| 12 | Help Other People Get What They Want - and You'll Get What You Want | |
| 13 | Stick to Your Principles | |
| 14 | A Matter of Pride | |
| 15 | You Can't Rest on Your Laurels | |
| 16 | Be a Risk-Taker | |
| 17 | Work and Enjoy It | |
| 18 | Nothing Happens Until Somebody Sells Something | |
| 19 | Never Hide behind Policy or Pomposity | |
| 20 | Be a Problem-Solver | |
| 21 | Less Stress | |
| 22 | Develop People from Within | |
| 23 | Live by the Golden Rule On and Off the Job | |
| | Afterword: Leaders Creating Leaders | |
| | | |
| | Index | |