The Five Literacies of Global Leadership
: What Authentic Leaders Know and You Need to Find Out
Richard David Hames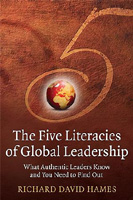 Format:
Hardcover, 384pp.
ISBN:
9780470319123
Publisher:
Jossey-Bass
Pub. Date:
June 4, 2007
Average Customer Review:

For Bulk Orders Call: 626-441-2024

Description and Reviews
From
The Publisher:
New research has exposed our leadership paradigm as a outdated mess of flawed models and practices. By working with great leaders and observing their common attitudes and behaviours, Richard Hames has cracked a universal code based on intelligence, appreciation and collaboration. This code unlocks Five Literacies of Global Leadership.
These behaviours are the trade secrets of the artists and alchemists among us. Often instinctively, these leaders charge others with energy, search for new perspectives and embrace diversity. And they are driven by dialogue. This book reveals approaches and attitudes that they all share - and that can make anyone an exceptional leader.

Reviews
"This is a ground-breaking book. It presents a powerful case for worldviews that transcend ideology, history and culture and work towards collaborative solutions to the problems of our planet. if our leaders could rise above self-interest and greed to implant the five literacies, humanity would have a more assured and viable future."
—Ziauddin Sardar, Editor, Futures
"the Five Literacies of Global Leadership is a comprehensive and often fascinating look at the confused state of the world today. The points made by the author are sharp and well focused. the points made by the author are sharp and well focused. the frameworks suggested are a way of guiding thinking into a more constructive mode. This book is well worth reading."
—Edward de Bono, Author
"I am honoured to be asked to endorse the Five Literacies of Global Leadership, which provides fresh insights and a valuable framework for those who aspire to authentic leadership."
—John McFarlane, CEO, ANZ Banking Group
"Erudite, exceptionally well researched and captivating in its sheer breadth and approach...this book has it all! It should be required reading for all those who aspire to lead in today's uncertain world."
—Goodnews Cadogan, Chairman, Human Capital Institute - Africa
"This is the single most important book on leadership to be published in the past 50 years. Indispensable. read it!"
—Andrew Greatrex, Chairman, Global Leaders Network
"Today, perhaps more than ever, the world needs great leaders. In The Five Literacies of Global Leadership Richard Hames Provides a challenging and powerful model of leadership. the book caused me to reflect on my own behavior and experience, and I am sure would be of interest to all those who aspire to be better leaders."
—Vivienne Cox, Executive Vice President, Gas, Power & Renewables, BP
"Richard is an innovative and provocative thinker who shines a new light on the notion of leadership. he applies his huge experience, and his scientific and philosophical training, to offer a different take on how truly great leaders grow. Always worth listening to , Richard Challenges us to take a holistic view and not to tolerate the conventional and obvious."
—Ann Ewing, Head of Learning and Development, HSBC

About the Author
Richard David Hames
is a strategic futurist, corporate philosopher and 'whole system' knowledge designer. Working at the interface between organizations and society, and frequently transcending both history and ideology, he is widely considered to be among the world's most innovative intellectuals. An Australian citizen, educated in Europe and domiciled in Thailand, Richard is Honorary President of The Hames Group (a globally-distributed think-tank and design laboratory comprising thought leaders from all fields of human endeavor) and the Director of Thoughtpost EDGE. Richard's early international experience as a business strategist was inspired by a close professional friendship with the legendary Dr W Edwards Deming. Today, he specialises in the reinvention and renewal of the more toxic conventions underpinning 250 years of industrial capitalism. An authority on the 'deep design' of strategically viable solutions for business and government in the knowledge society, Richard has built an enviable reputation as a leadership strategist with a range of clients spanning the globe and in all sectors of the economy. He is a personal mentor to Presidents, Heads of State, and some of the world's most innovative CEOs.

Table of Contents
ACKNOWLEDGEMENTS

FOREWORD.

INTRODUCTION.

PART ONE: MESSY BUSINESS.

1 The Matrix.
Looking Outside-In.
Looking Inside-Out.
Notes.

2 Entangled Freedom.
World on Edge.
Imagine There's No Country.
The Tyranny of Intimacy.
Notes.

3 Cathedrals and Cafes.
Net Influence.
Treading Water.
Eyes on the Ball.
Che sera, sera! Whatever will be, will be.
From Atoms to Ecosystems.
Bazaars, Brains, Brands and Brakes.
Symbiotic Design.
Who's in Charge Anyway?
Missed Steps in the Dance.
Liberating Enterprise.
Network Mastery.
Participative Architectures.
Closer than Close.
Networks, Narratives and Navigation.
Notes.

PART TWO: CHANGING MINDS.

4 Certainty Traps.
All Change.
Notes.

5 Reinventing the Present.
Notes.

6 Responsiveness Rules.
Notes.

7 Click!
Notes.

PART THREE: THE FIVE LITERACIES.

8 Literacy I – Networked Intelligence.
Catching the Future.
Zero Geography.
Infolust.
And Citizens?
Designing Viability.
Notes.

9 Literacy II – Futuring.
Thinking Matters.
Deep Structural Patterns.
And Yet Still Deeper....
Views from the Future.
Notes.

10 Literacy III – Strategic Navigation.
Planning in Real Time.
Imitating Nature.
Strategic Activism.
Exit the White Knight.
(Re)defining Management.
(RAISE)ing Consciousness.
Navigating Emergence.
Upgrading Thinking....
ChangeBrains and Strategic Decision Theatres.
Notes.

11 Literacy IV – Deep Design.
Bits and Pieces We Pay For.
The Vital Stuff (Or Method).
Using Knowledge Designer.
The Art of Strategic Conversation.
Seeing Through Another's Eyes.
Growing Coherence.
Integrating Multiple Perspectives.
Operationalising Deep Design.
Notes.

12 Literacy V – Brand Resonance.
Markets are Conversations.
Brand New World.
Wild about Work.
Notes.

PART FOUR: ESCAPE VELOCITY.
13 Cracking the Code.
Notes.

FURTHER READING.

Find Items On Similar Subjects

Global Business Leadership

Global Leadership
: The Next Generation