Beyond Booked Solid
: Your Business, Your Life, Your Way - It's All Inside
Michael Port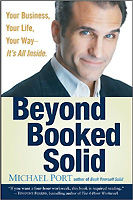 Format:
Hardcover, 240pp.
ISBN:
9780470174364
Publisher:
Wiley
Pub. Date:
April 18, 2008
Average Customer Review:

For Bulk Orders Call: 626-441-2024

Description and Reviews
From
The Publisher:
Michael Port's
Book Yourself Solid
was a huge hit among professional service providers and small business owners. With that book, thousands mastered the art of attracting tons of new clients and keeping them happy. But the tactics and strategies Port introduced in
Book Yourself Solid
worked too well! Today, many readers simply have more clients than they can handle.
But, with every new success comes a new challenge. Port solves this problem with a revolutionary plan for gracefully upping your business to the next stage of success—
Beyond Booked Solid
. That means growing and expanding your business from a small operation that takes all your time and energy just to stay afloat to a bigger, better business that pays you more while you work less.
You've worked so hard to build your business and earn the trust of your clients that you probably can't imagine letting go. But you can't truly grow your business if you're doing all the work yourself. How do you do it? Here you'll find innovative strategies for tweaking, designing, and arranging your business in ways that allow you to relax and work less while the business grows reliably and automatically.
If you're booked solid now, or on your way, here's how you can enter a new realm of consistent, predictable growth and profit. Inside, you'll discover the four criteria necessary for building a business that goes beyond booked solid—profitability, scalability, excellence, and leverage—and exactly how to develop those criteria. In addition,
Beyond Booked Solid
will show you how to:
Innovate for continuous growth with less work
Cultivate the right attitude for continued success
Double, triple, or even quadruple your sales
Find sources of easy passive and leveraged income
Systematize the business so it doesn't need you every day
Delegate administrative dirty work to others
Design your business so that it serves your ultimate lifestyle
Packed with fresh tips, strategies, techniques, and resources, this one-of-a-kind business guide lets you make the transition to the next stage of business development and growth. For professional service providers and small business owners, there's nothing like the feeling that comes with being booked solid. Now, you can take the next step to long-term prosperity with
Beyond Booked Solid
.

Reviews
"If you want a four-hour work week, this book is required reading."
—TIMOTHY FERRISS, bestselling author of The 4-Hour Workweek
"If you liked The E-Myth, you'll love Beyond Booked Solid. Port's new book is required reading for all entrepreneurs."
—Michael E. Gerber, author of The E-Myth
"Many business advice books are like certain kinds of Chinese food—you read them and an hour later you're hungry again. By contrast, Beyond Booked Solid is like soul food. You read it, you come back for seconds, and finish it satisfied and happy, looking forward to the day when Michael Port writes his next book."
—Ben Dattner, PhD, Adjunct Professor of Organizational Psychology, New York University
"In Beyond Booked Solid, Port offers you an opportunity to capitalize on one of the most underappreciated assets in business—leverage. And he shows you how to do it with authenticity."
—Keith Ferrazzi, bestselling coauthor of Never Eat Alone
"Michael Port has bridged the gap between professional and personal success. His book generously shares tips and techniques that will help you manage a successful life, much more difficult than it sounds. This is the perfect complement to Book Yourself Solid. If you wish you had more time and happiness in your business life, this book will make it come true."
—Tim Sanders, author of Love Is the Killer App
"If you want bigger revenues and profits, then Beyond Booked Solid is the book to read when you're tired of thinking small. It's a masterpiece because you will never think about your business (or your life) in the same way again. I highly recommend it for those who want to understand how to go from doing it all themselves to running a highly successful enterprise with no limit on what is possible."
—Dr. Tony Alessandra, coauthor of The Platinum Rule
"Beyond Booked Solid takes you beyond perspiration to inspiration. It is an innovative guide to the power of leverage; the kind of leverage that will produce amazing results while providing you with more time for your life outside of work. Buy this book if you want to leave a financial and a personal legacy."
—Steve Lundin, New York Times bestselling coauthor of Fish!
"Whether you are just starting out in your business or you're already booked solid, Beyond Booked Solid offers the tools and the inspiration to significantly grow your business and maintain work-life balance. If you want to learn tried-and-true innovations that will catapult your business to the next level, turn the page."
—Brian Scudamore, founder and CEO, 1-800-Got-Junk?
"The ideas in Beyond Booked Solid show you how to create a sustainable, profitable business and live the life you want. Perhaps even more important, you develop a keen sense of mastery and self-actualization—showing yourself that you can continuously grow and innovate, and creating a true sense of personal success."
—Larina Kase, PsyD, MBA, business psychologist and New York Times bestselling coauthor of The Confident Speaker

About the Author
Michael Port
is also author of
Beyond Booked Solid
. He's been called a "marketing guru" by the
Wall Street Journal
and is a renowned public speaker. A slightly irreverent, sometimes funny, knowledgeable, compassionate, and passionate performer, Michael hits his mark every time and leaves his audiences, readers, and clients a little smarter, much more alive and thinking a heck of a lot bigger about who they are and what they offer the world. See videos and read his blog at MichaelPort.com.

Find Items On Similar Subjects

Six Disciplines Execution Revolution
: Solving the One Business Problem That Makes Solving All Other Problems Easier