Why Teams Win
: 9 Keys to Success In Business, Sport and Beyond
Dr. Saul L. Miller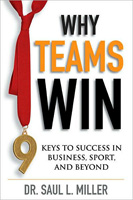 Format:
Hardcover, 256pp.
ISBN:
9780470160435
Publisher:
Jossey-Bass
Pub. Date:
May 4, 2009
Average Customer Review:

For Bulk Orders Call: 626-441-2024

Description and Reviews
From
The Publisher:
WINNING IS THE GOAL, THE CORPORATE SEASON IS ENDLESS, AND THE PRESSURE TO PERFORM IS 24/7.
Winning isn't easy. The world is becoming more and more competitive, with a greater need than ever for people to work together effectively in teams to make organizations successful.
There is no better model for success in business than the world of sport, with its bottom-line performance culture and its relentless focus on creating winning teams. In
Why Teams Win
, renowned sports psychologist Dr. Saul L. Miller-the man who teaches elite athletes and top sports teams how to be successful-uses sport as a powerful metaphor for the world of business.
Why Teams Win
distills Dr. Miller's work with hundreds of high-performance teams-in the worlds of sport, business, healthcare, and the arts-into lessons to help business teams perform.
Why Teams Win
:
Identified the 9 key characteristics of successful teams.
Describes how to improve personal, organizational, and team performance in each of these 9 areas.
Explains how and why to apply different strategies to different types of teams.
Outlines how to balance the needs of the individual with the needs of the team.
Helps people work together and perform to the best of their abilities.
Shows how to get the maximum potential out of a group of individuals.
Features advice, quotes, and interviews from high-profile athletes and coaches, as well as from business leaders.
Includes self-evaluation and team-building exercises.
Why Teams Win
offers anyone wanting to improve their personal and team performance a proven and accessible formula for success.

Reviews
"Bursting with ideas, suggestions and great stories that the sports fan will love and the business person can use to create their own future. Dr. Miller's 'Nine Qualities' are bang on".
—Gordon Huston, President & Chief Officer and Envision Member, Envision Credit Union
"Saul Miller has for over 30 years made contributions to the success of teams, businesses, and athletes. Saul has used tried-and-true methods and introduced cutting-edge ways to help improve performance. Once again Saul has nailed it, sharing his knowledge and experience in Why Teams Win. This book will be part of my own preparations to get the best from teams that I coach."
—Pat Quinn, Long-time Professional NNHL and International Hockey Executive, Coach, and Manager
"Having worked closely with professional basketball coaches for over 25 years, I understand what goes into 'winning teams.' Dr. Miller gets right to the essence of winning in a clear and easy-to-follow manner. It is a must read for anyone working for a 'W' for the team."
—Michael H. Goldberg, Executive Director, MBA Coaches Association
"Miller understands team behavior. In Why Teams Win he explains the real factors to team success. The book is a practical, clear, and concise guide to winning."
—Davey Johnson, Baseball Star, World Series Winning Manager, AL Manager of the Year, Team USA Olympic and World Baseball Classic Manager
"The Detroit Red Wings Hockey Club uses many, many of Dr. Saul Miller's 9 Keys to Success in his terrific book Why Teams Win. Your company can win too by using these time-tested principles. I recommend it to those who want to build a sustainable, first-class company."
—Jim Devellano, Senior VP Detriot Red Wings (NHL) and Detriot Tigers (MLB)

About the Author
Dr. Saul L. Miller
is a performance specialist consulting with super-achievers in world-class sport, business, healthcare, and the arts. One of North America's leading performance psychologists, he works in the areas of performance, productivity enhancement, team building, and helping people to be successful while dealing effectively with pressure, stress, and change.
Over the past 25 years, Dr. Miller's corporate clients have included Cisco, Nike, Sony, Visa, Canada Life, IBM, Envision, Investors Group, Cominco, Labatts, Motorola, Manulife, Telus, and 24 Hour Fitness. In the world of sport, his clients have included the New York Mets; Seattle Mariners; Los Angeles Dodgers, Rams, Clippers, and Kings; Vancouver Canucks; Florida Panthers; Nashville Predators; St. Louis Blues; PGA Tour golfers; as well as professional teams in Europe, and Canadian and U.S. Olympians in over a dozen different sports. He is the author of six other books.

Find Items On Similar Subjects

X-teams
: How to Build Teams That Lead, Innovate and Succeed