Toxic People
: Decontaminate Difficult People at Work Without Using Weapons Or Duct Tape
Marsha Petrie Sue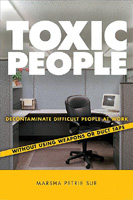 Format:
Kindle, 783 KB
ASIN:
B000XU8DQA
Publisher:
Wiley
Pub. Date:
February 18, 2010
Average Customer Review:

For Bulk Orders Call: 626-441-2024

Description and Reviews
From
The Publisher:
The work world is full of toxic people—whine and cheesers, backstabbers, steamrollers, zipper lips, needy weenies, and know-it-alls. Life is just too short to let difficult people drive you nuts in the office. If you want to decontaminate the toxic people in your workplace, this practical guide to office survival will show you how to do it before they suck the life out of you.
This enlightening guide gives you the skills you need to deal with toxic people. Stop doubting your own capabilities and sanity. Don't let them win! Instead, use the survival tactics you'll find here to turn ugly situations with toxic people into a tolerable day at the office—without resorting to hostile or aggressive tactics.
In
Toxic People
, Marsha Petrie Sue offers unique and practical solutions for dealing with difficult people and the conflict and miscommunication they often aggravate. Using real-life case studies and real-world strategies, Sue shows managers and employees alike how to take personal responsibility for their work environment and take the lead in fostering teamwork, morale, and success. Take charge and decontaminate your office with:
Seven simple lessons for office survival
Six major types of toxic people and how to recognize them
Keys to identify the behaviors that drive you crazy and what to do
The right words to defuse situations and defang toxic types
Tips on recognizing lies and insincere behavior
Case studies and true stories on dealing with almost any toxic situation
Guidance on developing a positive attitude that rubs off on others
Tools to develop a dynamic, productive environment
And other skills and tips to keep you and your office conflict-free
Dealing with toxic people is a part of life, at work and everywhere else. Using the strategies, tactics, and real-world advice you'll find here, you'll learn to change the way you respond to their toxic waste and stop them from affecting your mood or your work. For happier teams, a happier workplace, and a happier you, put down the duct tape and the stapler, take a deep breath, and read
Toxic People
.

Reviews
"From corporate America to the smallest business owner, this book should be mandatory reading because it provides toxic relief that will put money in your pocket and calm in your personality. A dose of this reading would enhance the success of business school students and smooth out a few bumps in a rocky marriage."
—Richard L. Labrum, Vice President, Wealth Management, Smith Barney
"If you're just sick to death of those people who zap the energy right out of you, Marsha has the cure! In no-nonsense terms, she gives us the prescription for dealing with toxic people. She mixes in the right dosage of personal experience, humor, and practical advice to create a compelling message that is highly relevant in our personal and professional lives. I highly recommend this book to everyone interested in cleaning up toxic behaviors!"
—John Ryan, Vice President, American Express
"Marsha Petrie Sue is the Muhammad Ali of communicators. She can dance and look pretty, and she uses the entire ring, but she knows how and when to land a knockout punch. If you have bad relationships, you'll learn why. This is charm school with live ammunition!"
—David Rawles, founder and President, Career Solutions, Inc.
"Marsha Petrie Sue's 'take the bull by the horns' approach to self-realization and, if so chosen, self-improvement, is the antidote to today's wimpy leadership malaise. She takes readers by their collars, looks them straight in the eyes, and tells them in no uncertain terms that their key to both personal and professional happiness is attainable only through critical self-evaluation and the will to transcend their current situations."
—Randy O'Neill, Senior Vice President, Lancer Insurance Company
"She has done it again! She gives us permission to 'sack the toxic people' who suck out our energy. Take Marsha's ticket to freedom: give yourself permission to send the toxic people on their not-so-merry way!"
—Dr. Geoff Haw, Consultant, Sagacity Services, Australia
"Marsha always finds a way to deliver the most difficult messages in a humorous way (this book is one example). You will be able to apply this book in everyday life and anywhere you encounter people!"
—Tina Aguirre, Senior IT Manager, oil and energy company

About the Author
Marsha Petrie Sue
, MBA, is a successful professional speaker known as "The Decontaminator of Toxic People" because she dares her audiences to take personal responsibility for their communication, relationships, choices, and success. She challenges every one of your beliefs while entertaining and enlightening you along the way.

Table of Contents
| | | |
| --- | --- | --- |
| | Preface | |
| | Acknowledgements | |
| | | |
| 1 | A Hair in Your Biscuit | |
| 2 | Doesn't Work Well With Others | |
| 3 | The Steamrollers | |
| 4 | The Zipper Lip | |
| 5 | The Back Stabber | |
| 6 | The Know-It-All | |
| 7 | The Needy Weenie | |
| 8 | The Whine and Cheeser | |
| 9 | Planning for Toxic Spills | |
| 10 | Plotting Toxic Clean up | |
| 11 | Listen UP! | |
| 12 | Control the Uncontrollable | |
| 13 | Toxic Customer Service | |
| 14 | Mental Looting | |
| 15 | Toxic Infections | |
| 16 | Ruffled Feathers | |
| 17 | On A Personal Note | |
| 18 | Survivor | |
| | | |
| | About the Author | |

Find Items On Similar Subjects

Coping With Difficult People