James Madison
Richard Brookhiser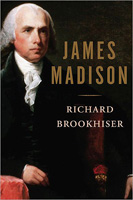 Format:
Hardcover, 304pp.
ISBN:
9780465019830
Publisher:
Basic Books
Pub. Date:
September 27, 2011
Average Customer Review:

For Bulk Orders Call: 626-441-2024

Description and Reviews
From
The Publisher:
James Madison led one of the most influential and prolific lives in American history, and his story—although all too often overshadowed by his more celebrated contemporaries—is integral to that of the nation. Madison helped to shape our country as perhaps no other Founder: collaborating on the Federalist Papers and the Bill of Rights, resisting government overreach by assembling one of the nation's first political parties (the Republicans, who became today's Democrats), and taking to the battlefield during the War of 1812, becoming the last president to lead troops in combat.
In this penetrating biography, eminent historian Richard Brookhiser presents a vivid portrait of the "Father of the Constitution," an accomplished yet humble statesman who nourished Americans' fledgling liberty and vigorously defended the laws that have preserved it to this day.

Reviews
"Brookhiser brings his succinct style to bear on the only founder more elusive than Jefferson. The result is a distinctive portrait of Madison as America's original man for all seasons."
—Joseph J. Ellis, author of First Family: Abigail and John Adams
"Exactly what one would expect from Rick Brookhiser: another witty, wise, and elegant account of another American icon. The most vivid portrait of Madison to date, with a keen eye for the Virginian's achievements as a politico and a frank assessment of the slavery question—a topic on which previous Madison biographers have disappointed almost as much as did Madison himself."
—Akhil Reed Amar, author of America's Constitution: A Biography
"Richard Brookhiser has written a lively, deeply informed, and penetrating look at the small man who played such a big role in America's founding. Father of the Constitution, prime mover behind approval of the Bill of Rights, trusted advisor and confidant to the young nation's first president, and its fourth chief executive himself, James Madison is also our country's first practical politician. He founded not just the first American political party, but also the American system of party politics itself. For James Madison had come—after long study and extended practical experience—to believe deeply in majority rule, public opinion, and a government of, by and for the people."
—Karl Rove

About the Author
Richard Brookhiser
is Senior Editor of the National Review and the author of nine books, including Founding Father: Rediscovering George Washington; Alexander Hamilton, American; America's First Dynasty: The Adamses, 1735–1918; and Gentleman Revolutionary: Gouverneur Morris, the Rake Who Wrote the Constitution. Brookhiser also wrote and hosted the PBS documentary Rediscovering George Washington. He lives in New York City.

Table of Contents
| | | |
| --- | --- | --- |
| | | |
| | Introduction | 1 |
| | | |
| 1 | Youth, Revolution | 15 |
| 2 | The Constitution | 37 |
| 3 | The Federalist, The Bill of Rights | 61 |
| 4 | The First Political Party | 85 |
| 5 | Leading an Opposition | 109 |
| 6 | Wilderness Years | 129 |
| 7 | In Power | 147 |
| 8 | Problems of Power | 165 |
| 9 | President | 181 |
| 10 | WarLleader | 201 |
| 11 | Retirement, Death | 223 |
| | Legacy | 247 |
| | | |
| | Notes | 251 |
| | Bibliography | 267 |
| | Index | 271 |

Find Items On Similar Subjects

George Washington on Leadership