The Difference
: When Good Enough Isn't Enough
Subir Chowdhury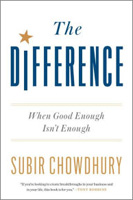 Format:
Hardcover, 144pp.
ISBN:
9780451496218
Publisher:
Crown Business
Pub. Date:
February 21, 2017
Average Customer Review:

For Bulk Orders Call: 626-441-2024

Description and Reviews
From
The Publisher:
If you saw a toothpick on the floor, what would you do?
This seemingly innocuous question was posed to Subir Chowdhury by one of his longtime clients, and ultimately lead him to a profound realization: good enough is not enough. The best processes in the world won't work without developing the kind of mindset — a caring mindset — that is needed to achieve real and sustainable change in both organizations and individuals.
In his compelling new book, bestselling author and globally recognized management consultant Subir Chowdhury tackles an issue that has haunted him in his work with many of the world's largest organizations. Why is it that some improve only incrementally, while others improve 50 times that? The ideas and training are exactly the same. What is the difference?
The difference, Chowdhury explains, is the ability to nurture the skills, loyalty and passion of the people who make up an organization. It is a culture built on straightforwardness, thoughtfulness, accountability and resolve. Organizations and individuals that embrace all of these "STAR" attributes—not just one or two of them—will shine. He goes further, showing us why having a caring mindset outside of work is integral to both personal and professional success.
A powerful guide to living a successful life and career, The Difference will inspire you to be the difference — at work or home.

Reviews
"Years ago, my dad taught me a secret, one that Subir brings home in this heartfelt little book: CARE. It's easy to spell, but hard to do. Worth it."
—Seth Godin, Author of the New York Times bestseller Linchpin
"Subir Chowdhury's STAR mindset deserves five stars. Take his advice –and take it to your team. It will make a huge difference in your organization."
—Harvey Mackay, Author of the #1 New York Times bestseller Swim With The Sharks Without Being Eaten Alive
"Whether you are serving a customer as part of your job or interacting with a stranger on the street, you have the power to make a positive difference in the lives of others. The Difference proves that a caring mindset can lead to great things. Don't settle for good enough—read this book and aim for excellence!"
—Ken Blanchard, coauthor of The New One Minute Manager and Collaboration Begins with You
"Full of cautionary and inspirational tales, The Difference digs deep into corporate culture to show what it really means to strive for excellence. It's not just about hitting the numbers; it's about a culture of caring based on honesty and regard for others. The Difference will help you make a difference in your own life and to those around you."
—Daniel H. Pink, Author of Drive and To Sell Is Human
"A thoughtful book about what it means to be thoughtful – and how we can contribute in a meaningful way to others, at work and in our personal lives."
—Adam Grant, Wharton professor and New York Times bestselling author of Originals and Give and Take
"Those who fail to adopt the caring mindset Subir Chowdhury describes in The Difference will find themselves falling behind in innovation, employee engagement, and productivity. Reading and practicing the ideas in The Difference will change your life."
—Marshall Goldsmith, #1 New York Times bestselling author of Triggers and Thinkers 50 #1 Leadership Thinker in the World
"The Difference is a must read to understand the required mindset that is the difference between success and failure."
—Vijay Govindarajan, Coxe Distinguished Professor at Tuck at Dartmouth & Marvin Bower Fellow at Harvard Business School
"Subir Chowdhury nailed it with this book. The Difference has what you need to succeed in business and life that they don't teach you in school."
—Mark A Wagner, President of Business Operations, Walgreens
"The Difference is Superb. Subir Chowdhury has again eloquently and insightfully captured why some organizations win and others don't. The STAR framework leads to marvelous cases, tools, and actions that can be quickly adapted to improve organizational success. The applications to professional and personal settings are captivating and useful."
—Dave Ulrich, Rensis Likert Professor, Ross School of Business, University of Michigan and Partner, The RBL Group

About the Author
Subir Chowdhury
is one of the world's leading management thinkers and consultants, who works with Fortune 500 companies to improve their processes, operations, quality and performance. His clients saved billions of dollars by deploying process improvement methodologies. He is the bestselling author of The Power of Six Sigma, and The Ice Cream Maker. Chowdhury lives in Los Angeles.