Bo's Lasting Lessons
: The Legendary Coach Teaches the Timeless Fundamentals of Leadership
Bo Schembechler and John U. Bacon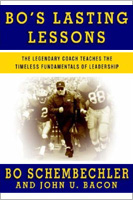 Format:
Paperback, 352pp.
ISBN:
9780446582001
Publisher:
Business Plus
Pub. Date:
September 4, 2008
Average Customer Review:


For Bulk Orders Call: 626-441-2024

Description and Reviews
From
The Publisher:
There are very few coaches held higher esteem than Bo Schembechler. As coach of the University of Michigan football team, he won 13 Big Ten titles and finished as the winningest coach in their storied history. But beyond the wins and losses, Bo is best remembered for the remarkable impact he had on his players and fans alike.
In
Bo's Lasting Lessons
, the coach draws on his years of experience, using first-person anecdotes to deliver timeless lessons on leadership, motivation and responsibility. His distinctive gruff voice leaps from the page.
With pithy language, Bo explains that true leadership requires the compassion to actively listen to your people, and then to have the courage to do what is right every time.
A big believer in peer pressure and in always making his players accountable for their actions, Schembechler has coached athletes who went on to become professional football players, doctors, lawyers and CEOs.

Reviews
With a style so conversational that readers will almost be able to hear the voice of the late, great Michigan Wolverines football coach, Schembechler (1929-2006), it seems as if coauthor and sportswriter Bacon did little more than push the record button and let Schembechler dictate this exceedingly unconventional business title. The coach—who earned the respect of practically every player, coach and fan during his 30 years as Michigan's head coach—lets loose his boisterous personality in italicized and capitalized words, exclamation points and rhetorical questions that punctuate otherwise simple statements and observations. Completed just days before the coach was brought down by heart disease, this volume spells out the leadership principles by which he lived en route to 13 Big 10 titles and 10 Rose Bowl appearances. The book contains no complicated formulas or M.B.A. treatises, but rather commonsense approaches to everything from setting goals and motivating mid-level employees to emphasizing execution and maintaining focus under fire. Along the way, Schembechler shares details from both his professional and personal lives, in which he's always prepared for anything. Schembechler's lessons are practical, well-illustrated and based on a solid legacy of determination and hard work. (Sept.)
—From Publishers Weekly, Copyright © Reed Business Information, a division of Reed Elsevier Inc. All rights reserved.
"If you knew Bo personally, this book is a chance to spend one more unforgettable day with him. If you didn't, you'll see some sides of him you might have missed from a distance: his humor, his compassion, even - dare I say it - his sensitivity. Make no mistake, though: Bo's leadership lessons are no-nonsense, straightforward - and incredibly effective."
—John Robinson, former Head Coach, USC Trojans and LA Rams
"In an era of corporate coaches who might as well be accountants, Bo's throaty growl and gruff but loving style are sorely missed. There is nothing superficial about Bo's basic philosophy of life and leadership - and his lessons are truly timeless."
—David Maraniss, Pulitzer Prize winner and best-selling author of When Pride Still Mattered: A Life of Vince Lombardi
"Bacon had the great fortune to sit down with Bo and hear story after story, lesson after lesson. Read this book and you'll feel like you were there. Outstanding!"
—Dan Dierdorf, College and NFL Hall of Famer, NFL on CBS Analyst
"Bo's persona fairly crackles on the pages of Bacon's book. Good stuff from a good man who also happened to be a pretty darn good football coach. A classic."
—Keith Jackson, Hall of Fame Broadcaster, ABC Sports
"Absolutely wonderful. I hear my old friend in these pages, and his advice is just as direct as he was. Read it - and pay attention!"
—Mike Wallace, 60 Minutes

About the Author
Bo Schembechler
was the winningest coach in the history of the nation's winningest college football team. As coach of Michigan, he had a record of 234-65-8, the fifth best tally of all college football coaches in history. He was in demand across the country for his speeches on team work, motivation, and inspiration, and was the bestselling author of
BO
.

Find Items On Similar Subjects

Wooden
: A Lifetime of Observations and Reflections On and Off the Court