Unthinking
: The Surprising Forces Behind What We Buy
Harry Beckwith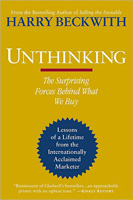 Format:
Paperback, 336pp.
ISBN:
9780446564137
Publisher:
Business Plus
Pub. Date:
January 29, 2013
Average Customer Review:

For Bulk Orders Call: 626-441-2024

Description and Reviews
From
The Publisher:
What do Howard Hughes and 50 Cent have in common, and what do they tell us about Americans and our desires? Why did Sean Connery stop wearing a toupee, and what does this tell us about American customers for any product? What one thing did the Beatles, Malcolm Gladwell and Nike all notice about Americans that helped them win us over? Which uniquely American traits may explain the plights of Krispy Kreme, Ford, and GM, and the risks faced by Starbuck's? Why, after every other plea failed, did "Click It or Ticket" get people to buy the idea of fastening their seat belts?
To paraphrase Don Draper's character on the hit show Mad Men, "What do people want?" What is the new American psyche, and how do America's shrewdest marketers tap it? Drawing from dozens of disciplines, the internationally acclaimed marketing expert Harry Beckwith answers these questions with some surprising, even startling, truths and discoveries about what motivates us.

Reviews
Should not be sold as a book - it should be sold as a secret weapon. Some books are filled with theory. UNTHINIKING is filled with gems and "a-ha!" moments.
—Mitch Joel, President of TwistImage and bestselling author of SIX PIXELS OF SEPARATION
Grabbed me from the first page. Harry Beckwith serves up the perfect blend of evidence, deft story-telling, and one useful (and often surprising) tidbit after another.
—Dr. Robert Sutton, Stanford University Professor and author of the national bestseller, GOOD BOSS, BAD BOSS
Harry Beckwith is a man of uncommon wisdom who has gotten that way through unthinking. You can too by reading this book.
—Ty Votaw, Executive Vice President, Communications + International Affairs, PGA TOUR
Harry Beckwith's insight into the minds of consumers is compelling, engaging, and masterful.
—Tony Hsieh, CEO of Zappos.com and bestselling author of DELIVERING HAPPINESS

About the Author
Harry Beckwith
heads Beckwith Partners, a marketing firm that advises twenty-three Fortune 200 clients and dozens of venture-capitalized start-ups on branding and positioning. A Phi Beta Kappa graduate of Stanford, Beckwith is an internationally acclaimed speaker. He is the bestselling author of five books, which, collectively, have been translated into twenty-three languages. >

Find Items On Similar Subjects

Selling the Invisible
: A Field Guide to Modern Marketing