Metaphors We Lead By
: Understanding Leadership in the Real World
Edited by Mats Alvesson and Andre Spicer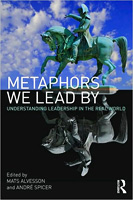 Format:
Paperback, 232pp.
ISBN:
9780415568456
Publisher:
Routledge
Pub. Date:
December 30, 2010
Average Customer Review:

For Bulk Orders Call: 626-441-2024

Description and Reviews
From
The Publisher:
We live in a leadership-obsessed society. The result is that we assume nearly any social or economic ill can be mended through better leadership. Sometimes, this commitment to leadership is followed by hero worshipping, wishful thinking and misplaced hope.
Seeking to understand the faith we place in leadership, the authors draw on a number of in-depth studies of managers trying to "do" leadership. It presents six metaphors for the leader: as gardener, cosy-crafter, saint, cyborg, commander and bully. Some of these offer unexpected insights into how leadership does and does not work. The book sheds light on a varied - often contradictory and sometimes darker - side of leadership.
Cutting through the management-speak drenched current literature on leadership,
Metaphors We Lead By
presents an enlightening and refreshing understanding of an important topic. It will be useful reading for students and researchers, as well as the thinking manager.

About the Editors
Mats Alvesson
is Professor of Business Administration at the Lund University, Sweden. He is also affiliated with University of Queensland Business School. Another of his recent books, Changing Organizational Culture, is also available from Routledge.
André Spicer
is an Associate Professor of Organisation Studies at Warwick Business School, University of Warwick, UK. He is also a visiting research fellow at the University of Lund, Sweden. His recent publications (as co-author) include Unmasking the Entrepreneur and Understanding Corporate Life.

>
Table of Contents
| | | |
| --- | --- | --- |
| | | |
| 1 | Introduction (Mats Alvesson and André Spicer) | |
| 2 | Theories of Leadership (Mats Alvesson and André Spicer) | |
| 3 | Metaphors for Leadership (André Spicer and Mats Alvesson) | |
| 4 | Leaders as Saints: Leadership through Moral Peak Performance (Mats Alvesson) | |
| 5 | Leaders as Gardeners: Leadership through Facilitating Growth (Tony Huzzard and Sverre Spoelstra) | |
| 6 | Leaders as Buddies: Leadership through Making People Feel Good (Stefen Svenningsson and Martin Blom) | |
| 7 | Leaders as Commanders: Leadership through Creating Clear Direction (André Spicer) | |
| 8 | Leaders as Cyborgs: Leadership through Mechanistic Superiority (Sara Louis Muhr) | |
| 9 | Leaders as Bullies: Leadership through Intimidation (Dan Kärreman) | |
| 10 | Communicating Leadership Metaphors (Gail Fairhurst) | |
| 11 | Conclusion (André Spicer and Mats Alvesson) | |