Head Ball Coach
: My Life in Football, Doing It Differently--and Winning
Steve Spurrier with Buddy Martin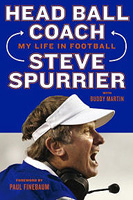 Format:
Hardcover, 320pp.
ISBN:
9780399574665
Publisher:
Blue Rider Press
Publication Date:
August 30, 2016
Average Customer Review:

For Bulk Orders Call: 626-441-2024

Description and Reviews
From
The Publisher:
College football's most colorful, endearing, and successful pioneer, Steve Spurrier, shares his story of a life in football -- from growing up in Tennessee to winning the Heisman Trophy to playing and coaching in the pros to leading the Florida Gators to six SEC Championships and a National Championship to elevating the South Carolina program to new heights -- and coaching like nobody else.
He's been called brash, cocky, arrogant, pompous, egotistical, and hilarious, but, mostly, he's known as the Head Ball Coach, a self-ordained term introduced to the lexicon of football by none other than the man, himself, Steve Spurrier. He is the only coach who can claim to be the winningest coach at two different SEC schools, and the only person who has won both the Heisman Trophy as a player and a national championship as a coach. Or who has won a Heisman and coached a Heisman winner.
From the beginning, Spurrier didn't want to sound like other coaches, dress like other coaches, and, especially, coach like other coaches. As a controversial football pioneer, he ushered in a different style of leadership and play. Spurrier's press conferences were glorious -- he refused to lapse into coachspeak and was always entertaining, although he took his football very seriously. He was known for his fierce competitiveness, roaming up and down the sidelines, often throwing his signature visor to the ground in disgust. Now resigned from coaching at age 70 -- he doesn't like to say "retired" yet -- Spurrier has calmed down, but don't mistake that for a lack of fire. He can be just as feisty as the day he set foot on the East Tennessee dirt in Johnson City's Kiwanis Park, where he grew up to become one of the state's all-time greatest athletes, and went on to play for Florida where he launched one of sports history's all-time great careers.
In his memoir, Spurrier talks for the first time about the circumstances under which he unexpectedly became a coach and why he resigned at South Carolina. He explains his unique style, the difference between winners and losers, his relationship with the media, why he follows the wisdom of ancient philosophers and warriors, his affinity everything taught by John Wooden, and the reasons behind his relaxed regimen for living well. Spurrier, as always, speaks candidly, bringing together his thoughts about his words, actions, and achievements, while telling countless wonderful anecdotes.

About the Authors
Steve Spurrier
is a former football coach and player. He played at the University of Florida, where he won the Heisman Trophy in 1966. He went on to play in the NFL for nine years, and then worked as an assistant coach before he became head coach of the USFL's Tampa Bay Bandits in 1983. He went on to coach at Duke University, and then Florida, where he lead the Gators to six SEC Championships as well as a National Championship in 1996. From 2002 to 2003, he coached the Washington Redskins, and, from 2005 until his retirement in 2015, the University of South Carolina Gamecocks. He was named SEC Coach of the Year seven times.
Buddy Martin
is columnist for GridironNow.com and Southern Pigskin.com, the host for Southern Pigskin Radio Network, an Emmy winning network TV journalist and won numerous awards as sports editor/columnist of three major newspapers. He is the anchor of Buddy Martin's Sports Page on his hometown station, WOCA in Ocala/North Central Florida. This is his seventh book.