The Spark and the Grind
: Ignite the Power of Disciplined Creativity
Erik Wahl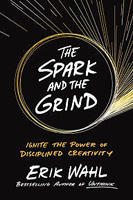 Format:
Hardcover, 256pp.
ISBN:
9780399564208
Publisher:
Portfolio
Pub. Date:
March 7, 2017
Average Customer Review:

For Bulk Orders Call: 626-441-2024

Description and Reviews
From
The Publisher:
From the world-famous graffiti artist, beloved corporate speaker, and bestselling author of
Unthink
, a provocative new book on how you can train yourself to become creative in your business and everyday life.
We're conditioned to think in terms of dichotomies, especially when we talk about creative genius. Right brain versus left brain. Inspiration versus perspiration. Creativity versus discipline. And consequently, we believe that no one person can have both or be both: you're either a suit or a creative.
But Erik Wahl, a professional artist who has learned to generate constant creative work, argues that success now depends on being able to harness creativity and discipline.
According to Wahl, creativity has two faces: the spark of inspiration and the grind of following through to make that idea a reality. Sparks of insight originate from passion—these are the moments that make your heart race in excitement, the moments in which you're enthralled by possibility. The grind is the necessary work to take your spark from pie-in-the sky idea to execution.
Too often, we consider these elements separately, without thinking about how they interact. But the two are symbiotic: ongoing, original creativity requires both, as Wahl writes, "the initial flicker of hope, and the work to stoke it into something that changes the game." Wahl offers practical advice about how to fan the sparks and make the grind more productive, including:
• Immerse yourself in the unfamiliar: Consciously put yourself into uncomfortable situations to produce new and better ideas.
• Converse with yourself and others: Subjecting your ideas to the crucible of criticism will clarify what's really brilliant about them.
• Rehearse creativity constantly: You need to commit to a steady practice of creativity, in what Wahl calls "a lifestyle of iteration."
Wahl deftly synthesizes the wisdom of other artists, philosophers, scientists and business visionaries throughout history, along with his own striking personal story. The result is a guide to ensuring constant creativity in your everyday life, in and out of the office, that will push you to produce your most innovative work yet.

Reviews
"An authentic masterpiece. Erik Wahl has become a bona fide general in the 'War of Art.' "
—Steven Pressfield, author of The War of Art
"True creativity is as much about the disciplined grind as it is the spark of inspi­ration. Erik Wahl will permanently change the way you think about pursuing innovation. Highly recommended."
—Cal Newport, author of Deep Work
"My advice to every young entrepreneur? Adopt Erik's thesis: Stop treating your ideas so preciously. Make them real. Tangible. Taste them and touch them. When an idea sparks, get in the dirt, grind it out, and let the idea evolve . . . or don't expect sh*t."
—Gary Vaynerchuk, author of Jab, Jab, Jab, Right Hook
"Time to stop dreaming and start doing. In this breakthrough book, Erik Wahl will open the door for you to do the hard work of making something creative happen."
—Seth Godin, author of Linchpin
"What an absolute gem of a book. Many creativity books overemphasize either inspiration or perspiration, but Wahl shows how to harness them together to do brilliant work. Anyone who has to create for a living will find The Spark and the Grind is both thoroughly enjoyable and imminently practical."
—Todd Henry, author of The Accidental Creative
"As Erik Wahl shows in this terrific book, we must cultivate ways to ignite the spark of innovation and then keep it glowing with the grind of focused, disci­plined work. This formula will send your creativity soaring!"
—Daniel H. Pink, author of Drive and To Sell Is Human

About the Author
Erik Wahl
is an artist, author, and entrepreneur. He is internationally recognized as a thought provoking graffiti artist and one of the most sought-after speakers on the corporate lecture circuit. He lives in Southern California with his wife, Tasha, and their three sons.

Find Items On Similar Subjects

Unthink
: Rediscover Your Creative Genius