High-Hanging Fruit
: Build Something Great by Going Where No One Else Will
Mark Rampolla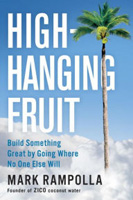 Format:
Hardcover, 240pp.
ISBN:
9780399562129
Publisher:
Portfolio
Publication Date:
July 19, 2016
Average Customer Review:

For Bulk Orders Call: 626-441-2024

Description and Reviews
From
The Publisher:
SO OFTEN IN BUSINESS, WE'RE ENCOURAGED TO GO AFTER THE LOW-HANGING FRUIT. BUT WHEN YOU CHOOSE TO REACH HIGHER, YOU CAN BUILD AN INCREDIBLE BUSINESS, MAKE MONEY, AND MAYBE EVEN CHANGE THE WORLD.
In 2004, Mark Rampolla had made it. He was making $300,000 a year, traveling the world with his family, and poised to rise to the top of a Fortune 100 company. There was just one problem: He wasn't inspired in his job and believed he had something more to offer the world.
He started dreaming of start-up ideas. Though many had big profit potential, they all sounded boring and soulless. So he started thinking differently. He stopped obsessing over "How much money will this make me?" and instead asked, "What do I have to offer that will improve the world?"
Suddenly Rampolla realized that his big idea was hanging right overhead. From his time in the Peace Corps and now living in Central America, he and his family came to love drinking coconut water, just like the locals. But no one was really selling coconut water in the United States.
So Rampolla chased a very ambitious goal: introducing coconut water to the American market on the already crowded beverage shelf dominated by a few big players. He wasn't just starting a business; he was creating a whole new industry. ZICO Coconut Water brought a healthy beverage alternative to American consumers while also helping developing-world growers and suppliers profit from this resource.
Within nine years it was a win-win-win—good for Rampolla, his customers, and the world. So good, in fact, that in 2013 The Coca-Cola Company purchased ZICO and is in the process of scaling the brand around the globe.
Rampolla wrote
High-Hanging Fruit
for others who want to succeed because of, not in spite of, their values. This book is for people who believe that it's their duty to reach higher than just the bottom line to build businesses driven by passion, purpose, and integrity. Above all, it's a call to arms for a new generation of entrepreneurs who want to disrupt the old model and do good by doing business.

Reviews
"Often only the bottom line is emphasized in business. But Mark Rampolla shows how those days are over through his ZICO story, making the case that reaching for higher goals to do good...can be just as porfitable and successful, while also bettering the world."
—SARA BLAKELY, founder and owner of Spanx
"Mark Rampolla's journey proves that you can found businesses that you're passionate about, that help improve global problems, and that still make money. ZICO's example should and will help guide a new generation of ambitious entrepreneurs."
—JOHN MACKEY, cofounder and co-CEO of Whole Foods Market and author of Conscious Capitalism
"Wise and refreshingly human. High-Hanging Fruit is more than surefire insight into building a successful business; it's a call to action to start something that matters and use business to fuel social change."
—BLAKE MYCOSKIE, founder and chief shoe giver, TOMS, and author of Start Something That Matters
"A Thrilling story of bringing a healthy drink to market, revealing how it's possible to do well and do good at the same time. This book is full of powerful insights for entrepreneurs - and it's a joy to read."
—ADAM GRANT, Wharton professor and author of Originals and Give and Take

About the Author
Mark Rampolla
is the founder and former CEO of ZICO Beverages. Since leaving ZICO he has become an active investor and adviser to social-impact businesses in the food, beverage, and technology industries. He lectures around the world and lives in Redondo Beach, California.