Mad Genius
: A Manifesto for Entrepreneurs
Randy Gage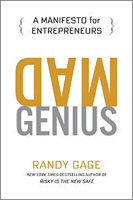 Format:
Hardcover, 240pp.
ISBN:
9780399175565
Publisher:
Perigee Books
Publication Date:
January 19, 2016
Average Customer Review:

For Bulk Orders Call: 626-441-2024

Description and Reviews
From
The Publisher:
This is a manifesto about ideas. Big ideas, small ideas, and outlandish ideas. Ideas that innovate, ideas that disrupt markets, and especially ideas that irritate. More than ideas, though,
Mad Genius
is about how ideas are born and the role they play in entrepreneurial thinking.
This is a manifesto for managers who want to become leaders and leaders, who want to blow up mediocrity. Because whether you work in a traditional business, a nonprofit service organization, or in the public sector, the best way to create fresh and innovative solutions is to think like an entrepreneur.

Reviews
"Randy Gage is truly a genius—and entrepreneurs would be mad not to follow his stellar advice. Make your first mastermind alliance with this remarkable book."
—Harvey Mackay, author of the #1 New York Times bestseller Swim with the Sharks Without Being Eaten Alive
"A big and brave kick-start for anyone set to make their entrepreneurial dreams come true."
—Robin Sharma, #1 bestselling author of The Leader Who Had No Title
"This book is effin' great! Teaches not only a mindset, but gives you hope, inspiration, and challenges them at the same time. I love every part of it."
—Larry Winget, author of Grow a Pair and five other international bestsellers
"This life-changing book is loaded with practical, proven ideas and ques­tions that will help you kick open the door to all the success you want."
—Brian Tracy, author of The Power of Self-Confidence
"This is one of the messiest books I've ever read. I mean that in the best possible sense. Randy Gage, takes us Mister Toad's Wild Ride. I was hanging on for dear life. . . . It's a mad, mad, mad world inside Randy Gage's head—and I'm glad I took the trip."
—Steven Pressfield, bestselling author of The War of Art and Turning Pro
"Mad Genius is friggin' mind-rocking. It's a Vulcan mind meld between author and reader, where Gage exhibits what Mozart and Picasso did— artistry emerging from the riot within their own heads."
—Alan Weiss, PhD, author of Million Dollar Consulting
"The title says it all: Randy Gage is both—mad and a genius!—and he puts it all in a book as a handbook for success!! CRAZY GOOD!"
—Jeffrey Hayzlett, prime-time TV show host, bestselling author, and sometime cowboy
"Brace yourself. You're about to be shaken and stirred by the insights, truths, and rip-roaring predictions of a mad wizard out to make you rich. "
—Joe Vitale, author of Attract Money Now
"Only Randy Gage would challenge the conventional wisdom of everyone from Einstein to the Buddha—and lead you to con­clude, 'Well, he does have a point!'"
—Bob Burg, coauthor of The Go-Giver and author of Adversaries into Allies
"Gage takes you places you really don't want to go but you need to go. He gives you the path to take the jump and create success like you've never imagined. There is truly 'madness in his method' and you will benefit from his genius."
—Lisa Ford, author of Exceptional Customer Service
"'Provocative' and 'practical' don't usually go together, but Mad Genius is both. It will stretch your thinking, challenge your beliefs, and then provide you things you can actually use to bring out your inner Mad Genius."
—Mark Sanborn, leadership adviser and bestselling author
"This book shocks your system, chal­lenges your assumptions, and opens your mind to radically new ways of thinking—and that's in just the first chapter! Gage is the master guide on the unorthodox path to entrepreneurial genius."
—Rory Vaden, New York Times bestselling author of Take the Stairs

About the Author
Randy Gage
is a former high school dropout who rose from a jail cell as a teen to become a self-made multi-millionaire. Along the way, he overcame addictions, getting shot, and near bankruptcy to inspire millions around the world. He is the author of nine bestselling books on prosperity and success that have been translated into 25 languages.