Leadership
: Essential Writings by Our Greatest Thinkers
Elizabeth D. Samet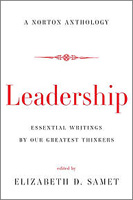 Format:
Hardcover, 752pp.
ISBN:
9780393239690
Publisher:
W. W. Norton & Company
Pub. Date:
August 10, 2015
Average Customer Review:

For Bulk Orders Call: 626-441-2024

Description and Reviews
From
The Publisher:
A Norton Anthology that illuminates how literature can help build ethically responsible leaders.
What is the connection between literature and leadership? Are leaders born or are they made?
Elizabeth D. Samet, the author of the award-winning Soldier's Heart and a professor of English at West Point, brings to this anthology her profound experiences as a teacher of soldiers, her discerning ear for excellent writing, and her belief in the vital role of the humanities in cultivating leaders. Great writers and thinkers in conversation—that is what makes Samet's approach distinctive. Samet organizes the writings around the essence of leadership—the insights, skills, and actions that effective leaders, with time and experience, learn to live by. What are these insights, skills, and actions? Newcomers to any organization must first study the system, then find and emulate models, risk change, cultivate trust, negotiate, take responsibility, learn from failure, learn to resist, innovate, discipline desire, and eventually let go. These ideas, brought to life in selections written by or about unforgettable leaders—be they heroic, quixotic, or villainous—shape the book. Machiavelli, Macbeth, and Milosz, Ghandi and Gawande, Douglass and Didion are just a sampling of the 102 writers and works included. Readers of
Leadership
will enjoy its sheer variety at the same time that they enter a thought-provoking, often moving conversation that is both ancient and crucially current.

Reviews
In the overstocked shelves of volumes devoted to leadership development, Leadership stands out. This thought-provoking anthology, designed by a practitioner of the art of developing young men and women into capable leaders, isn't about how to lead but how to think.
—General Gordon R. Sullivan (Ret.), U.S. Army, president and CEO, Association of the United States Army
A broad and deep perspective for innovators in any field.
—Senator Kay Bailey Hutchison
Leadership is an extraordinary anthology: imaginative, provocative, and deeply engaging.
—Joe Badaracco, Harvard Business School
To be truly visionary in the twenty-first century, leaders need to learn from those who have paved their path. This wonderful anthology is an excellent way to garner sage advice and provoke conversations.
—Kathryn Kolbert, director, Athena Center for Leadership Studies, Barnard College
Elizabeth Samet links the 'Big Ideas' of the world's great thinkers to essentials of leadership in a variety of contexts. Great leaders inspire others to action, and Professor Samet has provided inspirational intellectual leadership through this excellent anthology.
—George B. Forsythe, president, Westminster College

About the Author
Elizabeth D. Samet
is author of No Man's Land: Preparing for War and Peace in Post-9/11 America and Soldier's Heart: Reading Literature Through Peace and War at West Point, which won the Los Angeles Times Book Prize and was named one of the 100 Notable Books of 2007 by the New York Times. Her essays and reviews have been published in the New York Times Magazine, the New York Times Book Review, and the New Republic. She is a winner of the Hiett Prize in the Humanities and a recipient of a Guggenheim Fellowship. Samet speaks often to both civilian and military audiences on the role of literature in shaping future military officers, and she was a member of the Army Chief of Staff's Task Force on Leader Development. She is a professor of English at West Point.