The Leader's Way
: The Art of Making the Right Decisions in Our Careers, Our Companies, and the World at Large
Dalai Lama and Lauren Van den Muyzenberg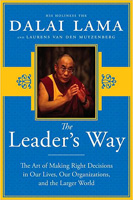 Format:
Hardcover, 224pp.
ISBN:
9780385527804
Publisher:
Broadway Business
Pub. Date:
July 21, 2009
Average Customer Review:

For Bulk Orders Call: 626-441-2024

Description and Reviews
From
The Publisher:
Featuring never-before-published writings by the Dalai Lama, THE LEADER'S WAY explains how the teachings of Buddhism can help leaders grow their careers and their organizations, and solve some of today's most pressing secular business problems.
Born out of a decade of discussion between His Holiness the Dalai Lama and international management consultant Laurens van den Muyzenberg, The Leader's Way is the unique meeting of two worlds: the global business landscape and Buddhism. At first sight, these seem to be an unlikely pairing. After a closer look, however, the best business practices and Buddhist principles in fact have much in common; both are concerned with making rational, holistic decisions and turning them into responsible, effective action. Indeed, the teachings of Buddhism have much to offer business leaders.
The world today faces many unique challenges: the worst global recession in over seventy-five years, with millions out of jobs and entire economies in a tailspin; billions of people living in abject poverty; the imminent threat of an environmental meltdown. Even prosperous businesses and leaders feel insecure about the future. A new kind of leadership is needed–one that sees events as they really are and understands the interconnectedness, impermanence, and interdependence of individuals, companies, and the global economic system.
Through fascinating insights and day-to-day examples, His Holiness the Dalai Lama offers practical tools and advice on how to lead in our twenty-first-century world. Drawing on the wise teachings of Buddhism, he says, we can become better, more informed leaders as individuals, achieve more progressive leadership in our organizations, and help address some of the world's most pressing problems. Moreover, we can improve the quality of life for all by promoting responsible, ethical, and profitable business practices. That is the leader's way.
A rewarding, surprising view into the life and thoughts of one of the world's most inspiring leaders, The Leader's Way provides a powerful manifesto for leading change at every level–in our lives, our organizations, and the wider world.

About the Authors
The Dalai Lama, Tenzin Gyatso
, is one of the world's best-known spiritual and political leaders. He has led his people for over fifty years as the head of the government-in-exile and spiritual leader of Tibet. In recognition of his work for peace and his concern for global environmental problems, His Holiness was awarded the Nobel Peace Prize in 1989. More recently, in 2007, he received the Congressional Gold Medal, the highest civilian honor in the United States, for his advocacy of human rights.
Laurens Van Den Muyzenberg
is an international management consultant who has lived and worked in the United Kingdom, Germany, France, Italy, the Netherlands, Sweden, Denmark, the United States, Chile, Bahrain, India, and Japan. He speaks seven languages. His work focuses primarily on the improvement of corporate governance and management performance.