Rubies in the Orchard
: The POM Queen's Secrets to Marketing Just About Anything
Lynda Resnick with Francis Wilkinson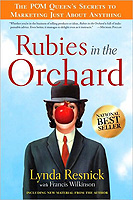 Format:
Paperback, 240pp.
ISBN:
9780385525794
Publisher:
Crown Business
Pub. Date:
April 6, 2010
Average Customer Review:

For Bulk Orders Call: 626-441-2024

Description and Reviews
From
The Publisher:
POM Wonderful. FIJI Water. Teleflora. The Franklin Mint. Lynda Resnick's marketing triumphs read like an encyclopedia of branding. She is the smartest and hardest-working marketing brain in the business - the kind of marketer who can sell "ice sculptures to Eskimos." But her brilliant ideas aren't simply the result of random inspiration; they're the products of a systematic approach to marketing that any company -- large or small -- can adapt to achieve success. In RUBIES IN THE ORCHARD, she divulges her secrets for creating some of the world's most memorable and iconic brands, and the bull's-eye strategies to sell them.
Resnick believes that every company can find "rubies" in its orchard, elements of intrinsic value that consumers will desire. Here, she shows how every successful marketing campaign begins with uncovering these hidden gems, and communicating their value honestly and transparently to the consumer.
Through Resnick's behind-the-scenes narrative, we learn the secrets of her extraordinary successes, including: POM Wonderful, the wildly popular 100% pomegranate juice that created an entirely new product category out of a fickle and obscure fruit; and FIJI Water, a fledgling brand she transformed into the #1 premium bottled water in America, with sales that have increased 300% since 2004.
A born marketer, Resnick shares tales from a remarkable life, from opening her own ad agency at age 19 to the time she famously overpaid for Jackie Kennedy's pearls at auction, then transformed her "mistake" into tens of millions in sales for the Franklin Mint. Here for the first time, Resnick reveals her systematic approach to breaking through marketplace clutter and consumer cynicism, and creating blockbuster brands with true staying power.

Reviews
"...both entertaining and enlightening.... what's really valuable to business owners is Resnick's insight on marketing, a field where she's built a well-­deserved reputation as a master."--Businessweek "Using sound advice, a wealth of first-hand experience, historical perspective, and fierce self-confidence, Lynda Resnick has written a very useful and practical book. Anyone starting a business or running an entrepreneurial venture should read [it]."
—MARTHA STEWART, founder, Martha Stewart Living Omnimedia
"Are you looking for proven ideas about how to market anything, overtake the competition, ward off vicious attacks, and become rich? Even if you don't want to do those things, you will still love this inspiring, funny, thought-provoking, autobiographical sharing of secrets by Lynda Resnick, who figured out for herself how to succeed, again and again."
—Dr. JARED DIAMOND, professor of geography at UCLA, and Pulitzer Prize–winning author of bestselling books including Collapse and Guns, Germs, and Steel
"Like the POM Wonderful that Lynda Resnick created, this book is absolutely delicious and also amazingly nutritious. In fact, it's so funny and fun that you may not notice how much wisdom it contains—from marketing tips to insights on brand authenticity in the Internet era. It will make you laugh aloud, but also change the way you do business."
—WALTER ISAACSON, president and CEO, The Aspen Institute, and bestselling author of Einstein: His Life and Universe and Benjamin Franklin: An American Life
"Lynda Resnick wields a sledgehammer in a velvet glove like no other.…You can buy a thousand books with sound business lessons, but Rubies in the Orchard is among a special few that lift you from your seat and compel you to act immediately."
—CHRIS DEWOLFE, co-founder and CEO, MySpace
"Lynda is truly an unstoppable force. She has had a remarkable career taking small businesses and transforming them into iconic brands. In Rubies in the Orchard, Lynda shares her shrewd and surprisingly simple strategies for breaking through in a cluttered marketplace."
—RUPERT MURDOCH, chairman and CEO, News Corporation
"Lynda Resnick focused on finding the truth to set her brands free. Whether identifying the medical benefits of POM or the pitfalls in delivering flowers, this born marketer knows how to sell without even stepping outside the box."
—MEHMET OZ, bestselling author and vice-chairman and professor of surgery, NY Presbyterian/Columbia
"This book is pure gold! Lynda Resnick is one of the most captivating, brilliant people I've ever known, and I'd buy anything she sells! The wisdom she shares in this fascinating book shows an amazing understanding of how people think and make decisions."
—DR. RICK WARREN, bestselling author of The Purpose Driven Life
"In a forest of dry marketing books, Resnick's animated debut stands out as its own hidden gem, filled with juicy real-life tales of marketing strategies that rocketed Resnick and her husband to astounding success with companies like Fiji Water, Teleflora, the Franklin Mint and Pom Wonderful, the wildly successful pomegranate juice. The author charms with her winning wit and a self-deprecating tone as she distills the secrets of her extraordinary career into a series of philosophies illustrated through behind-the-scenes looks at various marketing campaigns…A must-read for anyone who aspires to Resnick's level of promotional genius, success or commitment to environmental sustainability."
—Publishers Weekly, starred review
"It's exactly the spirit we need to deal with the gloom and doom of Wall Street. I read it cover to cover without stopping. I felt emboldened."
—Frank Gehry
"Lynda Resnick humbly resists being called a marketing genius. Read her book at the risk of becoming one yourself."
—Norman Lear
"Lynda Resnick is one dynamic, persuasive gal. She can talk anybody into anything, including getting me to write a blurb for this book. Now that's persuasive."
—Larry David, Star of HBO's Curb Your Enthusiasm

About the Author
Lynda Resnick
and her husband Stewart own POM Wonderful, Teleflora, FIJI Water and Paramount Farms. They are also the biggest producers of almonds, pistachios, clementines and pomegranates in the world. Resnick has been featured widely in the media, including USA TODAY, The Wall Street Journal, The New York Times, and The New Yorker. She and her husband live in Beverly Hills and Aspen.